Everyone should do whatever they can imagine. If they're bored and have no inspiration, just create a little chaos to make things interesting!
---

October 15, 1999

Sixteen years old

Female
Low but sweet
Or perhaps her singing voice is better?

Her sexuality is something she typically doesn't focus on.

She is in the First year of High school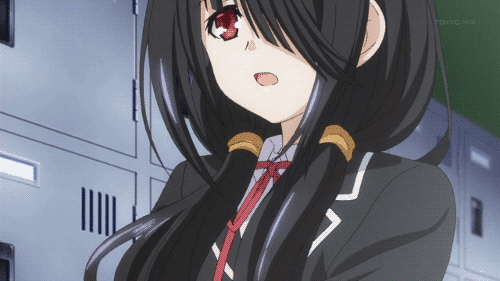 ---
Half Japanese and Half French
Japanese
She is a prankster. She just enjoys messing with others by acting like a do-gooder.
Ningyo no Dansu
Did you pull a prank on the others? No? Okay! I was just checking
I'm bored. Let's go out to have a little fun
What? You think that I did this? Of course not!
Huh? You think that this is too mean? I'm just getting started!

O
---
Kumara has a medium frame as she is slightly above five feet and six inches. She weighs about one hundred and twenty five pounds as her long raven hair is kept in two loose pigtails when she off stage as the right side of her is covered by hair choppy bangs. She will wear a black Gothic dress with purple roses on both shoulders as the black ribbon tied around her neck compliments her entire look. While she is on stage, her hair is tied back in two tight pigtails as her bangs are pushed back with her maroon red headband. Her right pupil looks similar to a yellow ticking clock as her small lips are coated in black lip gloss. Her outfit is even more fancy than her usual outfit. Her dress is bigger and matches her headband as multiple red ribbons are wrapped around her black gloves and black with maroon red dress. She even has a frilly black collar with a red red ribbon in the front of her neck.

She is a person that likes to secretly get in everyone's business as she pretends to be a 'secret agent'. She will usually stay within her own group, but if she's feeling bored, she will always talk to other human species. She is extremely manipulative, so she will use anyone who gets in her way. Even if it's friends and family, she will easily throw them away to get what she wants. She is also fairly polite and has good manners. She uses her sweet side to gain others trust so that she can break them down later on.

Kumara is very two-faced individual who only shows her kind side to everyone. She has never took off her mask unless it was onstage to appear like it was 'apart of the show'. Or when she is alone planning out the different ways to make a persons life a complete and utter nightmare. She shows her competitive side around others when she has her eyes set on something. This may cause suspicion when she tries to quickly cover her actions and laugh it off. She is also very paranoid around others.

Kumara is a very skilled visual artist. She has designed most of the outfits that she will wear the very next day. Even though she isn't as talented in sewing, her determination pushes her to continue to work into what she loves. Even when she has to constantly throw away her reject outfits, she doesn't let it get to her. She is always open to idea of trying something new. That is why she is always wearing something new every single day.

Kumara wasn't always like the way she is now. She used to be a kind and innocent individual until her father got a promotion. He had to move because he was put in charge of running his former boss's position. He felt pressure at first, but his boss felt as though he would be the right guy for the music industry. After a while, he was starting to get used to his position as he brought in the big bucks. Kumara's mother, Nanashi wasn't too keen on the idea of Ai buying a mansion and brand new diamond encrusted furniture. Then, she completely changed once she started working with her husband in the music industry. They were both obsessed with money that they looked down on the less fortunate. This angered Kumara as she told them that they were exactly the same before her father received the promotion. She was sad because she could no longer speak to her parents normally. They even forced her to enter singing contest so that she could become the 'next big thing'. She didn't enjoy it, so she failed every single contest. Her parents were furious and called her a worthless scum that should have never been born. It hurt her, so she refused to even try to win the contests anymore. This angered her parents to the point of physically abusing her. They compared her to the most talented singers in Japan demanding her to act with grace and beauty. Kumara eventually snapped at the age of thirteen. She furiously scratched her neck to where she was at the point of bleeding. She laughed and started to sing to herself everyday. She even started to play the piano her parents set out for her. She grew more skilled at singing and the piano as the days passed by. Her parents were pleased with her transformation as they entered her in contests once more. She was very successful, but her music style was considered too dark and gloomy. By the age of sixteen, her parents were happy to hear that Kazahana Academy had a very special group just for her.

She has always liked sweets whenever she get her hand on them, but she doesn't eat too much because she watches her weight. She also likes to be around nature much more than interacting with human specimens. Her favorite kind or flowers are black roses and cherry blossoms. She also likes to stay inside to practice on the piano. Even though she doesn't like interacting with human species, she enjoys to play with children and tell them stories at night.

She doesn't like showing her true self to other people because she only sees herself as pure evil. She hates it when others try to see her right pupil when she is offstage. She hates it when someone thinks that they are better than someone else, or when they start to pick on someone that is weaker than them. Surprisingly, she hates money and people who think that money can buy happiness.
---

Kurumi Tokisaki

Father: Ai
---
Once you've lost something, it won't come back. If it's taken, steal it back. Treasure what you do have instead of what you lost. Even if it's not as good, treasure it. In the end, it's better than nothing