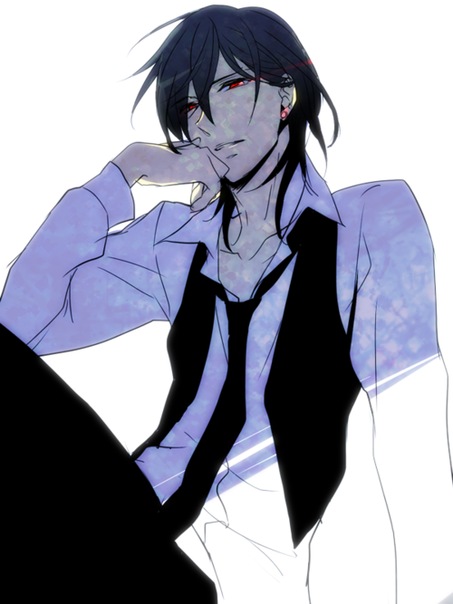 Age:
20
Role
:
Band boy
~~~~~~~~~~
Hair color
:
Black
Eye color:
Crimson red
Skin tone
:
Pale
Build
:
Tall, swift, and lean
~~~~~~~~~
Coat color:
Black
Build:
Slender but powerful
Scars/Marks
A faint trace of claw marks across the left side of his face
~~~~~~~~~
Likes
:
-his guitar
-music
-his sister
-the twins him and his sis saved
-beauty
-rain
Dislikes
:
-stupidity
-ignorance
-hugs
-being too close to someone other than his sister
-clingy people
Fears
:
-being close w/ others
-large bodies of water
-losing his sister
Habits
:
-insulting the people he cares about
-trying to intimidate or scare someone suspicious who tries to get close to his sister
Personality
:
Ivan is a loud and rebellious soul. No one can change him or tell him what to do. He can be extremely cold and hostile towards people that he firsts meets (no matter who they are), but when you gradually (and i mean gradually) get to know him, he's actually an extremely kind-hearted person and he is very loyal to those he is close to. Once he trusts someone he completely trusts them with everything and becomes completely blind to most of the bad things that they could do to him. In this way he is sometimes manipulated but it's not often that someone breaks through his outer shell so it rarely happens. One person he knows he wouldn't have to think twice about trusting, is his sister, though he does insult her a lot (which he tends to do to everyone he cares deeply about) he would do absolutely anything to protect her. Believe it or not, he actually is really emotional and most of the time he lets his emotions get the best of him. Because of this he is extremely reckless and does everything on impulse. He never takes the time to think something over and plan it out. He just does it. He tends to be very sarcastic and likes to tease the people he cares about because sometimes it's hard for him to express it any other way.
Theme Song
:
Knives and Pens by: Black Veil Brides