---
╔
╗
╚
╝
---
╎
╎
╎
╎
╎
╎
╎
╎
╎
╎
╎
╎
╎
═════════════════════════
"It's not the end of the world. I'll make it out of this, right?"
═════════════════════════

【ɗιαƖσgυє cσƖσя: #F67280 ▮ тнσυgнт cσƖσя: #F8b195】



Secret Base | Mes





FC | Nagisa Hazuki ; Free!
---
║
║
║
║
║
║
║
║
║
║
║
║
║
║
║
║
║
║
║
║
║
║
『NAME』
Yamada Naoki
『NICKNAME』
Nao
『AGE』
Eighteen (18)
『SEXUALITY』
Pansexual
---
---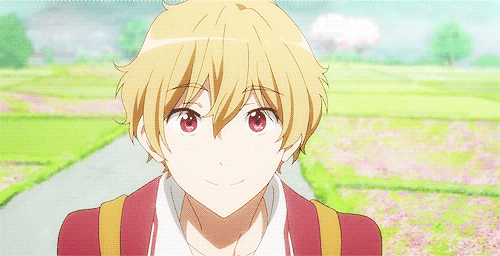 ║
║
║
║
║
║
║
║
║
║
║
║
║
║
║
║
║
║
║
║
║
║
║
║
║
『HAIR COLOR』
Originally Black ;; Dyed blonde
『EYE COLOR』
Brown mixed with mahogany undertones
『HEIGHT』
165cm.
『WEIGHT』
55kg. | 120 lbs.
『GENERAL APPEARANCE』
Naoki is what anyone would call a pretty boy. Somehow blessed with perfect, soft skin, a slender jawline, thick eyelashes and doe eyes, its obvious that Naoki's looks attract attention. His hair, which is naturally black, was dyed on a dare when he was younger, but ever since then he had fallen in love with the colour and continued o keep it. Some would say it adds to his pretty boy charm.

Naoki has always been frail and thin, standing only at 165cm, but due to his Japanese blood and metabolism, most consider this to be normal stature. His body is usually complimented with up-to-date fashion that his fashion designer mother has created for him and kept in stock in their house.

Other than his families generous wealth and his high grades, Naoki's looks are a main reason for his popularity in school.
---
---
║
║
║
║
║
║
║
║
║
║
║
║
║
║
║
║
║
║
║
║
║
║
║
║
║
║
║
✄┄┄┄┄┄┄┄

Cheerful ▪ Positive ▪ Intelligent ▪ Clumsy ▪ Enthusiastic ▪ Trait
Naoki is an extremely kind, gentle, sweet, cheerful and over-optimistic boy. He loves his friends and family dearly, and is constantly patient and understanding to everyone around him. However, his kindness often makes him put everyone else's needs before his own.

Despite the fact that his cheerful disposition can make him seem like an airhead, Naoki is actually very intelligent and knowledgeable on many topics. He achieves the highest grades in his school and the rest of Japan. Naoki can be book-smart, sporty and artsy all in one. Though, there is times when Naoki can be rather clumsy, and this only increases more as his condition worsens. Since he is such an optimist though, he tries his hardest to contain his sorrows.

Naoki is a popular boy, but even though he is constantly surrounded by people, he doesn't have anyone close enough to call best friend. This has caused an inner loneliness that he likes to hide from others. He isn't the jealous type of person, but when he sees close families and friends spending time together, it does cause his heart to ache a little.
---
---
║
║
║
║
║
║
║
║
║
║
║
║
║
║
║
║
║
║
║
║
║
║
║
║
║
║
║
║
║
║
║
║
║
║
║
║
║
║
Naoki's birth was one of convenience rather than love. His parents, Yamada Ai and Yamada Koharu, had barely known each other prior to their engagement. Ai was a budding fashion designer with her eyes set on international travel. Koharu was a lawyer from one of the top firms in Kyoto. The two, both busy, professional individuals, decided to settle down with the use of a match maker, seeking other like-minded professionals. From this match, Naoki was born.

Due to his families growing prestige, Naoki's parents were often busy, leaving Naoki at home with a hand full of caregivers and nannies to take care of him. Often times Naoki would only see his family briefly every few months when they came home from business trips. So without his parents, or any siblings, Naoki's childhood could seem lonely,
but he always made the best of it. He would play with his caregivers, read lots of books, play games by himself or run around outdoors.

As he grew up and was enrolled in school, it was obvious that Naoki was a gifted student. No matter what the teachers threw at him he could understand and master it. Math,
different languages, literature, history, sports, arts, you name it and Naoki could achieve greatness. He was a jack of all trades. You would think his parents would be excited for such an excellent child, but his exemplary work did not catch their attention. Most kids would feel resentful, but Naoki continued to stay strongly optimistic.

Prior to highschool, Naoki was already popular with both men and women. Endless girls confessed to him, and boys always wanted to be like him or friends with him. In high school this popularity bloomed further. Despite this, Naoki never had people he could truly call his close friends. On the outside it may look like Naoki had it all, but on the inside he was lonely.

In the last year of high school is when his life took a sudden turn. One day, after coming home from school, he felt weak and dizzy and decided to go to bed early. All he remembered next was heading up the stairs, his vision going dark, and waking up in the hospital. The perfect boy was no longer perfect. He was now sick.
---
---
║
║
║
║
║
║
║
║
║
║
║
║
║
║
║
║
║
║
║
║
║
║
║
║
▪ Positive Attitude - No matter what the situation, Naoki tries to face it with an optimistic approach and sunny disposition.

▪ Intelligence - Despite his looks, Naoki is rather brilliant too. He loves to read and play mind challenging puzzles. If anyone can teach him about new subject matter, hes all ears.

▪ Proficiency - Naoki is a Jack of all Trades, so to speak. He is easily able to pick up many subjects, sports, arts all with ease.
▪ Laughter - Even when upset Naoki tries to laugh through any situation.

▪ Playing with his Hair - Whenever Naoki is nervous, embarrassed or upset, he plays with his hair as a distraction.

▪ Romance Novels - Naoki has an obsession with reading romantic novels, particularly from a specific author.
▪ Bottling up his emotions - Naoki believes in always staying positive, but due to this he often bottles up his feelings and doesn't have a healthy outlet.

▪ Health - with the recent discovery of Naoki's health issues, he is a lot weaker and is slowly becoming less and less able to function on his own.
---
░C░O░P░Y░R░I░G░H░T░
Iηѕριяє∂


Verix
ઽ૮૨α
catgirl



Cнαяαcтєя Sнєєт


StarlightPrincess
---