"Sorry, too busy being your teenage dream!"
I will not Bow, I will not Break
I will shut the World Away
I will not Fall, I will not Fade
I will take your Breath Away

- Breaking Benjamin | I Will Not Bow




Age:


16 | "Two more years and I'll be awesome!"



Gender:


Female | "Really? You can't tell?"



Height:


5'7" | "Just about right!"



Weight:


123lbs | "I may like that number, but you best not be telling anyone!"



Birth Date:


31 October | "Halloween.. So I could legitimately wear my birthday suit that day, ha!"



Grade:


Sophomore | "So... For more..."



Sexual Preference:


Bisexual | "Best of both worlds!"



Social Status:


Popular | "Everyone just likes me!"



Occupation:


Undisclosed |"That's a secret."

---
Likes:
Being in bed
Fruits
Chocolate
Books
Muscular guys with abs!!!! :D
Doing nothing
Dislikes:
Unhealthy food
Being useless
Wimps and cowards
Being ignored
Hobbies:
Schedules:
AP English
Chinese
AP Biology
World History
Geometry

PE
Theater
Journalism
Business Management
Strengths:
Actress

- Sasha is quite the actress, capable of playing out different roles with ease and believability. This also means she could lie rather well. *hints* *hints* ;P

Observant

- With her acting skills comes the ability to note which body language corresponds with which emotions, and because of this knowledge, she tends to be more observant to pick up on such body language cues.
Weaknesses:
Body Image Issues - being an Asian means she was somewhat different in body structure. These differences, especially in a society which emphasizes beauty that is somewhat contrary to what she is, cause her to harbor some feelings of inferiority whenever she looks into a mirror.
Vulnerabilities - her extroversion is a facade that she puts up so she can fit in with her friends. Having to constantly pretend to be someone she isn't is mentally and emotionally draining at times. (Which also explains her mood swings; explained below)



Secrets:




Was once forced to work as a prostitute due to her parents' debts
Parents are mostly absent, and are abusive when they're around
---
Appearance:
Sasha sports her natural black hair that reaches slightly below her shoulders. Typically, she brushes her fringe to the side so that her face and vision are not obscured. Like her hair, her irises are also black making it difficult, or almost impossible to see her pupils. Per her style, she rarely ever ties her hair, preferring to leave it unrestrained unless she is participating in sports.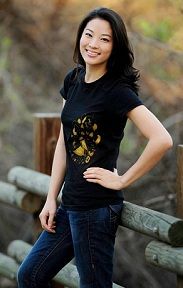 When there is no reason to dress up, she usually wears a simple t-shirt paired with skin-tight jeans. The picture shows one possible example; alternatives to that are simply more of such shirts with different designs and colors, paired with the same type of jeans.
Although Sasha accepts that dressing up well is an important part in preparing for school, she does not believe in having to do so all the time. She prefers
Pink Italian
comfort above all. If it were possible, she would have simply wore a tank top and shorts to school - her common attire outside of school (even in winter; yes, seriously). However, rules were rules, and she dares not be overly zealous in breaking those rules just to satisfy her own preferences.
Though, friends closer to her speak of another way she goes about breaking those rules... One that some would think is either hot, or simply ridiculous. But really, who can stop her?
When she does have to dress up, she goes for simplicity. By simplicity, it means something that she doesn't have to crack her head to match. Something as easy to match like... Using only the darker and duller colors... Almost always some kind of jacket over a tank top or shirt... And skin-tight jeans once again. Well, if anything, you ought to know by now she didn't get to be popular by virtue of her fashion sense.

Unless the occasion is grand enough, she would not think to experiment with other choices of clothing. Well, that rarely happens, and believe me, chances are she may just opt to go with her idea of simplicity again.