---
---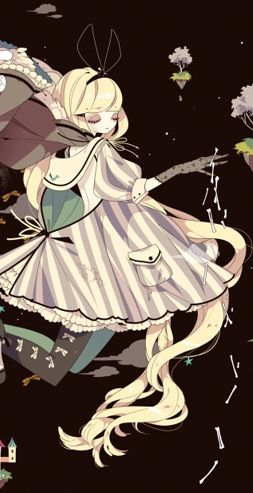 Full Name
The Doll

Nicknames
The Lovely Lady, The Fae Kin, Spirit Child


A being such as her never wanted to be limited by the semantics of naming. For a name places a limiter and a barrier on its' owner, it means there is a collar for all eternity and creates an identity that cannot ever be altered. She was never fond of the idea of naming and refused to accept one, despite the various attempts to give her one. She responds only to titles, which are elusive and tricky things. And she enjoys the idea of her freedom--she enjoys it quite a bit.

Standing at a height that barely eclipses one foot, she is a tiny, petite doll who comes across more fragile in appearance than she is in mind. She has pale, porcelain skin--beautifully translucent and has something of a glow to it when it is touched by moonlight. Her hair is quite long, much longer than her body-height in length. She must tie up her blonde locks into pigtails of sorts to prevent her hair from trailing behind her and accumulating dirt. Her bangs are evenly cut and fall right above her wide eyes, ethereal hazel orbs that sometimes appear a more dull gray in color when she is angered or as vacated her body.

Her manner of dress is a whimsy, thrown up into the winds for how she is feeling on a particular day. She would be a disgraceful doll if she did not have a wide assortment of outfits to choose from. Most of these clothes are wider, poufier, and baggier than she is--giving her the appearance of a truly tiny figure bundled up in lace, silk, and velvet. She enjoys bonnets and bows, there is always a hair ornament decorating her head in one fashion or another--and she is very careful to always wear gloves. To the keen observer, it does not take long to realize that she covers up her ball-jointed limbs underneath cloth--something she began to do when she and her dreamer experienced their tremendous difference.



---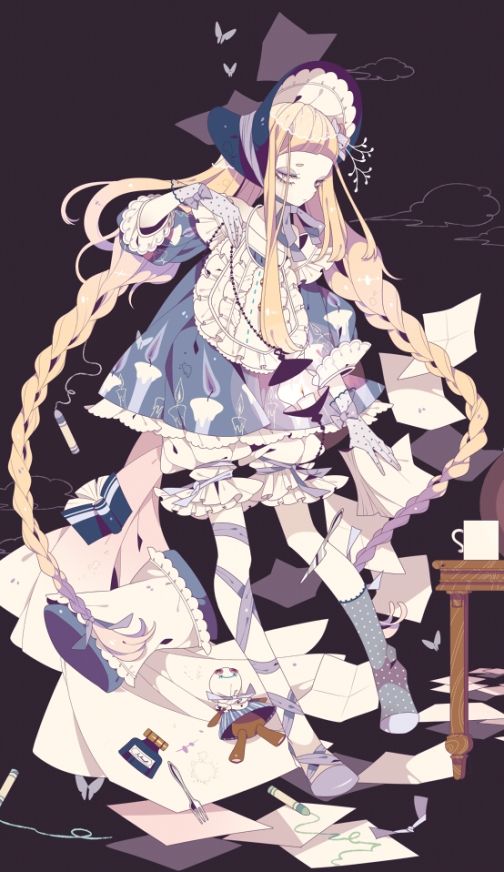 Before she was cut off from her creator, the young lady was bright--brilliant with her imagination and always quick with her wit. In fact, one would say that there was no pair of stars that shone as bright as she and her creator. She reflected back the childishness with ease, at that point, having been rather innocent and possessed an urge to go adventuring. She was vivacious, full of energy, and always willing to try the rather unorthodox approach to everything. She was playful, an effect of the bubbly nature of her mistress, and often this gave way to a snarky sense of humor and a quick, girlish laugh. Her looks and charm were used as a lull to draw others in, only to spring a trap full of laughter, amusement, and perhaps a bit of sass. She always had an excuse ready to wave off the rowdy behavior of her dreamer. She enjoyed the rough and tumble of it all and enjoyed every moment of her outtings with her dreamer. And she absolutely loved hide and seek.

But the lady that existed at that time soon began to disappear with the advent of separation. In due course, her qualities began to fade into a dull ember of what they once had been. And the doll began to warp that reality into the new one that she became.

From a distance, she will appear to radiate an elegant and refined nature--perhaps due to her beauty and tiny body. She still possesses her quick wit and overall, sweet demeanor. Her mind has not failed her in the recent years and if anything, she is smarter than she once was. She is excellent at creating traps, but now uses them for different purposes. Acquisition purposes... Most of the time, she is... just confused. She never understood why her creator left her behind and this leaves her with a certain amount of sadness she does not know how to deal with. This has caused her to turn reclusive, to hide from others, to withdraw into herself. She is almost excruciatingly shy now, hiding behind objects at a moments notice. She was always good at hiding, but now she's gotten a little too good at it. You won't find her if she doesn't want to be found.

Her language has turned deceivingly polite. When she is forced to interact, she will display a very formal manner of speech. She knows the proper way to speak to someone but this should come with an alarm. For the more polite she is, the more she detests whoever it is that is unfortunate enough to have incurred her ill temperament. Despite all this, her life is somewhat whimsical. Without her dreamer around, she's turned into a bit of a vagabond and a wandering spirit. Her musings are unpredictable and she doesn't like it when someone else displays a curiosity to understand how she functions. Indeed, for she is chaotic in every sense of the word and enjoys that she moves much like the wind. Her sense of humor has somewhat... diminished over the years. She no longer takes jokes the way she used to, instead, upturning her nose at the very mention of them and giving a small huff. Jokes aren't funny anymore--her creator made one years ago and then the woman went and disappeared.

She's gotten very good at denial. Yes, in her heart, she still loves her mistress dearly and wishes for that love to return. But she's pushed that down like bile and in defense, has set up safety measures. She can alter her personality slightly when her eye color changes, a quirk she picked up when she was unable to return a portion of her imitation magic several years ago. In order to defend herself, a side of her is more manipulative--but unknowingly so. Her innocence remained so not all of her is conscious that her actions cause great harm to others. She will readily pull strings around her in order to ensure her own safety, even if it comes at the cost of someone else's life. She just wants to be left alone, and she will react in kind if pursued. A lot of this is spawned out of fear but don't let that strike a soft spot--because when she's on the offensive, she's ruthless because of her lack of understanding. And she'll do anything to make herself comfortable.


---
Her first ability comes in the form of music, which is produced via the small violin that she carries on her person. Her musical talent is just shy of extraordinary, a quirk that she never really got rid of even after she ceased contact with her creator. Her notes carry with them "possession", which allows her to enchant object to do her bidding. This can come in the form of levitation, movement, whatever it may be that she desires, she can create the song to make it happen. In essence, she translates her wishes into musical verse. Much like a puppeteer, this ability can be turned onto people, forcing them into endless dance until she releases them from the throes of her song. This form of her magic is used as her main "offence", as she will defend herself by manipulating other objects around her and use them to attack for her.

She can alter her will in other ways, giving way to her next ability. She can deposit her essence into her "creations", which allows her to body-hop if the need arises. For each creation that moves and walks on its' own, it has been imbued with a small portion of her mana to continue its' movement and its' life-like existence. If she is being attacked, this tactic is excellent for defense. (And also makes her a very good hide-and-seek companion) She can only switch bodies with something that shares direct ties to her--this ability does not allow her to possess other, living entities.

This kind of usage of her power leads to her final ability: multi-face. This is an imitation magic technique that allows her to take on the appearance and even personality of a reflection. Whoever shares her gaze might be privy to this particular gift of hers and this acts as a bit of a soul-switcher, in a sense. She will reflect the person back in her own glassy orbs to gain this alternate persona and, much like a druid's "A Thousand Faces", this is no mere illusionary magic--it is a real feat of perfect replication. While using this ability, her actual spirit is transferred into the magical energy that is helping to upkeep the spell. The longer she remains in this state, the more she must diffuse her mana so that she does not lose her actual self in the process.






Surprisingly, mirrors are something of a detested object for her and she fears their existence. If she should ever lock gazes with her own reflection, her eyes will go blank and she will topple over, completely lifeless. Her essence will, at that point, be thrown into an odd sort of soul-limbo. She will still exist and in a way, this is a like a forced form of astral projection--except the astral chord that would normally tether her to her physical body is unreachable. The only way to get her out of this state is to have her body share the gaze of her creator and renew her life energy back into its' proper place.

As a doll, her body also suffers from the need for maintenance. She has a small, wind-up key slot located on her back. It is rather tiny and only those who are very familiar with her mechanisms would be able to find it. With the lack of her creator, she had been using her own created dolls to wind her up. However, if she should ever lose her key, she cannot actively move. The key also serves a dual purpose for restoring her mana--it creates a flow for her magic to stem out inside of her body. So if she fails to be wound up that day, then she will be powerless to defend herself and will be trapped in a paralyzed state until her mana completely depletes and she closes her eyes, waiting to be wound up again.

In addition to being wound up, she has to consciously re-charge her mana every day. To do this, she enters a meditative state for 1-2 hours and will not awaken until the process is complete. (She does not sleep or eat but this is the one time that she is nearly defenseless) Giving her magic to her created dolls can be exhausting and should the tinier versions ever be destroyed, then she will lose a bit of her magic for that day--as she had given some of her essence to that creation.

She has a bizarre, disturbing, and rather vibrant collection of eyes... that she keeps in a multitude of jars. She is obsessed with collecting them, she needs to. That is, after all, why she always has a pair of shears on her. She needs to be ready for eye collection, at any and all times. Especially when her creator isn't looking. She needs those eyes for her creations; she loves her children, quite a bit, much more than her creator cared for her--at least that's what she tells herself. On a less dark note, she has a musical tint to her voice and whenever she speaks, it might just sound like a little tune rather than actual words.


---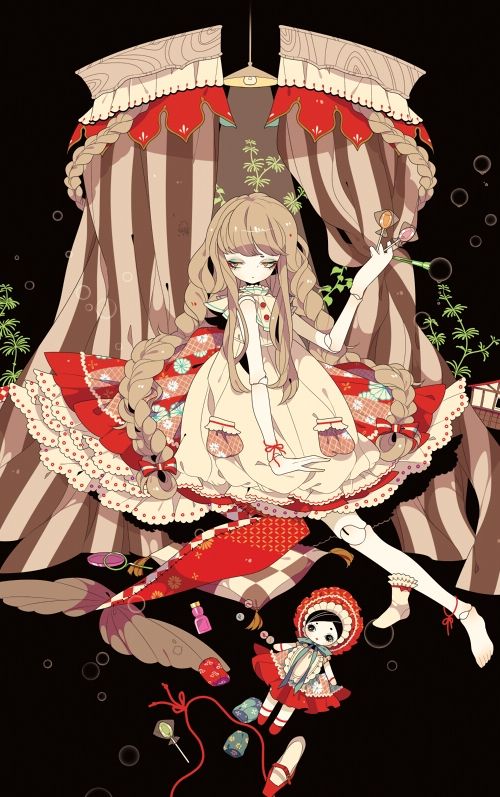 (Blah blah, dissertation about how she and Wilow met etc.)

Then came the day that her mistress... vanished. She did not know why it happened, she looked all over for her creator. She kept searching and searching, this was just a game of hide-and-seek, wasn't it? She'd find her creator and they would laugh, play, and go on another adventure, just like always. But the search was fruitless and after days had passed, she finally came to the realization that her dreamer wasn't coming back. She was alone. And this scared her. She had never been without her creator before and she felt confusion bubble up in the pit of her stomach. She cried out for her mistress to return, she waited still, because somewhere in her heart, she didn't want to accept what she had come to realize. It couldn't be true, it just couldn't.

But all of the months of waiting took their toll on her. She began to get used to wandering, to being alone, and she didn't like it, not one bit. She needed playmates, but she would be a better momma than her creator ever was because she wouldn't desert her children. She never would. She set to work in her small home, bringing back bits of wood, herbs, vines, leaves--anything she could spin into cloth, doll hair--and began to make miniature dolls to keep her company in the large forest. At first, she created small replica's of her mistress but dismissed those prototypes before long because she was trying to convince herself that she could be strong all on her own.

Without her dreamer, she suffered from doubt--a doubt that took a large blow to the copious amounts of courage she used to have. And over time, she turned shy, soft-spoken, barely able to hold anyone's gaze for fear that they'd leave her too. It was this need for company that urged her to steal her first pair of eyes. Her dolls, though she gave them her mana, did not have any eyes and seemed lifeless to her, even though they could move and speak. But eyes, yes, that was what was missing, wasn't it? Her creator had the loveliest pair of eyes... eyes that reflected back utter perfection. She wanted that too, she wanted a soul all on her own so she could stop feeling scared. She began her morbid collection of eyes shortly there after, adding it to each of her creations and putting the rest in jars. But none of it was good enough, she wanted her dreamer's eyes--she wanted those for herself. So that she could feel strong again, so she could stop feeling so dependent.

She wasn't used to these kinds of feelings and for someone that was used to being so forwards, this new demeanor did not sit well with her. So she turned her hatred outwards towards her mistress--all of this was her fault. And so what if she cried? So what if she longed to be held? She had to remind herself that those days were over with. She was alone now, only with her children for company. And nothing would change that. Even though her heart hurt, even though it begged her to wait just a little longer. Those instincts were childish and she had to fight her need to make excuses...


---


The realm of Dominae Terra is beautiful and is somewhat reminiscent of a fae grove. While her demeanor changed, her habitat did not suffer a lot of change. She relies upon her environment to provide her with wood, shelter, and ingredients to keep making new creations. The earth is rich and provides many nooks and crannies that allow adventures to be had and many games of hide-and-seek to be played. The realm is expansive and seems to stretch on for miles. It is extremely easy to get lost in the woods and a lot of moving around relies upon intention. If you know where you wish to go, then the woods will guide you there. If you do not, then well, you are leaving yourself up to the whimsy of the land and in the hands of the fates. And sometimes the forest is cruel. It is home to a variety of magical creatures, not all of whom are friendly and speak a healthy dose of common. But perhaps the best part of the realm are the mushrooms. They levitate and are the main source of transportation to and from the different areas.

However, the most notable change in the atmosphere are the odd amount of... strings that hang from the forest ceiling. Tugging on a string won't do you any good and climbing up one will lead to a task that will span hours and hours and still never be over. She actually uses those strings much like a puppeteer, staged at the topmost branches of her forest and moving around creatures as if they were puppets in a life-sized play. The strings are also used by her as a means of getting around, providing shortcuts that are accessible only to the tiny figure. If one peers close enough, you will notice there are a variety of eyes popping up here in there. In the tree trunks, against the mushrooms, in the grass... always being watched. Yes, there is a lot to explore here but careful not to wander too far into the unknown.