everybody wants to rule the world - lorde. control - halsey. bury a friend - billie eilish. jumpsuit - twenty one pilots. dinner and diatribes - hozier. the reaper - as it is. vicious - halestorm. boy division - my chemical romance. necessary evil - motionless in white.
______________________________
N

x

A

x

M

x

E→ ashton david hatfield

N

x

I

x

C

x

K

x

N

x

A

x

M

x

E

x

S → ash, asha, the editor

A

x

G

x

E → 22

S

x

E

x

X

x

U

x

A

x

L

x

I

x

T

x

Y

x

→ homosexual

N

x

A

x

T

x

I

x

O

x

N

x

A

x

L

x

I

x

T

x

Y → english

E

x

T

x

H

x

N

x

I

x

C

x

I

x

T

x

Y → white

H

x

E

x

X →

#494949



______________________________
x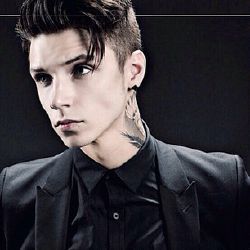 D

x

I

x

D

xX

Y

x

O

x

U

xX

H

x

E

x

A

x

R

x

?


The official name for Ash's ability is Reality Warping. However, he doesn't see it as that. It's more like... persuasion, except people are next to powerless to resist. His power is dependent on the words "Did you hear?" Anything he says following those words will come true. He can't change the past, only the present and future, and he can't turn off his ability. It's allowed him to excel as a thief, because he can cause any witnesses to forget they ever saw him. His ability seems to only affect people. So, "Did you hear? It's going to rain tomorrow," will seldom work, but "Did you hear? You're going to forget all about me once I walk away," works almost every time. The larger the "command", the more it drains him. The more out of character it is, the more it tires him. Some can tell they're under the influence of a command, while others aren't. Those who are aware can stop the command from working by stopping him from talking mid-sentence. Other superhumans seem to be better able to detect when they're under the command. Some simply know just because they're aware of his ability and know what the words, "did you hear?" means. He can't change interpersonal relationships as they're defined by the past. He can't make anybody fall in love or come back from the dead, nor can he heal injuries. He has no control over other people's abilities, as much as he wished he did.

______________________________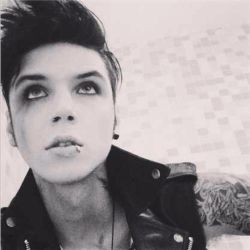 x
P

x

E

x

R

x

S

x

O

x

N

x

A


Ash thrives off of chaos. He's the type of person to plant the seed for an argument, sit back, and relish the ensuing chaos. "Did you hear?" has become one of the most dangerous phrases in Scarriden's history thanks to Ash. Not that he causes large-scale disaster or anything. But robbing a bank and framing one of the security guards? Murdering one of the biggest crime bosses in the neighbouring city, throwing a police investigation into complete disarray? All chaos. All Ash's doing. Not to say that The Editor doesn't have morals. No innocent people, if at all possible. Sometimes they get caught up, and well, every job has collateral. But no mindless destruction. He has to know the whole story before he'll accept a job. Why a client wants the person in question arrested or killed. Why that object is so important. If a client objects to Ash doing research, Ash walks away. He's not an idiot.

Ash thrives on chaos and disaster, forming a career around it. He wears his persona like a mask, and most of the time, he doesn't know where The Editor stops and Ash begins. Most of the time, he doesn't care. But the primary difference is that Ash is desperately, hopelessly sad. Ash doesn't have friends or a social life. His life has become his job. His apartment is three steps away from a cliche villain lair. Research for his current job, research on the heroes, research on his competition. Weapons and evidence of his training. All The Editor. Ash Hatfield exists in name alone.

There's a tiny, stubborn part of Ash that craves physical affection. He goes to bars and to nightclubs, spends a night with a stranger and says that's enough. He quiets the voice for a while, but it always comes back. At some point, The Editor began to terrify Ash. How easily he can control everything around him and how much destruction he can cause with three little words. Ash can't remember who he was, and it's so much easier just to give in. It's like a drug, terrifying and intoxicating. He wants to stop. He wants to never stop and to just become The Editor, to lose all human feeling and just become Chaos. And lately, the chaos has been winning over his mind.


______________________________
x
H

x

I

x

S

x

T

x

O

x

R

x

I

x

A

It's a cliche. Ash would never admit to it. But his life has been filled with death and loss, and it's what drove him to who he is today. It started with his parents. His parents were wonderful people, and had they been around for a little longer, Ash might have become an extremely successful hero instead of who he is. Ash grew up in a poorer part of Scarriden, and his parents lived paycheck to paycheck. He never had the extravagant presents or gifts other kids had, but Ash had something far more important. He was loved. His ability manifested around the age of seven, but his parents helped him manage it. He was twelve when they died in a horrific accident, one Ash witnessed.

Ash bounced around from relative to relative, but he kept running away, kept just wanting to disappear. He was arrested on more than one occasion, but always managed to avoid jail. Blaming his trauma, his relatives never punished him, and it became a vicious circle. It stopped being teenage rebellion and eventually started to morph into the persona of The Editor, causing havoc and never getting caught. At the age of sixteen, he ended up on the heroes' radar and was intercepted by a group one evening. They were shocked by how young this dangerous criminal was, and instead of apprehending him, offered him a chance to join them, to help him get his life back on track. Instead, he made one of them attack another and escaped in the chaos.

But he was terrified, afraid of what he had done and afraid of what he could do. He went quiet for a while and tried to live a normal, teenage life. He met a boy, someone who made The Editor go quiet, fade into the background. The desire for chaos was still there, but the boy was an adrenaline junkie too. They did dangerous, stupid things, but they were dumb teenage things. And then, when they were eighteen, the boy was killed by a complete stranger. Or so Ash thought, until he fought him. The murderer was one of the heroes who had approached Ash. Ash killed him in a rage, and The Editor arrived back with a vengeance. Ash joined the villains officially and has allowed the chaos to engulf his life. He doesn't care any more.