| Meaning |
Daughter of the Sun / Fated
| Nickname(s) |
Elle
| Role |
Female Sun Twin (Older)
| Clan |
Possideo Clan
| Quote |
"-----"
---
| Appearance |
Eleana is by any standards exceptionally beautiful. She has long, blonde hair and captivating blue eyes, along with full pale-pink lips that are almost always turned up into a brilliantly white smile. Her body is extremely attractive as well with a toned body, hourglass curves and full C-cups. Her skin is fair but she can tan with ease (one of the reasons she's a fan of the beach). Overall she's very attractive and has had no shortage of guys express this opinion to her.
Elle and Ana have complimenting tattoos on the side of their ribcage, Elle has a sun with the words
"You see all of my light"
on her side underneath the sun, while Anastasia has
"You love all my dark"
underneath her moon.
| Picture |
| Age |
17 (Older Twin)
| Height |
5' 4"
| Weight |
116lbs
---
| Personality |
At a glance Eleana seems like a perfectly normal teenage girl. She's very friendly, always looking to make others smile and (having a great sense of humor) laughter comes easily to her, so she has a talent for diffusing tense situations. It is her genuine belief that people are inherently "good" and this leads her to see/draw out the good in people, where she means to or not. She's rarely seen without a smile and has never had any problems socializing, always making a special effort to befriend the outcast and make them feel more comfortable. Usually whenever her younger sister socializes it's because Eleana convinced her to join in on the fun.
Eleana is always up for trying something new and exciting so she has a tendency to throw caution to the wind meaning that she is usually very trusting of people. However this is not to say that she is reckless; if something poses a threat to her or her sister, Eleana becomes extremely cautious (or suspicious, if the potential threat is a person). She holds herself responsible for her sister's happiness and general well being which means that whenever her sister does something reckless or on a whim (which happens more often than Eleana would like for it to) it is usually Eleana who ends up frantic (though Anastasia has gotten better about being more careful, even if only for her sister's sake).
While Eleana worries about Ana's recklessness, she is most worried about her sister's tendency to bottle up her emotions - this also confuses her because Eleana has never really hesitated to express how she was feeling. Truthfully it ought to be easy for Eleana to have many close friends and perhaps even a serious lover, but her loyalty to her sister prevents this from happening as she would give up everything for Anastasia without a second thought. They are extremely close and Eleana knows all of Anastasia's deepest fears / secrets, just as Ana knows hers - they can read each other like open books to the degree that they've been asked if they were in fact identical twins many times before.
Deep down inside Eleana has fantasized about finding love someday, however her major dilemma with that is Anastasia; Eleana could never live with herself if she knew that, while she was happy with the love of her life, Anastasia was feeling alone and betrayed. So in Eleana's happy daydreams she's decided that the perfect solution for this is that they find and fall in love with another set of twins! ....Yes it's a terribly childish daydream and she knows this, but still it'd be nice.
| Likes |
♥
Music
- a lover of singing and dancing, music is a source of comfort and can make Eleana the life of the party
♥
Daytime
- there's nothing more beautiful that the perfect day in Eleana's mind
♥
The Beach
- by far the best place to spend one's free time, she also love to surf and swim
♥
Being Social
- Eleana can keep a conversation alive like no others and is very friendly (though typically doesn't let people get closer to her than this)
♥
Animals
[/size] - she's always had a deep love of animals and has more often than not had the deep desire to become one herself
| Dislikes |
✦
The Cold
- snow and iceskating is fun but Eleana would much rather have a cup of hot chocolate by the fire
✦
Mean People
- being yelled at or scolded tends to upset her and she hates people who're mean to her or her sister
✦
Small, Tight Spaces
- she'd much rather be in a wide open field rather than a closet as it makes her feel trapped
✦
Complete Darkness
- not to be confused with nighttime (which has stars and the moon); she just likes being able to see
✦
Liars
- almost nothing can break her trust faster than being lied to
---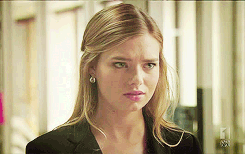 | Abilities |
Being of the Possideo Clan, Eleana has the ability to shape shift into animals, people and even other demons. In addition to that they have the ability to possess the bodies of humans. Because She's had no formal training Eleana can't yet do any of this on a whim, though occassionally she'll experiance an influx of power and randomly do any one of these things. Eventually she'll learn to wield her powers and her favorite animal forms will be those of a
horse
, a
barn owl
, a desert
fox
, a
lioness
, a
crocodile
and a
raccoon
(all with a blonde/gold color scheme).
On a separate note, Eleana has always been a fan of singing/dancing. Anastasia has walking in on her sister singing into a hairbrush while dancing around the bathroom countless times and the only time she's ever shy about her passion is whenever she's asked about her own music. She has a song writing journal and plays the guitar and the piano (though not nearly as well as her sister can). Asking her about any of this will cause her get all bashful - she only ever freely shares her music with her sister, who is usually helping play piano and/or do back up vocals.
| Fears |
⌘
Eleana fears nothing more than the idea of loosing Anastasia. The very thought of Anastasia dying can bring Eleana to tears. Elena feels that, as long as she's okay and they're together, then she's unstoppable. She loves her sister more than she's ever loved anyone else, including herself, and she holds herself personally responsible for the care and overall happiness of her younger sister. Eleana would sacrifice anything to ensure that her little sister was happy, healthy and alive. Even the smallest afflictions to Ana, like paper cuts or the common cold, can make Elle worry herself sick. Were Anastasia ever to be seriously injured or killed, Eleana would be devastated and totally lose herself to grief (spiraling into depression and possibly even considering suicide just so she could be with her sister again).
| History |
Eleana has tried to live a happy, healthy life but being a foster child this was a difficult task. It was easy enough to charm whomever she and Anastasia were living with but she has never felt the feeling of true belonging. Each new foster family provided a house, not a home. Eleana did research on her and Ana's mother, who had died when they were born, in an attempt to find any remaining family however her searching turned up unsuccessful. It was at this point in her short life that she decided, since they didn't really seem to be a family, Eleana and Anastasia would simply have to be their own family.
This wasn't easy for either of them, but especially for Eleana - mostly because her little sister was so reckless. Eleana spent more time than she'd care to admit running to the hospital immediately after school to see her sister and spend the night so she could keep Anastasia company. They continued to move from foster home to foster home with the only constant being each other, causing them to steadily grow closer.
Now this was not to say that they never had their tiffs. Anastasia had a tendency to randomly disappear and cause Eleana to go into a full blown panic. The worse time this happened being about 2 years ago when they'd just moved to Maine and she'd decided to go on a 3 day camping trip without warning - Eleana had be furious and not spoken to Ana for 3 days afterwards, but eventually broke down and confessed how absolutely terrified she was of the idea that Ana had been kidnapped or something. Ever since she'd been much better about telling her sister where she was going beforehand, and the two girls decided to make the investment and purchase cellphones shortly thereafter.
| Theme Song |


[url]Song Title[/url] - Artist
Face Claim: Indiana Rose Evans
Hex Code: #00BFFF