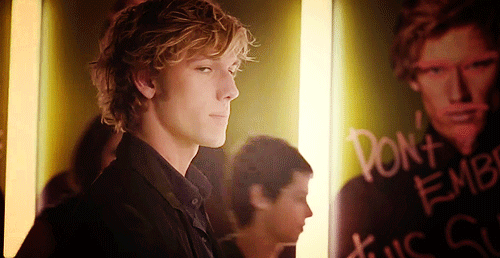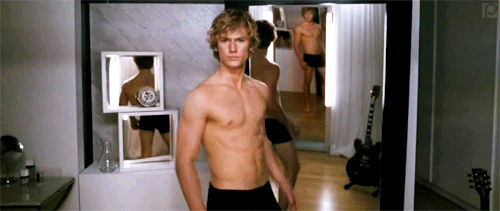 Full Name
:| Lincoln Genovese
Nicknames
:| Linc
Age
:| 20
Gender
:| Male
Orientation
:| Heterosexual
Originally From
:| Lenox Hill Hospital
Currently Living
:| Upper East Side
Occupation
:| Helping out his father and learning the ropes of the business until her mother put a stop to it. So for now a Student majoring in Banking and Finance, attending in Cornell university.
Likes
:| Linc likes food, he would go out of his way to search where the best dishes are served. He also likes music from the '50s, '60s and '70s, he finds it more soothing and relaxing rather than today's mainstream music. Linc likes driving, controlling the machine and whizzing past sceneries. He has tried skiing and mountain biking. He is not an andrenaline junkie though, he's just well rounded in sports. He likes boxing. His father even hired an ex-olympian to be his trainer. Overall, he likes to keep himself in shape without going to the gym.
He's surrounded with guns all his life, so it's but natural for him to like firearms. Linc used to clean his father's gun when he was younger. Lately, he's fascinated by blades of all shape and sizes. He wants to be proficient in all weapons available to him.
Linc likes pretty women and their charms, he rarely goes out without a date. Like any hot blooded young man, Linc enjoys having sex and lots of it. FC: Camilla Belle piques his interest and he will have her soon. Though he prefers good 'ol fashion vanilla sex, he's not one to turn down a threesome. He enjoys female attention and use it to his advantage.
He likes sharing meals with his family and connecting with them. He will never be too old to eat his mother's home cooked food. He cannot survive without audiobooks, it has helped him a lot especially with his studies.
Dislikes
:| His uncle FC: Jeremy Renner. He hates him for siding with his mother about his involvement with the family business. He hates failing and since he's not so good with academics because of his dyslexia this frustrates him to no end. He hates wearing suits and tuxedos but given his lifestyle and family background, it's a necessary evil. Linc loathes people who cannot keep their promise. And if you do, you better not show your face around Linc because heads will roll. He dislikes wearing eyeglasses. His vision is not so poor but he has progressive astigmatism and the eye doctor advised him to wear eye glasses. Something he ignores.
Above all, Linc hates abusive parents and people who bully the weak. He'd make sure they pay for their crimes one way or another.
Fears
:| His greatest fear is getting dumb, when letters and numbers don't make sense anymore. He also fears losing a limb or any of his senses. He'd rather die than be an invalid.
Secrets
:| Linc was diagnosed with dyslexia when he was 6 years old only his parents know. Shae got pregnant and terminated the pregnancy when she was 15 years old. Only him and his father know.
Hobbies
:| Linc likes to hunt and dine in places that serve good food, it doesn't matter if its in a posh restaurant or on the side of the road. He's not really picky as long as the food tastes good. He likes to collect watches and firearms.
Talents
:| He's co-captain of the fencing team at Cornell University, something he's proud of. He got in because of pure talent and several months of rigorous training. He's good at carpentry and building scale models. He made a chair for his younger brother and an armoire for his mother.
Deficits
:| He has poor taste in clothes, the worst dressed among the Genoveses. For the life of him, he just can't seem to dress himself properly. It didn't bother him so long as he's comfortable. Until he showed up to his first date wearing an ill-fitting dinner jacket and a hoodie underneath. His date paled at the sight of him, faked a headache and went home. Leaving young Linc's alone and heartbroken. He concluded that clothes indeed make the man. Since then, he lets his mother or his sister dress him up. They even made this book with pictures of what goes with what.
Weapons
:| Linc has a SIG sauer in the glove compartment of his car and an H & K secretly strapped on his back at all times.
Personality
:| Linc is stubborn and determined. Once he wrapped his head around something, he'd do it. Linc is very competitive and since he is dyslexic, it's very frustrating for him to be just mediocre in academics. He studied for 6 months, working with tutors before taking the admissions test at Cornell University. A man of few words, Linc would like to assess the situation first before taking the proper course of action. Linc likes to think that he is level headed which might come off to others as cold. Linc is humble and modest. He'd like to keep a low profile as much as possible. He prefers the sidelines than in the limelight.
He's closer to his father and he emulates him. He rarely gets angry, it's as if he has an endless supply of patience. He'd just smile and carry on. He'd never instigate fights or bully people. If you attack him he'd probably let it go, but if you hurt any member of his family physically or emotionally, he'd retaliate in kind.
After having a few failed relationships, Linc quickly became jaded. He's not looking for a long term relationship right now. Linc believes that women are interchangeable. He lets the women know what they're getting themselves into from the start. Despite that, he indulges his girlfriends. Showering them with flowers and gifts, taking them to places. He's the perfect boyfriend. He says goodbye when a girl asks for more than what he can give (i.e. Marriage or exclusivity). He can be charming and thoughtful when he sets his mind to it. Of course he wants to get married someday. If and when he settles down, he wants to have the kind of marriage his parents have. It's a tall order but he will not settle for anything less.
Linc is hard working and diligent. He works harder than anyone else and does not tolerate slackers. If you're going to be within his circle you better pull your own weight. He is loyal to his family and loves them to distraction. He's especially protective of his sister and mother. He'd do anything for them, from the trivial to the more serious.
He'd taken an interest in politics when his father was berating his associate for giving exorbitant amounts to the District Attorney. He figured if they have someone on the other side, then they'd be saving on "miscellaneous expenses".
History
:| Linc is the eldest son of Jonathon and Victoria Genovese.
Living off on Yale campus was a bit rough for the young family. Between the conflict on his parent's schedule and being responsible for a toddler, his parents did everything they could to make things work. He felt so loved and cherished.
When he was four, his father bought him a big book of alphabets. Young Linc was happy and went to his mother to show it to her.
His mother taught him the letters and the words. Dumbfounded, Linc cannot seem to differentiate "b" from "d". Linc was scared for the first time. It didn't stop there, Linc had difficulty in spelling. At five, he still cannot tell time or tie his shoelaces. Linc invented colourful excuses to hide his disability. Until, one of his teachers spoke to his mother and voiced out her observations. At age six, Linc was diagnosed with dyslexia. Things got better after that, his parents explained his condition to him. He was glad for the first time in a longtime, fully understanding what is going on with him. His parents got him the best tutors and he flourished and conquered his condition.
At age seven, Linc, Shae and Dylan was kidnapped. Everything was a blur of activity, it didn't help that one of his captors slapped him hard when he tried to free himself. When he came to, he was in a strange house. They bound his wrists and ankles, his sister and brother sobbing next to him. Young Linc then knew, he had to protect his siblings. He calmed his siblings by saying that his father will come for them soon.
And that he did. Like an avenging angel, he kicked the door open and punched the guy guarding them. He freed their bonds with a knife and hugged them for a minute. Two of his men took Dylan and Shae and his father carried him out of the house. "Everything will be alright Linc. You're safe now." His father murmured. Linc cried out and his vision became fuzzy, someone wiped his tears. When his vision cleared he took in his sorroundings and realized they were inside an Escalade. His father kissed his forehead and whispered "I love you son. I'll be right back." With that, went back inside the house. He almost felt sorry for the kidnappers.
After that, Linc grew closer to his father. In his eyes, his father was a hero. His father can make things right and protect them. He is loyal and acts with integrity. He's a difficult task master and sometimes gets frustrated over something or someone. Linc would barge in his office and his father would dismiss his associates to spend time with him. His father never beat him. When he's with Jonathon, he feels safe. He and his father had a serious talk. Jonathon disclosed everything to Linc. Linc's young mind was made up, he will be like his father when he grows up.
Linc was 9 years old, when a bullet grazed his left bicep that landed him in the hospital. A business deal had gone sour and Linc was caught in the crossfire and took a hit in his left bicep. He survive with no permanent damage but his mother went ballistic. She disapproves his involvement in the family business and his uncle sided with her and that was the final nail to his coffin. Victoria forbade him to be with his father when he's doing business.
At age 13, Jonathon trained him secretly. He taught Linc how to fire a gun and firearms safety. He trained Linc on hand to hand combat and sparred with him. Something they do until the present when their schedules permit it. Linc exceeded his father's expectations. He was a crackshot and a natural ambidextrous shooter. Linc knew his newly acquired skills will be useful in the future.
Linc almost had a heart attack when young Shae told him she was pregnant. He was speechless while he hugged her and kissed her hair. Linc urged Shae to tell their father her condition. Its the right thing to do. As expected Jonathon was shocked and like him, unable to speak. After finding his voice, Jonathon promised to support her no matter what the decision. Shae decided to terminate the pregnancy. Linc happen to disagree, exhaled harshly and rationalized. In the end, he respected his sister's decision.
After finishing high school, Linc talked to Victoria about him getting back into the family business. His mother wanted him to complete his higher education. When he reasoned that he can do both, his mother was livid. It was an awful, ugly affair. For the first time, he had a fight with his mother. All he wanted was to be like his father but his mother was adamant he goes to college. He felt rebellious and angry. He turned off his phone and spent two weeks away from the Genovese mansion. After thinking things through, Linc grudgingly agreed and studied for Cornell university's admission tests.
Living on his own, Linc never felt so independent. Like any other freshman, he'd party with his friends until dawn. Go out on dates and show up for class. He'll never forget the first time he saw FC: Camilla Belle. She was laughing and the sound cut through him. She had the most beautiful smile. Linc would very much like to get to know her. She was in some of his classes and it would be easy to ask her out. Unfortunately, it was examinations week so he needed to study first. However, FC: Camilla Belle was not far from his thoughts. Imagine his disbelief when he saw her at the MET gala his family sponsored. He spotted her almost instantly and she came with an associate of his father. Mr. Jones was reputed to hire a call girl as his date every time he attends an event. He vowed to speak with FC: Camilla Belle and find out if she's a prostitute or not.
Miscellaneous
:| Linc has an impressive and expensive watch collection. The only piece of jewellery he will ever wear. He drives an Aston Martin DB9 to school and around town. He also owns a Lamborghini Reventon Roadster, one he use for special occasions or if he wants to turn heads.