---
---
╔
╗
╚
╝
---
---
❖
❖
❖
❖
❖
❖
❖
❖
❖
❖
❖
❖
❖
❖
❖
❖
❖
❖
❖
❖
❖
❖
❖
❖
❖
❖
❖
❖
❖
❖
❖
❖
❖
❖
❖
❖
▐
▐
▐
▐
▐
▐
▐
▐
▐
▐
▐
▐
▐
▐
▐
▐
▐
▐
▐
▐
▐
▐
▐
▐
▐
▐
▐
▐
▐
▐
▐
▐
▐
▐
▐
▐
▐
▐
▐
X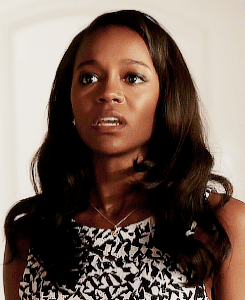 X
X
X
FULL NAME


Lateefah Michelle Ekwensi-Hart



NICKNAME(S)


Tee or Teefah {Most common; used by mostly everyone}|| Queenie {Common; Used mostly mockingly though} || Ivy League {Common; again, mostly mockingly}



DATE OF BIRTH


November 5, 1991



AGE


Twenty-four {24}



ASTROLOGICAL SIGN


Scorpio



SEXUAL ORIENTATION


"I know, I know, a lot of people think that the mom of the group would be walking along that straight and narrow. I don't and honestly don't give enough fucks to even think of doing so. Got a problem with that? Well, that kinda sounds like a personal one and there's a nice bridge for you to jump off in order to solve it."
Pansexual || Heteromantic



OCCUPATION


Waitress at Finn's Irish Pub || Burgeoning Fashion Designer || Escort Girl



PLACE OF ORIGIN


"This ghetto trashy Bayou bitch has come a long way. Or at least, if you ask the skank who birthed me, I came a long way to get back to no way and no where. It's whatever, not many can say they've traveled and done as much as I have."
New Orleans, Louisiana {Birth - 14 yrs old} || Memphis, Tennessee {14 - 17 yrs. old} || Bronx, New York {17 - Current}



ROLE


"If you would've tried calling me this years ago, you would've been talking to the wrong one."
The Mother
---
---
◤
◥
"Strong women wear their pain like stilettos. No matter how much it hurts, all you see is the beauty of it."
~ Author Unknown
◣
◢
---
---
❖
❖
❖
❖
❖
❖
❖
❖
❖
❖
❖
❖
❖
❖
❖
❖
❖
❖
❖
❖
❖
❖
❖
❖
▐
▐
▐
▐
▐
▐
▐
▐
▐
▐
▐
▐
▐
▐
▐
▐
▐
▐
▐
▐
▐
▐
HEIGHT


5'5



WEIGHT


127 lbs



BUILD


Slender and leggy, yet curvy



EYE COLOR


Brown with the subtlest hint of gold flecks along the irises



SKIN TONE


Milk chocolate



HAIR: COLOR|| LENGTH|| TYPE


If there is one thing Lateefah has taken from her father's side of the family, it's the long length and the thickness of it. Unlike her mom's thick and crazy curly (basically nappy as fuck) mop of hair, Lateefah's is just a tad bit straighter and easier to deal with and it's the color of ravens.



DISTINGUISHING MARK(S)


While it's been noted (mostly in her head because Lateefah will never out-rightly admit to anything that occurred in New Orleans) that her mother was probably not physically abusive...there were moments where that might have been put to question. Like the scar right on her hairline, just above her left ear, where a faded scar sits from a cut of a broken glass bottle her mother hurled her way. Or the faded scars from nips of a knife against her skin from fending off a would-be predator that her mother didn't save her from. She doesn't have any tattoos and hasn't really planned on getting any, but both of Lateefah's ears are pierced.
---
---
◤
◥
"You're a tower of strength when you're breaking down/But through the walls I can hear your cry...""
~ Cynthia Erivo - Fly Before You Fall, Beyond the Lights soundtrack
◣
◢
---
---
❖
❖
❖
❖
❖
❖
❖
❖
❖
❖
❖
❖
❖
❖
❖
❖
❖
❖
❖
❖
❖
❖
❖
❖
❖
❖
❖
❖
❖
❖
❖
❖
❖
❖
❖
❖
❖
❖
❖
❖
❖
❖
▐
▐
▐
▐
▐
▐
▐
▐
▐
▐
▐
▐
▐
▐
▐
▐
▐
▐
▐
▐
▐
▐
▐
▐
▐
▐
▐
▐
▐
▐
▐
▐
▐
▐
▐
▐
▐
▐
▐
▐
▐
▐
▐
▐
▐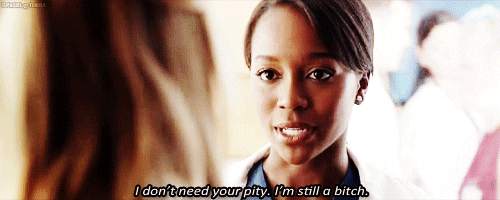 XXX
Calculative ✦ Insecure ✧ Possessive ✦ Perceptive
Ambitious ✧ Intelligent ✦ Independent ✧ Sly
Tough ✧ Pragmatic ✦ Compassionate ✧ Critical
Confrontational ✦ Competitive ✧ Protective ✦ Perfectionist
Vindictive ✧ Charismatic ✦ Indomitable ✧ Bold
PERSONALITY


If you ever asked Lateefah, she'd tell you that she was far from a maternal figure and if anyone else believed that she was, then she was either just a really good actress or they're just dumb as fuck. And she'd bet money on the fact that it would more than likely be the latter, not that it matters. Because whether or not the hardass her classmates remember chooses to admit it or not, the fact of the matter is that Lateefah lives up to her creed as a mother, both as a woman who's currently pregnant and hiding it from her friends, and the one who is pretty much raising her little sister. After all, she'd have to have some kind of instinct if when she's not around Holly or the people she cares about for too long, she gets anxious and concerned. That she becomes notably on guard when an absolute stranger approaches the group. Better yet, when Holly's in tears and looking absolutely helpless and Lateefah can't help but bring the girl into her arms even as she pretends to be rolling her eyes out of annoyance or huffing. She can't help warmth in her chest knowing that everyone is safe and sound, and that no, she doesn't have to fuck someone's shit up for endangering people she might - but won't admit - consider as family. But of course, Lateefah spends a good chunk of her time in hardcore denial with a shot of tequila on the side and an (un)healthy dose of self-deprecation that she will slice your throat with if you so much as consider bringing up.

And even if she were to admit that perhaps she had far more of a maternal instinct, let's be very clear that it isn't all sunshine and rainbows. Perhaps you might misconstrue things because her smile to Holly seemed warm or the concerned grasp on your wrist might have you thinking that she might be worried about the cut you earned from a scrap in the street - don't let any of that shit fool you because Lateefah is tough. Tough as nails with a dont-fuck-with-me-face that'll have you saying sorry before you can even figure out what you're apologizing for. Nothing gets past Lateefah, not unless she's too distracted by her sister. And even if it did, she'll find out when she wants to. Lateefah has never been able to be controlled easily, not since she was little and in what she thought was the care of her mother, and that situation has left her absolutely on her toes, guarded, and an immovable force. She's not impressed by simple flattery or the usual pick-up lines, nor does she fall for the typical excuses her crew likes to throw her way. She's far too smart for any of that and on that note, she's too logical. Unlike her sister, who is usually basing all of her actions and such on pure emotion, Lateefah is calculative and is always maintaining some kind of propriety. Control, really. It's typically safe to call her an insecure, neurotic control freak who will go full-on Mama Bear if anyone touches her sister or someone she cares about. And again, it's not that she will admit to these feelings. While she's typically upfront about dislikes and likes, Lateefah's horrendous at verbally expressing her emotions. Hell, sometimes it's hard to express them in any way, but when they are expressed, it's through actions. After all, unless it's witty snark she's throwing your way, she's always been a bit of an act first-ask questions later kind of girl.

At her core, however, Lateefah's honestly just a girl adamant to not appear to be moved too easily because she's spent practically an entire lifetime in a perpetual state of denied affection and love, leaving it near impossible for her to accept it now or give it back, even though it's very obvious that she loves her sister and has some kind of love for the people she cares about. After years of being told she was worthless and wouldn't gain such, a girl like that has put up too high of a wall for anyone to just break down as they see fit, lending to the girl who subtly tosses in affection mixed with snark and mixed with actual concern, but the one who won't accept the same exact thing in return. And she hates herself - literally hates herself. Hates the fact that she's willing to do any and everything to survive. Hates that she wants to be selfish because the very thought of being selfish - to her - is selfish, and she wanted to see herself as better than that. Hates herself for hating her sister for making her live this life. Hates herself for all of that hate because she knows she needs the girl just as much as Holly needs her. Hates the fact that she still can't even see herself as simply human.
---
---
◤
◥
"Better to be strong than pretty and useless.""
~ Lilith Saintcrow, Strange Angels
◣
◢
---
---
LIKES




▲

Good sex (and it's only really good if both parties "finish")

▲

French toast

▲

Fashion

▲

Cooking

▲

Chinese food

▲

Sewing, surprisingly

▲

Tequila shots

▲

Schedules and having an order to things

▲

Jogging

▲

Shopping

▲

Chocolate

▲

Reading

▲

▲

Yoga

▲

Coffee with as much sugar and creamer as she can stand without going into a sugar coma

▲

Waffles



DISLIKES




▼

People who try to lie to her face

▼

Anyone who thinks they can just control her

▼

Twizzlers or anything licorice related

▼

When Holly gets particularly petulant

▼

Herself

▼

Getting emotional

▼

Petty bitches

▼

Assholes at clubs who think a girl should just drop it low for them for free

▼

Freezing cold weather

▼

▼

Anyone messing with Holly

▼

Pork (most of the time)

▼

Being put on the spot or made vulnerable

▼

Handsy customers

▼

Her parents

▼

Being homeless



DREAMS




★

Own a million dollar fashion empire

★

Pay back all of her student loans so she could shove it in the government's faces

★

Be able to turn back to her mother and show off that, yep bitch she made it!!

★

Travel the world

★

Own her own home

★

Be able to provide (secretly, of course) scholarships to girls and boys who come out of situations like hers for school, particularly in the fashion or business industry



FEARS




▪

What she's going to do with the child she's carrying (Whether she kills it or keeps it)

▪

Remaining homeless with Holly forever

▪

Ever having a child of her own who does not feel loved

▪

Winding up successful, but alone and unloved

▪

One day becoming just like her own mother

▪

Losing Holly
---
---
◤
◥
"Should you shield the canyons from the windstorms you would never see the true beauty of their carvings."
~ Elisabeth Kübler-Ross
◣
◢
---
---
❖
❖
❖
❖
❖
❖
❖
❖
❖
❖
❖
❖
❖
❖
❖
❖
❖
❖
❖
❖
❖
❖
❖
❖
❖
❖
❖
❖
❖
❖
❖
❖
❖
❖
❖
❖
▐
▐
▐
▐
▐
▐
▐
▐
▐
▐
▐
▐
▐
▐
▐
▐
▐
▐
▐
▐
▐
▐
▐
▐
▐
▐
▐
▐
▐
▐
▐
▐
▐
▐
▐
▐
▐
▐
▐
HISTORY


The one thing Lateefah never drags out is her past. If someone asks, she usually leaves it at the fact that she left New Orleans when she was fourteen and never looked back, and that Memphis became her home the second she showed up at her grandparents' door. Regardless of the fact that it took them at least a week before deciding to officially allow her to reside there permanently. She doesn't talk about how the fact of the matter is that Michelle Anne Ekwensi is her birth name and that she changed it the second her grandmother "claimed" her as a member of their family and that no, Lateefah wasn't something she researched out of boredom because she didn't want to be associated with the name of a woman who reminded her every second that she was under her rotten roof that her daughter would never mean shit. That she was too black and would end up exactly where Abby was. In the Bayou sipping on old whiskey and fucking whomever she pleased, yelling slurs at the child she should have aborted because no one was ever going to love her and so she would never be able to love it, and hating anybody who had it better than her while barely even living at all. Nope, that's never been a part of the story.

So, Lateefah's life began at the age of fourteen when she had scrounged up whatever money she had ripped off from one of her mother's many boy toys and took off on a Greyhound bus to Memphis. Well, it was more like a ride to Knoxville squeezed in between the window and this creepy as fuck old man who looked old enough to be her uncle twice removed, but Lateefah had chosen to read through the books she had gotten from one of her teachers. Even back then, despite New Orleans not being a part of her history and her accent being disguised under a "proper" tongue, she had always wanted better for herself. Had taken education super seriously. Knew that it was the only way to get out of her bumfuck situation. And it was. Because despite knowing how much papa was a fucking rolling stone, her father's family barely accepted her as one of theirs. After all, colorism was definitely a thing in a old-fashioned family of misogynists with women who had internalized sexism seeping from their pores. Luckily, her grandmother had pity on her and put Lateefah up, but this wasn't a familial setting. If there were small moments that Lateefah felt maybe something akin to affection, it was when she was doing homework and the older woman would bring in hot chocolate and cookies to the pool house - since apparently, she wasn't allowed to stay in the main house with everyone else for some odd reason. Or maybe those very rare moments where her grandmother brushed her hair because obviously, none of those hoodlums and trash acts down in the dirty ass Bayou taught this "po' chile" how to do her own hair. But it had never been enough for a girl who had craved affection for too long that when she was continously denied it, she stopped needing, wanting, and desiring to giving it out.

...until Holly grew on her. Lateefah had resented her at first. Holly was absolutely a joke to her on an intellectual level and she hated that Holly was probably loved because she was lighter. Because she fit their needs. Because she wasn't Lateefah. And she would have kept telling herself that she hated her until...until that wasn't true. Until Holly was smiling all the time in Lateefah's space and just always there, waiting on her after a long day of work to eat dinner together or waiting for her attention when she was done with homework. Despite how snappy she wanted to be or how annoyed she realistically got, Holly had snuck herself under Lateefah's skin to the point that Lateefah barely wanted her out. It became known that Holly was pretty much Lateefah's charge then and when she realized the child was actually getting sexually assaulted, she put an end to that real quick. But then college came and Lateefah had her own goals and maybe it was selfish, but she left Holly behind. She had goals and despite how much it warmed her heart that her grandmother expressed pride in Lateefah getting accepted into Columbia University or that even her father took the time to send her off himself, she needed away from the family. Not from Holly, but it was a sacrifice she was willing to make.

...until, again, it wasn't. Until she started noticing, in the midst of studying and securing more of a political match than a romantic one, that something was wrong with her half-sister. That Holly wasn't happy and it was a pattern that sustained itself until her junior year when Holly magically appeared in New York, hair dyed red and owning barely enough to survive. Lateefah hadn't known that the uncle that had been assaulting Holly had returned and in a fit of rage, phoned her grandmother only to tell her to not bother calling for the police to get the child back or even call them again. That they were all through because obviously, Lateefah couldn't trust none of those arrogant bitches with her child. And when her boyfriend - who she had once talked about getting married with at some point (and they would've been a great power couple in the business world too) - decidedly told her by senior year that Holly couldn't move in with them once they graduated because that dumb bitch would put a damper on all of their plans, Lateefah didn't hesitate in breaking up with him. Breaking his nose. And probably breaking his pride since she admitted that he had never been able to push her to orgasm in their ENTIRE relationship. A low blow, but it was the first time in a long time that Lateefah had been impulsive and moved entirely by her emotions.

But then...things became what they are today. Leaving from New York for job opportunities that she rightfully earned required bringing Holly along, and Holly needed stability, not moving around any and everywhere. And, despite how great she was at school, student loans came knocking before she could even secure a semi-stable job in New York, thus lending them to be homelesss before she could control it. And that does a lot to a girl who's taken so much control in her life since when she was smaller and had to learn how to do stitches for old clothing and cook her own meals because her mom was too strung out on drugs to care for even herself. And she's wanted to resent Holly, maybe some part of her has. She could be breaking down more doors in fashion instead of working as a waitress just to keep food in two stomachs, being seduced by wealthy men who could someday be her ticket into the limelight instead of hanging on their arms during big events and having to shove the bile down her throat from them getting too handsy after one too many wine glasses, and just...not be here if Holly didn't need her so much. That's also her not taking into consideration how much she needs her sister, but of course, that wouldn't be part of the story too-strong-for-weaknesses Lateefah Ekwensi-Hart to tell you.
---
---
Face Claim: Aja Naomi King

Portrayed by: Girl2Fine2 (Call me Nellie :D)