---
---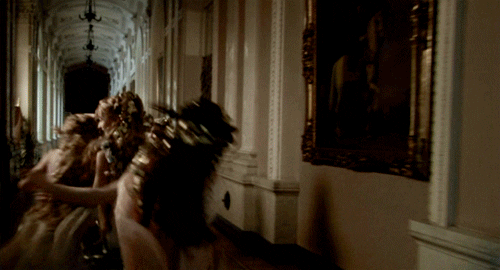 ---
---
Political change is something gradual, something intangible. One day you wake up, and it has all changed but there's no way to tell when or how or why. But societal change slips under our noses, suddenly integrates itself into life. You couldn't possibly imagine a life before it - or after it.

It would be impossible to mark the true collapse of what we knew as America, but it too was gradual and occurred somewhere in the early twenty-first century. The pollution of major cities and political turmoil sealed her fate, and as both coasts collapsed under the stress, society itself seemed to crumble across the United States. For a while, people banded together, formed their own pockets of civilization in hopes of simply getting by.

And then The Republic emerged from the dust of the crumbled nation. Drawing inspiration from the Roman Republic, The Republic built itself, bringing together brilliant men and women from across the nation in what had once been Denver, Colorado. It was here that culture and society flourished once more, rising into greatness. A disparity grew between the upper class, which tucked itself away in the capital, Arcadia, and the lower class which had scattered itself through whatever remained of America.

Years passed, and while those outside of Arcadia and other smaller cities began to fall into a complacent, bucolic lifestyle, Arcadia itself grew restless with money and resources. Whoever was the first to bring a lower class teenager into Arcadia, beginning a sort of pederastic relationship. Soon, it became almost a trend, wealthy individuals pulling young men and women up into the limelight beside them, providing financial stability in return for companionship.

A culture grew around this practice, with the wealthy decorating their proteges as a means of displaying their riches -- and thus, the term Gilded was born. The style of Gilded matured quickly, trends were picked up and dropped in a matter of weeks. What sets them apart most noticeably from those of actual wealth is the presence of pure gold in beautifully intricate patterns on the skin, taking the final step towards breaching the rift between human and possession.
---
---
---
---
It is the year 2400 now. The Republic has flourished under its leadership in Arcadia. While society thrives under the implementation of welfare programs and a highly sophisticated transportation system, it remains backwards in its views on the Gilded, who have been seen as almost subhuman for centuries now by the patrician class. Like toys, they are so easily thrown aside when trends change drastically, slipping into anonymity as quickly as they had just escaped it.

The practice of owning a Gilded is beautiful on the outside, but brutal within, for so little regulation exists around it. Once, they were merely beautiful young lower class citizens, but as time passed, patricians began to engineer their own Gilded until even that fell out of fashion and now "natural beauties" are once more sought.

Rebellion is stirring through the upper-class and Gilded alike. Those who are "lucky enough" to be chosen as Gilded never return to their homes, and there are whispers among the commoners about what truly happens behind the walls of Arcadia. Little is known about the rebellion, but whispers can be powerful.
---
---
Freida Mizrah || 29 || heir to Mizrah Mines || confident, manipulative, loyal, reserved || fc: gal gadot ||

taken: nations




Lysander Ellsworth || 27 || occupation || personality || fc: jason schwartzman ||

taken: scarlet loup




Cassius Diaz || 32 || occupation || personality || fc: oscar isaac ||

taken: scarlet loup




Adaya Bramson || 19 || gilded || affectionate, docile, cautious, quiet, coquettish|| fc: nyane lebajoa ||

taken: nations




Salvador Ibáñez || 23 || gilded, rebel || patient, avenging, brave, romantic, asocial|| fc: vito basso ||

taken: nations




Fable Lapointe || 30 || gilded, rebel || personality || fc: grimes ||

taken: scarlet loup
---
Taking place in...
0 posts here • Page 1 of 1
0 posts here • Page 1 of 1
Arcs are bundles of posts that you can organize on your own. They're useful for telling a story that might span long periods of time or space.
There are no arcs in this roleplay.
There are no quests in this roleplay.
Here's the current leaderboard.
There are no groups in this roleplay!
Welcome home, Promethean. Here, you can manage your universe.
Arcs are bundles of posts from any location, allowing you to easily capture sub-plots which might be spread out across multiple locations.
You can create Quests with various rewards, encouraging your players to engage with specific plot lines.
Settings are the backdrop for the characters in your universe, giving meaning and context to their existence. By creating a number of well-written locations, you can organize your universe into areas and regions.
Navigation
While not required, locations can be organized onto a map. More information soon!
There are no groups in this roleplay!
By creating Collectibles, you can reward your players with unique items that accentuate their character sheets.
Once an Item has been created, it can be spawned in the IC using /spawn Item Name (case-sensitive, as usual) — this can be followed with /take Item Name to retrieve the item into the current character's inventory.
Give your Universe life by adding a Mob, which are auto-replenishing NPCs your players can interact with. Useful for some quick hack-and-slash fun!
Mobs can be automated spawns, like rats and bats, or full-on NPCs complete with conversation menus. Use them to enhance your player experience!
Current Mobs
No mobs have been created yet.
Locations where Mobs and Items might appear.
You can schedule events for your players to create notifications and schedule times for everyone to plan around.
Add and remove other people from your Universe.
The Forge
Use your INK to craft new artifacts in In the Den of Wolves. Once created, Items cannot be changed, but they can be bought and sold in the marketplace.
Notable Items
No items have been created yet!
The Market
Buy, sell, and even craft your own items in this universe.
Market Data

Market conditions are unknown. Use caution when trading.

Quick Buy (Items Most Recently Listed for Sale)
None
Discussions
Topics

Replies
Views

Last post
Most recent OOC posts in In the Den of Wolves
This is the auto-generated OOC topic for the roleplay "
In the Den of Wolves
"
You may edit this first post as you see fit.