---
---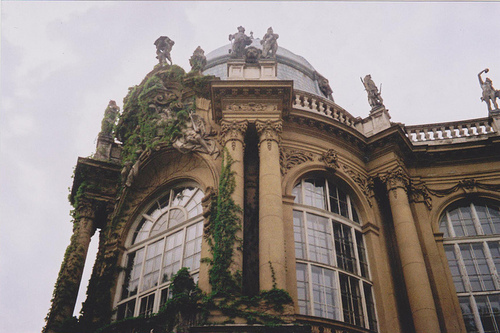 The Safe Haven
Weirdo - The Vaccines
You have been alone most of your life. Switching from foster home to foster home, sitting in an orphanage for god knows how long, or just been simply living on your own. Not only that, but you possess certain... abilities. You have never had great control over these powers, and one day something happens, an event that erupts due to the little control you possess. This is how they found you, the two that asked you to come with them. The two who are exactly like yourself, except with different abilities. They lead you to an old building in Rome Italy, where they tell you it's a home for you, and where you won't be alone anymore. There you focus on reaching your potential, creating safe relationships, and how to take control of the ability you posses, with the help of all the others there. They call this building The Safe Haven, because that's exactly what it is. People know of the supernatural existence. Some choose to ignore it exist, some believe their just fables, but some just simply spend their whole life trying to find such beings and to kill them.




The Safe Haven is an old, but beautiful abandoned building on top of a hill in Rome, Italy. Its secluded and has many acres that belong to the property. There's old stone stairs that go down the hill that lead into the city, but they take about ten minutes in total just to get down. Sometimes teenagers and things creep into the building assuming of course its abandoned, but often times leave because they see the shadows of us living in it, sometimes even encountering us and running away in fear of being caught and in trouble. Each person has their own rooms, but even so with the group that live in it, the building seems large, and some of the new people who move in get lost in the maze of what it is. There are things such as the main corridor, living spaces, kitchen, a garden and green house in the back, and odds and sods of peoples things scattered. It really is an old piece of history.
---
Characters
The characters should be around the ages of 16-19. Remember that if you are not one of the two starter characters who found the others, you have only little control over the Ability. I want one ability per person but remember there are branches of this you can do with a single ability (See example in OOC), and you can add onto those branches as your character becomes more experienced. The characters are allowed to leave the safe haven and roam around Rome and such. Along with training for abilities, we will go through strength training, and there is a dummy range outside. If you have any ideas as for your characters relationships with others, or certain plots you want to do, there will me a thread to discuss such things in the OOC. Please feel free to tell me all of your guys' ideas!



The Two


(Since these two found each other long before the others, they would have a past. So please message me whoever takes the second one, and we will come up with their relationship and everything)

1)|Female|Name: Ismay La Wolfe |Ability: Psionic Blast|FC: Lily Collins| (AmeliaIsGhostly)
2)|Male|Name: Eros Latelde |Ability: Shape shifting |FC: Tyler Posey| (Correlative_Oxymoron)



The Ones Who Where Found


1)|Female|Name:Evelyne Kreuger|Ability: Plasma Manipulation|FC: Lily Loveless| (Charlieallen)
2)|Male|Name: Wilhelm Von Faringhsten|Ability: Flame Manipulation|FC: Colton Haynes| (ImperatorAlpha)
3)|Female|Name: Aliya Zypher|Ability: Telekenisis|FC: Gillian Zinister| (The Toxic Cereus)
4)|Male|Name: Aaron Johnson|Ability: Chlorokinesis|FC: Alex Pettyfer| (Dumisa)
5)|Female|Name: Simon Faust|Ability:Teleportation|FC:Thomas Sangster| Taken (Mistress of Disguise)
6)|Male|Name: Skylar Faust |Ability:Chronoprohiberis|FC: Genevieve Cortese-Padalecki| (Ibecameinsane)
---
Information
-Feel free to take 2 characters, if you wish. But only if spots do not get filled up.
-Real pictures are preferred. If you have trouble finding one, I can help you out. Once every submits their characters, Ill ad the FC'S to the front page.
-Like said above, around the age of 16-19
-Tell me what ability you will be using before submitting your character, I will have to approve it. I can also help you find this as well
-You can send in a WIP as long as its not completely blank, but just make sure you do finish it.
-Reservations last for 48 hours, if you need a longer time, just message me and I will extend it for you. Reserve through OOC or PM, whatever is best for you.


There is no set character skeleton, but please include all the basics. (I can send you the CS I use if you want)
For the two, please include past history, and how you two found each other etc.
For the ones found, please include past history, the event that happen that made the two found you, etc.
If you have any questions regarding anything, please feel free to ask me!
Rules
1)Swearing is fine, just don't go overboard.
2) Please, no god modding, Mary Sues etc.
3) No killing anyones characters or harming them, at least not without their consent.
4) Romance is great! Just don't go into some of the "details" that may occur.
5) Try and include everyone!
6) Post should really be above 300 words. I want you active! Please try to get a post in maybe twice per week. Let me know if you'll be away an extended period of time so we can come up with an excuse for your characters absence.
7) I your stuck not knowing what to post, ask me and I will help you and come up with a plot idea.
8) Reservations last 48 hours unless reason for an extension!
---
---
Taking place in...
Welcome to The Safe Haven!
23 posts here • Page 1 of 1
23 posts here • Page 1 of 1
Arcs are bundles of posts that you can organize on your own. They're useful for telling a story that might span long periods of time or space.
There are no arcs in this roleplay.
There are no quests in this roleplay.
Here's the current leaderboard.
There are no groups in this roleplay!
Welcome home, Promethean. Here, you can manage your universe.
Arcs are bundles of posts from any location, allowing you to easily capture sub-plots which might be spread out across multiple locations.
You can create Quests with various rewards, encouraging your players to engage with specific plot lines.
Settings are the backdrop for the characters in your universe, giving meaning and context to their existence. By creating a number of well-written locations, you can organize your universe into areas and regions.
Navigation
While not required, locations can be organized onto a map. More information soon!
There are no groups in this roleplay!
By creating Collectibles, you can reward your players with unique items that accentuate their character sheets.
Once an Item has been created, it can be spawned in the IC using /spawn Item Name (case-sensitive, as usual) — this can be followed with /take Item Name to retrieve the item into the current character's inventory.
Give your Universe life by adding a Mob, which are auto-replenishing NPCs your players can interact with. Useful for some quick hack-and-slash fun!
Mobs can be automated spawns, like rats and bats, or full-on NPCs complete with conversation menus. Use them to enhance your player experience!
Current Mobs
No mobs have been created yet.
Locations where Mobs and Items might appear.
You can schedule events for your players to create notifications and schedule times for everyone to plan around.
Add and remove other people from your Universe.
The Forge
Use your INK to craft new artifacts in In The Safe Haven. Once created, Items cannot be changed, but they can be bought and sold in the marketplace.
Notable Items
No items have been created yet!
The Market
Buy, sell, and even craft your own items in this universe.
Market Data

Market conditions are unknown. Use caution when trading.

Quick Buy (Items Most Recently Listed for Sale)
Newest
"U-um... hey. N-name's Kayden. S-sorry, um... but w-would you please take a step back?" WIP
Trending
"U-um... hey. N-name's Kayden. S-sorry, um... but w-would you please take a step back?" WIP
Most Followed
"U-um... hey. N-name's Kayden. S-sorry, um... but w-would you please take a step back?" WIP
Welcome to The Safe Haven!
Discussions
Topics

Replies
Views

Last post
Most recent OOC posts in In The Safe Haven
There have been no posts in the OOC topic for this roleplay!