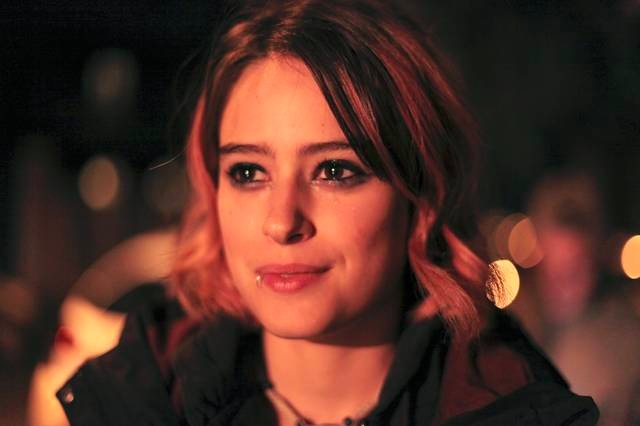 Ember Ryan Oswald
F A C E C L A I M
Rosabell Laurenti Sellers
A G E
19
G E N D E R
Female
B I R T H D A Y
23 November, 1996
H O M E T O W N
Pittsburgh, Pennsylvania
---
G E N E R A L
Ember is creative to a fault. She just can't look at things in an inside-the-box manner, and makes simple tasks more complicated as a result. She likes to think that she's funny, though the jury is still out on that one. Her love for people and new experiences has led to the acquisition of quite a few interesting tattoos.
H O B B I E S
Singing in the shower, drawing all over any available surface, wearing clothes that absolutely do not match at all. Ember can often be found napping in unusual places.
S E X U A L I T Y
Bisexual
F A V O R I T E S
Sour candy
ripped jeans
Interesting people
Science Fiction
Coffee
Loud music
---
B I O G R A P H Y
Ember is the adopted only child of a loving family. She was always encouraged to be herself, and she does so loudly. Every day has the potential to be a great new experience.
She was only six when she got her first tattoo. It burned itself into the palm of her right hand as her mom and dad explained to her about her adoption, how her biological parents wanted a better life for her. Her mom couldn't grow babies in her tummy, so they decided that they wanted Ember to be their baby. It was okay to be upset. But she wasn't; she was pleased. Her parent's picked her special. Together they admired the little seed on her palm. All of the children at school were jealous; most of them wouldn't get a tattoo until the transformative teenage years.
As Ember grew, so did the seed, first to a sprout, then to a sapling. Eventually, a lovely cherry tree climbed up her arm toward her shoulder. It grew leaves on her first day of middle school, sprouted flowers when she met her best friend Kyle. Withered the day there was an accident just outside the school parking lot. On the day of his funeral, she wore a black dress that revealed the little sparrow flying across her clavicle.
Leaving home for college brought a new adventure and an ornate golden compass on her left hip. North pointed towards wherever- or whomever- she associated home with.
---
R E L A T I O N S H I P S
Significant Other
TBA
Friends
TBA
Colleagues
TBA
Other
TBA
M A J O R
Undecided