Name:
Yumi Reika
Gender:
Female
Age:
30
---Appearance----
Yumi stands to about 5'4 and often 5'7 in high heels. She usually has a serious yet tame look to her. It isn't hidden that she herself used to be a model when in her younger years before teacher while getting her degree. Often it is because she has these looks and the current job she has that many guys do not flaunt or approach her. Her voice when spoken is often mature sounding and her posture only allows her to express herself that much further.
---Personality---
Yumi in reality is often calm and nice. Being a school teacher she has good understanding for children. To herself, she is often punctual and determined to do what she can for others. Yumi is a sagittarius when it comes to her personal life and the game. She enjoys the openess of being herself and doing what she wants. She is often blunt and open minded to everyone she meets including her guild mates. Although she holds it in with reality being a school teacher, in the game she seems to let it out a lot easier showing her impatience. Excluding that she can be quite enthusiastic upon topics that catch her interest. By some she's said to be Self Indulgent. Being in her personality of being blood type AB, she is often seen to be cool showing herself in public to be rather calm, informative and at times nice. When it comes being impatient when explaining Yumi will become emphatic to make sure anyone she is talking to gets it with any means necessary. The woman doesn't believe in forgiveness after a second chance.
---Background---
In reality, Yumi was a used to be a model which was a hobby and job that she did while going to school. Once out and deciding she was bit too old to show off her body she settled in and put her degree to use becoming a school teacher at a high school. The woman decided to pursue the english language which made her nearly fluent in the language. What helped her achieve this was playing MMOs in her spare time when nothing else needed attention even when younger she often did her best to type in english and played on english playing servers even if at times it was difficult. Eventually she began to pick it up and it just became easy as in reality she would speak japanese but when it came to being at home, it was all english. Playing MMOs to help her study was a big plus being that she also enjoyed this as a hobby from her past. This doesn't mean she was sheltered or kept away from social activities which was obviously not the case but recently there haven't been much events and due to her looks, personality and job many guys stay away from her which allows her more time to game. She is by no means ugly but many people become threatened or cautious when they look at her. These are only little factors that lead her to joining the long awaited game that trapped her.
In 2026, Yumi was found interest in the new game that had unfamiliar technology, she was intrigued and curious. This was during the time she was going to college and modeling. She found herself every night in spare time keeping up with the blogs, forums and the official website about Infinit World. It wasn't long in 2028 when they finally placed the alpha sign ups for the game. The woman signed up immediately and at the time couldn't wait to play the game out while finishing up her school. It was after this when she found herself striding even longer in anticipation, talking about it with her friends when she had the chance.
A few months later an email was sent to her with Alpha acception. She was so happy yet at the same time she found herself in quite a situation where she was unable to play too long. At this point Yumi had already graduated and began teaching at a highschool for the first time. She was only able to log in a few times after getting in because she wanted to keep the job and have a high performance. When the Alpha closed down. Yumi was quite sad but didn't let get to her, especially when only a few months later she found out she was in the beta!
In 2029 she was enjoying herself with the routine of teaching and coming home playing the beta to pass time. Suddenly became an addiction adding to her routine or some would say at least yet Yumi was very capable of getting offline when need be. In the open beta she was finally able to play for keeps knowing she could keep her character. Life was rather great and enjoyable for her now in days doing what she want although lacking a love in her life she had what she wanted until suddenly the release came in and the newest patch hit her the next month in when she found she was trapped... Ina way she didn't like that but at the same time... she found it slightly enjoyable.
Trivia: She is in fact a good friend and teacher of "Yasa Wiriamusu"
---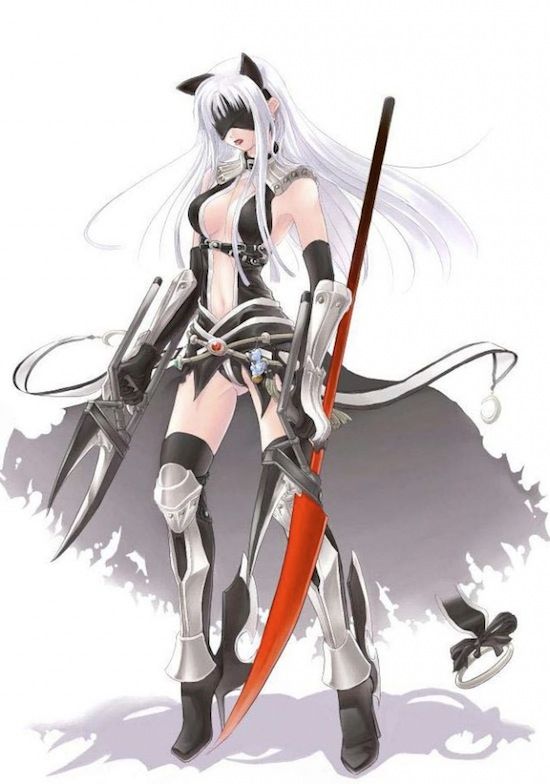 Username:
Kamihime
Beta Tester/DoP:
Yes - 6 Weeks
Current Location
: Baldr
Cities Visited
Baldr (Starting City)
Odin (Human City)
Kvasir (Dwarf City)
Freya (Elf City)
Name:
Hilde
Gender:
Female
Guild:
N/A
Guild Position:
N/A
Gold:
10 (150)
Bought Items/Perks
EXP increase Lv.2 - Increases the amount of EXP per post to 3 (Must have level 1) - 3000 gold
Gold Increase Lv.2 - Increases the amount of gold per post to 20 and +500 for dungeons/arcs cleared (must have level 1) - 2000 gold
Race:
Neko
Weapon:
Polearm
Level:
36
EXP:
9/30
Strength:
16/20
Vitality:
15/16
Agility:
24/30
Dexterity:
16/36
Mind:
2/16
Intelligence:
2/16
HP:
485
SP:
72
P.ATK:
(75) 51+24   
P.DEF:
42
M.ATK:
39
M.DEF:
39
Speed:
4 
Accuracy:
4
Actions:
7
Professions

Blacksmith:
6/75
Leatherworking:
1/75
Tailoring:
1/75
Alchemy:
1/75
Cooking
1/75
Abilities
Level 1 -
GrapplerType:
Active
Spell:
No
SP:
5
Although Hilde's style mainly focuses on using a pole arm. Her character is able to grappler her opponents. Grappling does not actually count as an attack unless made as such although the ability must be rolled like one. The position and posture of how the opposer is does in fact matter and will lower the chance of success. Once in hand a action must be taken to complete the grapple otherwise you let go immediately. Grapple does act as a stun and once in hand nothing can be done. The size of what you're trying to grapple DOES matter. Unlike other abilities to grapple it takes 1 Action for follow ups, it varies.
Grapple moves -
Throw
5 SP
2 Actions
The target is thrown by the player dealing 1x P.ATK and a loss of 1 action, can be used to be thrown into other targets. Both targets lose 1 action and are dealt 1x P.ATK if hit.
Pull
5 SP
1 Action
The user is pulled towards you violently. Does .5 x P.ATK ignoring P.DEF.
Hold
10 SP
Up to 3.
Hilde holds the user for one to three actions. She herself uses the actions for this. Those 3 actions are taken from her opponent
Level 5 -
Lancer StyleType:
Passive
Spell:
No
SP:
N/A
Grants the user strength and dexterity maximum of +4 and agility +2
Level 10 -
Shadow StepType:
Active
Spell:
Yes
SP:
20%
After doing a couple of hand signs with left hand, Hilde steps back into what seems to be smoke it only seconds later when she re-appears behind her target only three feet away silently. If she has actions left this increases the chance of hitting with any ability by 15.
Level 15 -
Accurate ThrustType:
Passive
Spell:
No
SP:
N/A
Practicing with her lance. She has always been about accuracy. With this she uses her dexterity to aid attacks. Her P.ATK is raised by (1.5 xDEX)
Level 20 -
Driven TempestType:
Active
Spell:
No
SP:
20
When in a good angle Hilde is able to assault and get her foes in what seems like an endless 5 hit combo. Starting with getting her foes mid air. The woman leaps up with them about 20 feet and with follow the assault with swipe of her lance, followed by a multi-jab and finishing with piercing her foes to dragon them down to the ground. Every hit does 1.5x P.ATK and must be rolled on the chart. Depending on the size will depend if the enemy is thrown into the air or not.
Level 30 -
Tempest SpearType:
Active
Spell:
Yes
SP:
10% +15
Using the sheer power of her strength Hilde hurls her spear towards the opponent which upon impact burst right through her opponent dealing critical damage (2xP.ATK). She then steps disappears upon chasing after her spear only to reappear into that moment to grab her pole arm and do final kick in the back as the back is turned (1x P.ATK). The lance can not crit unless a 1 is rolled. The kick itself does have a roll. If the lance misses, then the kick roll will not exist and all that will happen is the catch.
Character History
First Login (Beta)
It had been an unbelievably long wait for Reika when she was finally able to go home from a stressful day of teaching and log in to "Infinit World" for the first time. She was excited as she licked her lips before linking herself within the game. As her eyes opened to the game she had been revealed to the familiar creation menu with only a few other options that appealed to her. The woman interestingly held her composure through creation after selecting Neko, she appeared before the stat creation. It was in this moment when she wondered what type of character she would be given. As last time she was selected as a mage but this time she wanted to go for something slightly different. After allotting her points Reika was taken in by the familiar light that nearly seemed blinding only to close her eyes as a reaction. Suddenly a ping appeared and her eyes opened, however interestingly things seemed as if they were shaded as if she was covered by an umbrella or had sun glasses on. She rose rose her hands revealing her plated gauntlets and then looked down as her attire. This was definitely not the typical neko she was seeing around her. The woman then looked behind her seeing the ripped up cape which her white tail slung out. It felt weird to her that she could actually control the tail. She never did however play the beast race during the beta. The woman then rose her hand to feel down her silk long white hair and blinked. She giggled as the thought that it had remembered her of the hair she had in reality. Finally letting that go she then extended her right arm twisting as she her weapon was summoned. The woman blinked as she saw the lance but didn't care too much until she realized the skill of grappling. The woman shook her head wondering what she had created as she finally closed the menu and sheathed the weapon. To her this moment finally came to a close and it was time to get out and level.
Reika did what she needed to in town before heading out into the Plains Of Genesis. It was nothing she wasn't used to already. The alpha had already shown her what to do but it was fun playing the character she created. She wasted no time trying to party or join others in random quest for she alone decided to keep it this way for the most part at least. Her endless questing and wandering for hours was exciting and she could feel the addiction coming back which excited her. It did come to mind however when she wondered what her alpha acquaintances were playing. Although, she didn't care too much and friends on MMOs come and go easier then reality. It did make her curious but suddenly this curiosity broke when she heard screams. Familiar, not in voice but in the way her ear carried the tone. It wasn't long when the woman found herself standing only feet away from two level 1 PKers. She had been only level 2 at that point though. It wasn't unusual to find player killers early levels in the game though, in a game that you level slower it was rather natural. Reika didn't wait to long after she heard the demand of gold. Immediately she rushed over PKing the two players (the first true PK that Strasza had heard of and people had spoke of). Although the man attempted to thank her she had already walked off getting ready to complete yet another quest.
While traveling in the plains of genesis, Reika had wandered finding herself finally half way to level three. After looking up she noticed it was six in the morning and sighed calling it a night feeling exhausted as soon as she noticed the time. The woman turned towards Baldr and began to head back right when she looked in the corner of her eye seeing a dwarf and beast attempting to fight the two PKers she had defeated on her own. It made her chuckle before leaving the area and logging out. She definitely had her new addiction mindset back especially with the features the beta had given off.
First Week (Level 6)
A week had passed since her first log in and things seemed to have been going as planned for Reika. She had been the focused player for the most part only looking forward to do what was planned. It was only natural for her in MMOs though ever since she started to work. A mindset of time management even in games always set her on the right path. Through this time management she was able to level and obtain four and a half levels from level two. Worked up some gold in the process and found herself excluding away from the others. It was interesting to her though that during the days she had to teach her students and even then she finished and achieved what many people during the day didn't. However it wasn't long until she began her in-game profession which didn't particularly have a name for now.
As Reika traveled in the game, she had came across only but a few player killers which she defeated on the spot when she came across them and saving those who were victim to such things. The woman didn't think too much on it at this point however those who came across her victims or the PKs did. It was only moments later when Shi and Knights of Baldur initiated. To Reika it didn't mean too much to her, however to Shi, she was valuable. This could only be bad news in ones eyes for the woman.
When returning to town for awhile, Reika found herself confronted by Shi's leader and was asked to join the ranks. It was only natural for her to decline and with that she gave a simple explanation stating that she only PKs when she has to. That however was only but a cover up for claiming she only killed player killers, so why should she join a guild of them. The refusal didn't please Shi's leader at all. Reika could see it but simply turned away and left seeing she had wasted fifteen minutes of her time.
Going back to Baldr, she found only a few more quest for her to do in the city and headed off to complete them as soon as possible. In the end however she found herself full of boredom in Plains Of Genesis seeing she has been there for a week without leaving. She smirked before looking to the north, the east and then the south. It was then when the woman had an idea to find a new area to level in. As she walked east towards the Calm Meadows. The woman had killed even more player killers along the way, some being Shi's members. It didn't bother her too much but she did wonder what the leader would do after he found out so much of his members fell to her. The only bad feeling she had was the fact that some of them were "noobs" although they were selected for the beta.
Second Week (Level 12)
Every passing night Reika would log in from long work day of school, coming home with stress only after about 30 minutes for it suddenly disappear. As the previous week, it had been rather progressive excluding killing more player killers. She rather enjoyed the duels and fight she'd succeed in. People began seeing a pattern in who she fought but it wasn't quite known yet. To Hilde, she didn't care what people thought especially when she made it into the calm meadows. Nothing mattered too much other then progressing on her own skills and abilities. Although when she was a mage, she had picked up some magical professions but with Hilde, she enjoyed being this character, the agility, the power, her style that was made for her. She couldn't believe how well the game chose. This all leads to where she was now of course, leveling in the Calm Meadows.
It wasn't too big of a surprise when Reika caught words of the guilds rising to power. Particularly "Knights Of Baldur" and "Shi" was what came as mild interest. Although, made at the same point Knights of Baldur was unknown to Hilde because she never encountered them but once she heard of there purpose on the forums she came to a conclusion as to why. As far as Shi goes, the only reason she knew of them was because she had seen the guild name by those she killed, although she didn't see a description she automatically branded them as a player killing guild that she seems to destroy every approach. It was only surprising to her when she noticed in this moment while leveling in the Calm Meadows that she hadn't seen any yet. It only came to mind that only a few players left to other areas in exploration. Many MMO players tend to stay in a given area until all the quest are complete but Infinit was different, quest don't end as quickly and because the leveling is so slow its nearly impossible to see when a quest line for a town will end. Hilde didn't mind this in the slightest yet when her inventory became full she decided to begin heading back to the closest town "Odin" to sell some of it off.
It didn't take Reika too long to find the merchants of the town and turn in some of the quest she had completed. After a long stretch and feeling of progression upon her shaded vision she suddenly saw a face she had not seen for two weeks and that was the female dwarf who took on the PKers she had defeated. At that point she was rather curious after seeing Strasza walk up to a recent quest giver and accepting a quest. The actions she took was normal however, the event that followed wasn't so much. Hilde squinted as she saw three "Shi" members following the girl. Not too powerful but it was still obvious that the dwarf was being tracked. In this moment Hilde had a menu opened and closed it immediately licking her lips. The neko decided to get the quest herself and then quickly sprint in the direction that the others had went only to catch up to the Sewer's entrance. She was sure to stay back of course waiting for the right moment to go in.
Although following had began to become a pain due to the sewer's monsters summoning Hilde managed to keep up while still being silent. It came to mind that it was definitely two birds and one stone that she was being lead to the quest item and getting her kills but what she didn't know was that she'd fail in one part. The moment they came to what seemed to be a dead end. The hiding "Shi" members confronted Strasza and to the most part she looked like she was going strong until the final member came and slashed her down with a laugh exclaiming she was taken care of. It was in that moment when Hilde approached clapping before killing the PKer on the spot. She was however saddened that she didn't move to help the dwarf live. After putting her pike up. She got the quest item and left the sewers. It had taken her awhile but she eventually reached the outside and sighed finally getting out of the disgusting smell of the sewers. The woman had reached town square only to see the dwarf in the distance not looking to happy but was talking to the knight she had seen helping her two weeks ago. She didn't bother walking over to her though. Instead she went to the wave gate and ported back to "Baldr".
After making it to Baldr thought to herself as she continued selling her spare items to the merchants where she'd go next and then it came to her from remembering the dwarf that there was a dwarf city. It was in this moment that she had began traveling towards Kvasir region.
Third Week (Level 18)
The week for Reika went smoother then others, It had been a typical week other then an event that she had to stay for which she wasn't too happy about because it took time off from playing. She couldn't help but wonder through the week of what Shi's next actions would be and then she wondered at times what the dwarf did other then what seemed to be defending herself. Later through the week she didn't mind too much on it as she leveled and did a bit more unexpected hunting while she was in the highlands. However all of this seemed to be so common for the Neko's week on the game. It was excited for it was so different then her reality. Interesting she was reminded of how interesting the game was by her students who recently got the games themselves when release hit six days ago. It only made her grin but she didn't mention that she herself played. Personally she didn't care to see any of them however she was reminded of an old student of hers that she actually did enjoy.
When Hilde actually reached Kvasir she actually found little comfort in the town. It definitely for the most part had a different feel then the other areas like every town has been. This had been a bit too much, it felt a bit more colder and the town didn't relate to her enjoyable atmosphere. Your typical city in the mountains. She didn't mind to much though the outside area was great, especially when she was gaining exp from grinds and quest. The reason she had returned to the town however wasn't because she wanted to but was because she had completed a full set of quest focused in the area. The woman began seeing a ton of players since the release of the game and it had become a bit populated in all the hunting areas. Another problem however, to Hilde at least was that Shi was nearly in control already and had it not been for the Knights Of Baldur, Shi would have full control. She didn't like that, however she did expect that because this game is widely player ran, eventually one guild would become in power and personally if she had to choose she'd have it be Knights Of Baldur only because they're "peacekeepers". Hilde could only wave the thoughts away as she completed all her quest and made her way to the nearest wave gate which then teleported her to Baldr.
Hilde stretched as she made it to Baldr, it had surprised her populated Baldr became since the release. There had been a lot already but this became incredibly packed to where almost everyone filled the streets excluding the alley ways. The woman scratched the back before walking forward. The walk through town was rather interesting seeing it was so populated, it nearly felt like reality but a bit funner seeing the different races and structure. What made her stop however was the sudden chatter coming from a couple of players she passed by that looked at her wide eyed. She could hear them only slight as she walked away. One questioned who she was and the other began speaking as if she had done something wrong saying not to get involved. She blinked but continued towards the exit of Baldr without stopping to see what they were talking about. The woman didn't care too much, she knew already seeing the other Nekos that her character was designed differently but she didn't care too much.
Finally making it out to the Plains Of Genesis it was filled with a bit of newbies but nothing that bothered her too much. It was mainly something to shrug off as she passed by a few who stopped to look and stare. Eventually some asked for help but she shook her head and declined saying she was busy. She indeed was to her, never in an MMO at the beginning did she stop for anyone because she had always been on limited time and with that she didn't bothered to stop heading south into the Enchanted Forest. It rather brought a smile to her face, especially when she remembered that the forest had began to become full of PKers yet little did she know that she was going to be targeted in such an area.
As Hilde traveled through the forest, It felt warmer then the other areas. It was also very quiet. She could hear the crunch of her greave crack a small branch on the ground as she walked the path only to suddenly sense someone target and show "aggression" towards her and in that moment suddenly 3 arrows her from one direction. They hit and interestingly for some unknown reason the power behind the arrows were actually blunt and sent her flying into a tree. This made her grin as she pushed self up. Only to see another arrow fly from another direction. She quickly deflected it and chased after the attacker. It felt nearly as if during this chase that she began to lose herself with a smile and eventually she had caught up with a masked human female. Little did the female know of Hilde's shadow step and mid air, the lancer disappeared only to reappear grappling the girl's arm and throwing her to the ground. Only to land on the tree near by. The girl however got up and continued her fight which the neko happily obliged while at the same time looking to see who she was fighting. It only came to realization after taking a few more arrows and once again grappling the masked girl, she was a member of Shi. Immediately The woman tossed her into the air which surprised the girl and then before she got out of reach Hilde violently pulled the girl down skewering her onto her lance causing the girl to die and despawn without getting to ask any questions. She could only figure despawning here meant she'd be in Freya's region meant she'd be in Freya and interestingly she had been waiting.
When Hilde went to Freya, she was amazed of how beautiful the area was. It was peaceful and had a nice fragrance. She had walked around town for a bit observing and actually deciding to purchase a room to stay in. It only surprised her through this whole time when she finally reached the wave gate that the "assassin" known as Yumi interestingly had been waiting for her. When the two walked off to a near by alley way a ton of people stared at what they saw which Hilde noticed the reaction and only turned to some. The girl introduced herself and explained why she had confronted Hilde. To be honest, she didn't care too much as to why but she was interested when she heard Yumi call her "The Blind Tempest". As an explanation she explained that she is currently second on the list of the main target for Shi's assassination and actually explained there are rumors on the forums about her. In addition, there was a player bounty. Hilde could only laugh at this and didn't bother asking who the first was but she did explain that she'd only kill so long as they did. It was all a game to her as it should be and it just got better. The girl on the other hand smiled and enjoyed this in fact she wanted to befriend Hilde because she "wanted to play the undercover role" which to Reika she didn't mind too much. Yumi explained that she only joined the guild because a friend of hers wanted to be a PKer and thats how she got in was because she was basically dragged into it. Yumi was only surprised when she was asked to assassinate Hilde by herself and by this point found it was as if they threw her to the dog to suffer. The neko smiled and nodded but then asked only one request that Yumi would inform her of anything she needs to know which the girl agreed claiming she'd do her best excitedly. With that Hilde smiled waving away before logging out.
Fourth Week (Level 24) - Birth of the "Blind Tempest"
Another week went by and all through out the days and nights could Reika think only about how much attention she had been getting over the game. During her lunch breaks and school hours, she found herself searching the forums and reading topics that revolved around her. It wasn't that she enjoyed the attention. In fact she disliked it but part of her couldn't help but grin to this. It was only on occasion that her students would suddenly mention her title but it was nothing that she jumped about. It had been this way for the last week as well.. she did a good job hiding her life on the outside from those in the job area. When the woman got on during off times she would level and go about the usual PKKs without care of building her reputation. Eventually it reached a point where people stopped PKing when they saw her unless she wasn't around. The woman had only met with Yumi only a couple of times during the last six days… there was no way she'd be caught with a Shi member often and she personally didn't want to see conflicts in how Yumi was playing. Finally it had come to the meeting day when she got a message the time she logged in.
Once Hilde logged in she had went to a secluded and empty alley in Freya to meet Yumi who was waiting for her there. It was there when the most interesting information that never came to mind came to her ears. The news was that she was being watched and have come to the attention of the "Knights Of Baldur". Yumi only claimed as a friendly warning that she now had two guilds looking at her with there own opinions. The news was rather general and unconfirmed. The neko could honestly careless but when two of the highest guilds are looking at you as a threat then it can actually be a big deal in some cases. She grinned giving her friend a tip for services which was declined. It was only then when Hilde took her leave to start the session of gaming. Her friend nodded and used a return scroll back to her own home town.
Hilde had just gone to southern side of the enchanted forest leveling deep in the maze and doing her quest as she naturally would. The woman had no intentions of letting her friend's words get to her but she did wonder what kind of actions KoB would take to try to get to her. She had just made it to the edge of the forest looking off into the sea when suddenly a message ping rang into her ear. Looking through it was titled as "Knights Of Baldur (Warning). Her eyes squinted annoyed as she read the message, warning that her actions were understandable but not tolerable and will soon be known as a criminal if she does not stop. It made her laugh as she read the message deleting it shortly after before walking back to town. It was no secret that when Hilde returned to Freya, people had looked and stared at the woman seeing she was recognized by now. Especially with her unique Neko model and style she fit the descriptions well. The woman took no time to stop. She on the other hand found it better to go to Baldr to see what the "knight" wanted after sending such a message. Once she got to the wave gate she went through the menu and teleported away.
After making it back to Baldr and going to yet another secluded area in the city, she had met up with 3 knights. One was a messenger no doubt and definitely was no leader. The knights began with the high and mighty speech claiming what she was doing was wrong and saying it was not going to be tolerated. Reika only listened to the minimal before pulling her lance out to them as if she were challenging them. The knights beside the messenger pulled there swords out only to hear Hilde give her reply as a no. She explained that it was her way of playing and that she had no intention of stopping just because she can do what they can not. Using her shadow step she appeared right next to one of the knights and grappled him throwing him into the other. She then walked away. The woman was quite annoyed. It only reminded her of why she hated joining large guilds, power gets to there heads although.. she did understand they had good intentions with that she walked off only to do more quest before calling it a night.
Fifth Week (Level 30)
The whole week , Reika was getting unwanted attention for the most part and a series of thoughts coming about she continued PKKing defying the knights of baldur's law and held no real regret in doing so and out of annoyance on the field when confronted she even killed one of their members. News had been spreading since there first encounter in Baldur which talked about on the BBS. Reika didn't pay too much attention to the forums during this point. In fact she didn't look at it at all but she could hear minor discussions in her classrooms which added only a little stress but not too much. During all of this Yumi didn't once contact her but in defense she had been on slightly less as well. To relieve her stress was to play the game and kill Shi's members and also KoB who came to her. Her reputation was not looking too hot and everyone knew it. As the week passed she had just arrived in Odin when she suddenly got a message from Yumi telling her to see her in Baldr.
Hilde had managed to make it to her usual spot without being followed in Freya and had met up with the excited and surprised Yumi until it came to finally having to be serious and place the information out. To Hildes ears the information had been surprisingly interesting. At first she had mentioned what Hilde already knew which was she was a few topics on the forums and that KoB may place a bounty on her head. Another topic was a discussion of whether or not the blind tempest was actually good or just an anti-hero. Hilde shook her head in annoyance obviously not caring for such information which Yumi could see. That is when she mentioned a plan thought up by Shi. A simple ambush with more then five or ten of there members and the fact that the leader himself would be attending. She then claimed that the knight of baldur's guild leader has now taken interest in her and is not pleased. Hilde had only been interested in Shi's attempt and didn't care too much about the rest. She did however know the power of the Knights of Baldur when fighting them and they did prove to be decent opponents. Hilde nodded in thanks to the information and figured to lure the attackers out. She'd go out into the fields a bit.
After fighting in the north west edge of plains of genesis after leaving Freya. She sat down to "enjoy the wind" until she heard the footsteps of the Shi members. Surprisingly the leader had been with her and walked up with a sheath weapon. The two then began talking which was a surprise to her but she of course changed the close distance by her pole arm. The two spoke mainly of everything she has done to them and what trouble she brought upon them. However at the same time, she was congratulated and thanked for taking the attention of KoB. She shrugged it off with care though. It wasn't log until she was asked to join Shi which she of course declined again which was expected. The guild leader had only been 28 by this point as his guards were 24 but the leader called the attack off claiming it wasn't worth it right now. He did however secretly send his username to add to her friends list which came to her conclusion that he really wanted her to join to stop his members of dying. In fact Shi had a slight decrease in guild population due to them being defeated.
When the Shi members left, immediately afterwards, she got a message from KoB's guild leader telling her to meet him in Baldr. As soon as she used a scroll and returned to Baldr's wave gate she was confronted by the guild master himself. Everyone turned to see her and suddenly the argument of what she was doing was wrong started. Reika obviously shoo'd it off and was threatened to be locked up in the guild's dungeon. It was by that time where she gave a threat in return before Shi's guild leader suddenly came from behind with his members and claimed that they had no right to. It wasn't for Hilde's sake but they themselves don't like KoB's high and mighty attitude. This event also stirred up some of the people but she didn't care. In fact she teleported to Odin right in the middle when people began noticing. The woman really couldn't believe things were getting this crazy and out of hand but at the same time she expected it. With all the hype that had been blowing up lately people were bound to take it this far. She wasn't completely famous but she is seen to become the bounty of Infinit World. The woman sighed before wandering out into the Calm Meadows to kill some monsters before going back "Home" to Freya and logging out in her room.
Sixth Week (Level 36)
The last week was rather dull and although the previous weeks had been filled with unwanted events. The game still remained a great as ever and didn't sway Reika's thoughts. Reika was amazed by how much tension there was between her, Shi and the Knights of Baldur. Her friend had continued helping her until yesterday. When she sent a message claiming she actually had to leave for the time being… sad to say and good at the same time that this would be true. Claiming to the end that everything would be alright and in her "master's" favor. Reika could only chuckle at this. The week had gone by normal while keeping up with pkks of other pkers she came across. However she had no idea it was going to be lead to this one event. While playing her game suddenly a system message came in as the patch suddenly was displayed updating in front of her. It only surprised her when it was done reading the message as she had just ported into Baldr at this point. Her eyes widened as she read the patch and suddenly she now finds her place in the game of death. However she was thankful by this point that her friend did not come back inside. It also dawned her that now she may now have to fight to get her students free as well if they were on but it mattered little to her since she didn't know any of them… or so she believes..