---
---
---
---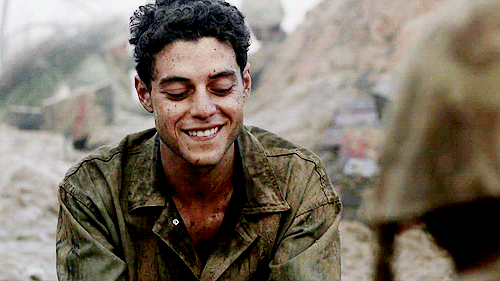 "Together, they would watch everything that was so carefully planned collapse, and they would smile at the beauty of destruction."


― Markus Zusak, The Book Thief
---
Full Name
Tommy Bryant Elsafty
Nicknames:
Elsafty (Sometimes) | Tom (Rarely, Hates)
Alias:
Bomber
| Warhead
Age:
26
Birthday:
1989, April 3rd
Ethnicity:
Egyptian
Sexuality:
Pansexual
---
---
Powers - Volatile Constructs
---
Volatile Constructs:
Tommy can turn any bit of shrapnel or junk into a powerful explosive. All it takes is a few drops of his blood.
Power Weaknesses:
Tommy can't just make as many nuclear sized explosions as he want and keep exploding them endlessly. Every time he sets off an explosion, the energy needed to cause the explosion is taken from him. The bigger the explosion, how far away Tommy is when he sets it off, what type of bomb he creates. All these factors affect how much it takes out of Tommy, both mentally and physically.
Tommy describes his ability as
blind
. Which means that he has no way of seeing or sensing who is around his bombs post planting them. If he's not careful his friends and ally's could walk right into the blast radius and Tommy would have no way of knowing. He also could get himself stuck in the blast radius if he miscalculates the strength of the bomb.
Power Strengths:
Tommy can make his explosive with a very wide range of power. He can make small bombs capable of like blowing through the lock on a door, he can also make bombs on a nuclear power level, which he has done in his past.
He can also make bombs to different specifications, he can make loud bombs to distract enemies, or flash bombs to blind the enemy or even smoke bombs. If it can be made by engineers, Tommy's powers can replicate it. Obviously to avoid getting caught up in the blast himself, Tommy can remote detonate his bombs as well, all he has to do is think 'explode' and it will. If that won't work he can also set his bombs on a predetermined timer.
---
---
---

Tommy likes
fire
. He also likes
loud noises
and anything to do with
bombs
and
explosions
, even the
death
and
suffering[/b]
they cause. He thrives on the
misfortunes of others
. He enjoys
children's cartoons
,
cigarettes
and
laughter
. Tommy can also be frequently caught munching on
crackers
straight out of the box. He likes
video games
, specifically the ones where you get to blow things up. He also enjoys the occasional
Sudoku
or
crossword
, though those are only for a special treat every now and then.
Tommy's number one hate is the
Alphas
. He hates anything even slightly
military
related.
Patriotism
makes him want to puke, and on occasion he has.
Rain
and
water
only serve to dampen the effects on his bombs.
Early mornings
are for people who have things to do, and you'd never find Tommy willingly chomping on any
veggies
to speak of.
---
Quirks || Habits || Oddities
Twitchy. Tommy is a very twitchy guy. He is alwayys jumping and sudden sounds and his hands seem to always be moving and twitching. Almost as if they are subconsciously moving about, making invisible bombs.
Tommy always used to whisper"Boom, boom boom." to himself whenever detonating his bombs. Eventually though it just becam something that he says, whether out loud at people or whispering it himself late at night. He says it a lot.
Tommy is a hoarder, he is always collecting bit and pieces of scrap metal and junk. He can't seem to throw anything away, instead late at night when he can't sleep he works on turning them into bombs.
Despite how dangerous it might be for a man in his line of work, Tommy is a hard core smoker, he picked it up from his elders during his years as an Alpha. He's in no hurry to kick the habit as there are much worse things that can kill you in this world. Like an untalented robber or a bomb.
---
Talents || Strengths || Skills
Tommy is very clever. He's smart and he notices more than people give the seeming crazy guy credit for. He can figure he's way out of many situations and not much gets past him.
While Tommy clearly isn't the most physically imposing guy, his years of Alpha training have provided him with an impressive endurance. Hours on end of physical activity rarely tires him.
Tommy is a rather apathetic guy. Guilt, suffering of others and people's pleas don't don't really effect him at all and play no part in any of his decision making. Which means he's not at all likely to suffer or be held back by any sympathies he might hold for others. He'll kill whoever he needs to without a moment of hesitation.
Tommy always jokes that he's part-arsonist part-engineer. All his years of bringing building's down with his bombs has made him rather an expert at structures. It is almost second nature now, almost every building he enters he notices every structural weak place and where to place his bombs to bring the building down.
Tommy could never be considered a macho guy. In fact he's rather small with some muscle on him, but not enough bulk to be intimidating in an up close fight. No, he's better to keep to his bombs that start a wrestling career.
His erratic nature makes him unpredictable but it also mean that often his actions don't make a lot of sense and often leave him open and vulnerable.
Tommy was not born to lead. He would never willing take command of any group. He hates making decisions and he would never will his decisions onto other people. Though another reason he would be a terrible leader is because he is also very bad at communicating. Good luck if you are position on a team with him. Don't expect regular updates that make clear sense. He tends to ramble and his nature often means his message is hidden in many phrases that make little sense.
Tommy is a terrible cook. He's burnt everything he's ever tried to make in the kitchen.
---
Greatest Fears:
Spirits of the dead. Tommy is actually so fearful of restless dead spirirts that whenever he kills he says an old Muslin prayer for the dead. This causes many to speculate that his fear borders on thesuperstitious. Tommy is also not the biggest fan of heights.
Dreams:
Tommy dreams of watching every last Alpha burn in a fiery blaze. Someday maybe in the future he'll dream of the rest of the world sharing this fate.
Regrets:
Tommy was told not to detonate his bombs that night but his enthusiasm and inability to head orders found his best friend Amon dead. Tommy will regret that night for the rest of his life. Perhaps the only regret Tommy has that rivals killing Amon is join the Alpha's in the first place. His association with the Alphas has brought him nothing but despair.
Secrets:
Tommy cried himself to sleep after his first bomb killing.
---
The first thing anyone would notice about Tommy is his strange erratic behavior. At first his jumpiness and the way his eyes always seem to dart around appear to be nerves. Like every shadow and noise around him makes him nervous. Tommy isn't a nervous guy though, everyday things don't tend to shake him and if anyone took a second look at him they realized his erratic behavior and the way he always seem to jump about in conversations are sign of his previously very bright mind. Tommy once had a very sharp and keen mind that noticed too much. Now he just seems a rather crazy shell with eyes that see too much and hands that itch to be crafting bombs. His brain is still bright and keen, but everything else that has happened to him have robbed him of sound thinking.
Tommy used to have many skills and interests. Now it seem that all his mind is focused on is blowing things up and killing people. He liked the fire and the completely uncontrolled mayhem his explosions cause. Tommy is always one to laugh at others misfortune, and what could be more unfortunate than meeting one's end because of a randomly placed explosion. He ultimate goal is to watch the world burn and explode into crackling fire and debris. Whilst Tommy is completely obsessed with violence, killing and destruction, he despises controlled violence. No true violence, true pandemonium, it can't be controlled and it takes down everyone in it's wake.
Tommy is a loyal friend. He would never harm someone he considers a friends and wouldn't hesitate to use his special set of abilities to help out a friend. He wouldn't even need a reason or rhyme. All you have to do is tell him where to put the bomb and he's in. Tommy doesn't do leadership. He doesn't do big ideas and grand plans. When he acts and does things on his own they seem random and completely unfocused. Tommy's solo bombing efforts were scatological at best. Not to say they weren't effective, but now he's in prison and no one saw the art he was trying to create. He needs that more instructive influence and the guy with big ideas and plan to focus his talents. Unfortunately, Tommy really doesn't do taking orders anymore.
---
---
---
Time Spent at El Cielo:
3 years
Crimes:
After his days with the Alphas, Tommy was a small time crook and arsonist. He liked blowing stuff up and if people got hurt, people got hurt. He was barely a blip on their radar until he went west. He laid down nuclear bombs along the sewage system underneath an entire city, including a prominent Alpha base. In fact it
was
the second largest Alpha base in the world. Tommy leveled the place to the ground, killing everyone inside the city and base. Then he went from troublemaker ex-alpha to public enemy number one.
The Official Account of Crimes:
:Treason
:Using weapons of mass destruction resulting in death
:Malicious destruction of property
Place of Origin:
Egypt born and breed
---

The greatest irony of Tommy's life is that the ones who now have him locked up were the same as the ones who taught him how to kill. In fact they encouraged him to take down entire buildings with their residents still inside, then they called him a hero for it. Tommy quickly learned though that apparently you were only a hero when you killed their enemies, not your own.
Tommy was 16 when his parents died, by all accounts he was still just a boy when it happened. A robbery gone wrong, unsolved and not likely to be solved in the foreseeable future. This spurred Tommy to leave Egypt. He wanted to be an Alpha. He wanted to help people, the way no one had for his parents. He was only 16, they should have turned him away, but they had a need for his
abilities
. Tommy had known for a long time what he could do. Ever since he was 7 and he made the teapot explode he had his suspicions. Though he only was really sure when he was 11 and made the lawnmower blow up and after trying to fix it.
The next 4 and a half years saw Tommy shed any semblance on childhood he had. He was sent to a special 'neutralising' division, his military designation was Bomber. He begun killing in the name of Alpha. At first he had fooled himself. Tommy believed he was doing this all in the name of the greater good. The monstrous nature of his acts slowly became harder to deny, though at the same time he slowly he stopped caring. It became more about blowing things up.
Over his time with the Alphas be befriended a boy, Amon. Their friendship was hardly a shock to anyone as the only young egyptian boys in their division. Tommy saw Amon as the brother he never had and it was clear to everyone around that they were two peas in a pod. Then Amon and his team became casualties on a mission. Tommy had been told not to detonate his bombs until he made visual contact with Amon's group, but he was too enthusiastic, he couldn't help himself. Amon and his team had no time to clear the blast radius.
Tommy had fucked up bad. Most beleived his actions to be deliberately malicious. They had no proof so Tommy was instead dishonorably discharged. Tommy was sent off on his own with nowhere to go and no friends on the outside. So he turned to the one thing he knew how to do. Blow things up. Petty crime stuff for a few bucks. He worked his way up to bigger more fatal stuff.
Then he got the idea to go west. It made no sense to the people around him, but when Tommy got an idea in his head he usually followed it through. He'd heard the commander of his old team was out that way inspecting the Alpha base. So he did the only sane thing he could think of, he leveled the entire city. He laid low for about 6 months until that got boring and his resurgence found him captured almost immediately.
---
Family Members and Significant Figures
Mother
| Yasmin Elsafty |
Deceased
Father
| Thomas Elfsafty |
Deceased
Best Friend
| Amon Kassab |
Deceased
---
---
Character Dialogue:
#330033
Face Claim: Rami Malek