Kimiko, the hero. She's a strong girl with a heart of gold. She seeks to destroy Satan, though she didn't expect having to find him...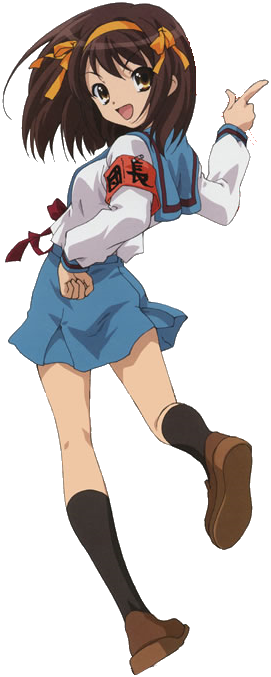 No matter what, I must carry out my mission!
[ Name ]
"Yep! Kimiko's my name!"
Kimiko Linn


[ Nicknames/Aliases ]
"You can pretty much call me anything... As long as it's not something dumb."
Kim, Kimi, Linn, Kiko

[ Age ]
"I'm twenty-one. And I know... I look young for my age."
21

[ Gender ]
"Are you blind, or just dumb?"
Female

[ Race ]
"Since I'm from Crestia... I guess that makes me a Crestian, right?"
Crestian

[ Role/Occupation ]
"A hero? Sure, why not call me that?"
Hero

"Taking calls and making appointments, surprisingly, isn't really that bad..."
Secretary for a Law Firm

[ Face Claim(s) ]
Haruhi Suzumiya || The Melancholy of Haruhi Suzumiya
The Outside
[ Hair Color ]
"Yes, I've got brown hair... Do you have an issue with that?"
Brown

[ Eye Color ]
"Yes... My eyes are orange... Thank you for noticing."
Orange Cream

[ Skin Tone ]
"..."
Tan

[ Height ]
"Okay! Okay! I know I'm short! Shut up about it!"
5'4''

[ Weight ]
"Did you say I was overweight? Do I look fat?!"
93 lbs.

[General Description of Human Form and Demon Form]
Kimiko is a slender, athletic girl. I mean, in order to have extreme skills with a sword, you have to have some muscle. She is a shorter girl, with short, about shoulder-length brown hair. She will usually tie two sides of her hair with a ribbon and then put a hairband in between. She is usually wearing something practical and nothing too flashy, though if she wanted to, she could wear flashy things. Her body can fit into most clothes, which can make her look suitable on many occasions.

For the most part, Kimiko doesn't have a lot of physical flaws about her, although she has a number of scars. She has scars over both of her legs, they are completely symmetrical to each other and form an "X" when she closes her legs. The scars are high on her legs, so you won't find them unless you try to specifically find them. She has no tattoos, although she does have piercings for earrings, although she doesn't wear earrings very often.
Inner Soul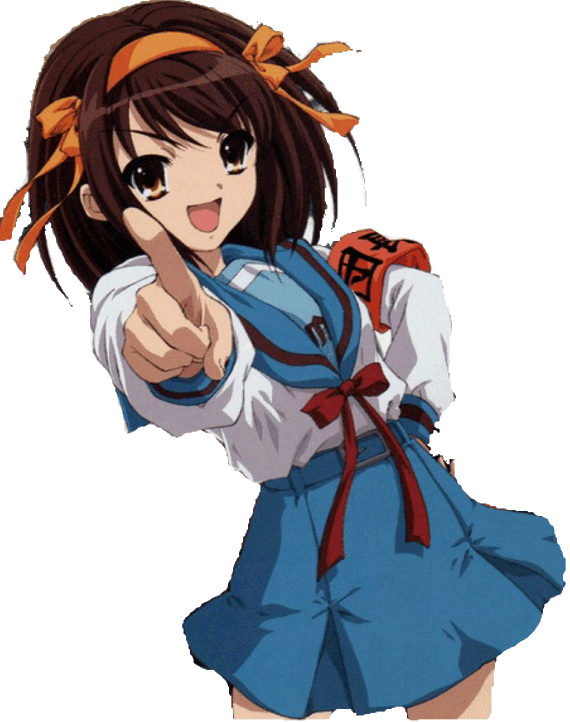 [ Likes ]
✔ Justice - "Having someone stand up for what's right is always the best."
✔ Cute Clothes - "I mean c'mon! What girl doesn't want to wear cute clothes!"
✔ Shopping - "If you have to ask why, you're stupid."
✔ Normal People - "They get to live the life I never live. I find them interesting."
✔ Children - "Not only are they extremely innocent, but they are cute too."
✔ Knowledge - "I think learning is the best way to go about life, since you can keep doing it over and over and always learn something new."

[ Dislikes ]
x Satan - "He... Do I really need to explain?"
x Demons - "For one, they're just plain rude most of the time and they cause havoc everywhere they go, which is hell to clean up."
x Darkness - "It's just... Uncomfortable..."
x Evil - "I mean, I'm sure that this is understandable."

[ Weaknesses ]
☠ Blind Rage - "When I get mad... I get MAD."
☠ Simple-Minded - "I just don't understand complicated things, that's all."
☠ Trust Issues - "How can I trust you when you haven't done anything to gain it?"

[ Abilities/Skills ]
✶ Increased Healing Capability - "Healing is one of my many amazing abilities. Amazed, right?"
✶ Energy Projectiles - "I can fire energy at will toward my enemies, although it uses up my celestial energy..."
✶ Mind Erasing - "With nothing more than a touch to the forehead, I can erase someone's mind."
✶ Flight - "I can fly with my celestial powers, though I rarely do so because it drains it quickly..."

[ Personality ]
Headstrong || Slightly Stupid || Perceptive

Kimiko is perfectly described by three words. Headstrong, Perceptive, and Stupid.

She's headstrong because she makes many decisions without first thinking of the consequences. It helps her make split decisions which can be extremely helpful, although making split decisions isn't always the best choice. Since she's headstrong, she's a little hot-headed and blunt, which lots of people find annoying, so she doesn't have great social skills, especially at fancy parties and such. Since she's a little blunt and hot-headed, it wouldn't be a wise decision to make her mad, though she will forgive you if you're nice enough to her.

Kimiko is perceptive because she pays attention to her surroundings. She is always watching others around her and analyzing her environment, in case a fight might break out. She always observes people she talks to, in the case that they may be demons. She especially watches out for Satan, which drives her to be so perceptive. She wants to find him and she wants to make sure that he gets what's coming to him.

Stupid is one of the less honorable qualities of the hero. She is NOT smart. If you asked her a number of basic trivia questions, i.e. "What is 200 x 100?", she would probably answer most of them with, "I don't know... Quit asking me dumb questions!". She never had a proper education, so battle is her best skill. That is one thing that she is definitely not stupid at, though her rage gets a hold of her at times and she loses her fighting smarts.
Memoirs
[ History ]
Kimiko came from Crestia, where most of her history takes place. She grew up in a house who had only an uncle, because she didn't know what had happened to her parents when she was young. She lived a happy childhood, working hard in a village that had mostly farming and such. Her uncle was one of the most renowned farmers within the area by far because he would always grow the finest crops, so she didn't live what most would consider a life of work. Her uncle employed many people and she got to know many of them, including a little boy by the name of Gunner. She always thought he was a weird boy because he was called Gunner, but she liked him none-the-less.

As she grew older and time passed, she got to know Gunner better and grew to like him. She had a deep-seeded crush for him, even though she wouldn't admit it if you asked her. She was always with Gunner and she always did things with him. Her uncle would always make fun of her because they hung out so much that he started to call them "a married couple", though she knew that it probably wouldn't happen. One of the days that Gunner didn't hang out with her, which was almost every week, she decided to go visit him at his house. She smiled as she walked toward the door. Though, she smelt a faint stench in the air, something unpleasant, though she disregarded it and continued to walk in, only to find a dead body with a demon smiling over it. She screamed for help, but no one was there and she never realized that the demon had eaten or killed almost everyone in the village and the ones that weren't killed were probably extremely injured. She immediately went over to one of the drawers inside Gunner's dresser and pulled out a sword, which he said belonged to his family. She pulled it out and it glimmered with light as she pulled it over her head and swung, killing the demon.

From that day forward, she trained to kill demons for the church who opposed all demons, especially the worst one of all, their king, Satan. She swung, stepped, and worked her way to the top ranks with the sword that was used to keep her alive. As she rose in rank, she learned of the power's Tet had granted certain people. Only after rising to one of the top ranking generals, the truth of her past was revealed. One day, she checked one of the drawers of her desk when an envelope addressed to her was inside, though she didn't remember putting the letter there. She opened the letter and it contained documents stating that her mother was an angel and her father was a human. She didn't think it was possible, though the church knew about it and continued to keep an eye on Kimiko, especially after the demon incident. She was angry, though she didn't take action. She continued to fight for what she believed to be true.

When the moment came where she was supposed to slay Satan, he opened a portal and she slipped through with him. She wasn't going to let him get away that easily. When she arrived in the human world, she wasn't completely sure what to do, though she did have an idea. She went out and got a job at a law firm and applied to be their secretary and got the job, then she searched for an apartment and found some friends. Eventually, she found out where Satan works, though she doesn't know where he lives. She has been keeping an eye on him for some time now, though she doesn't want to reveal her presence.

[ Others ]
N/A