Converted from the title "Great Dragon" that a number of scriptures call him by.
Those heroes will pay for what they did...as soon as these stupid bills stop coming in!
[ Name ]
Satan


[ Nicknames/Aliases ]
Ryuu Miyamoto
Ryu
Moto
Lord or King (only to those under him)

[ Age ]
Ageless, but appears 20 years old.

[ Gender ]
Male

[ Race ]
The Devil, one of the two Dues and master of darkness. Ruler and creator of the demon races.

[ Role/Occupation ]
Being the Demon King, he rules over his followers with both strength and wisdom. With the lose of his kingdom, he aims to reclaim what was stolen by the heroes. But for now, he's stuck working as a local delivery service.


The Outside
[ Hair Color ]
His hair is a pure black color to symbolize his dominion of darkness. Surprisingly being one of the only characteristics that remains the same from his change into human form.

[ Eye Color ]
His eyes are a pure scarlet red with deep black pupils that seem to glow in the darkness. Sadly the gaze that made his enemies cower in fear has now been replaced by a light blue color in his new form.

[ Skin Tone ]
His skin is an almost perfect tanned color so to match his hair and eyes. A disappointment when it was replaced by a regular toned skin color when changed.


[ Height ]
In his natural form, he stood up 6'3. As a human he's just 5'7.

[ Weight ]
200 lbs

[ General Description ]
In his demonic form Ryuu holds strong the appearance of the Demon King. Having a tall and fit figure, he makes sure to hold a form that even the strongest of his demon races will respect. His hair tends to hover as if floating under water whenever he wishes to display his power to another being along with the blood red eyes of his. When enraged, his pupils sharpen into a iris form. It's actually a typical strategy of his to use his appearance to fill his enemy with fear before battle. Be they human heroes or demons needing to be taught some respect. When intimidation doesn't work, he then puts his strength to work. With his body built perfectly for a balance of speed and strength, no one that stood against him had ever been able to take him on in a simple hand to hand combat before the war started.
Other additional features of his Devil form are the visibly pointed ears and the horns on his head curving back. This also includes a long thin tail coming out of the base of his spine with a sharp end to it. Another feature that not many have seen are his wings. Given form from the darkness he controls, he is able to create a pair of large black wings on his back. Since he feels it hinders him when not needed, he simply calls them forth when he wishes to.
In his human form Ryuu no longer has his features used to intimidate others. His height and once proud figure have been reduced to that of a fairly normal human's. His hair having become the only feature that remained intact as his skin tone and eye color have been changed to a common tone skin and light blue eyes. His lose of his tail has also caused him to have a bit of balancing issues from time to time. To him, the human world is also far colder then that of his palace. Almost always going outside in a coat despite his annoyance of having to resort to such a means to stay cozy.
Inner Soul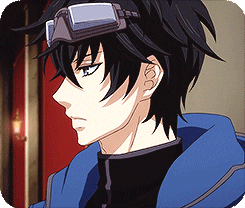 [ Likes ]
✔ Kotatus - With the cold he feels in the human world, he almost always sits under it for warmth.
✔ Meat - If there is one thing he would admire of the human world, it's the different ways of preparing meat.
✔ Order and Disciple - While still being the Demon King, he works hard to keep order among his races while still keeping their natural instincts in mind.
✔ Motorcycle - He has found quite a bit of entertainment them. So much that he even managed to get a job that allows him to drive one as fast as he can. Despite his balance issue on foot, he has amazing balance on his motorcycle. Also the reason he always keeps his goggles in hand.
✔ Music - He has found a liking of the variety of music in the human world. Constantly seeking out new ones almost daily.
✔ Oblivion - A trait he surly shares with his demon-kind is the thrill of utter destruction. The display of something reduced to nothing before him is a rather fulfilling stress reliever.

[ Dislikes ]
x Heroes - He aims to make them all feel his demonic kin's suffering ten fold.
x Tet - To him, he's just a guilty as the heroes that attacked him and his demon kind.
x Cold - Why is this world so much colder then his cozy, hell fire heated, palace?
x Disloyalty - He knows they are demons, but any sign of it directed to him easily angers him.
x Vegetables - Meat is all he should really eat. Why would humans ever want to eat plants?

[ Weaknesses ]
☠ Balance - Due to the lack of his tail, it's very hard to keep his balance on foot.
☠ Kin - All his demons are his kin. Threaten them before him with no means to fight back and he can become helpless.
☠ Temper - While he does his best to keep cool, once something enrages him it becomes hard to calm him down.

[ Abilities/Skills ]
✶ Motorcycling - After trying it out for a short time, he's managed to become like a pro of his bike. In a car however is a different story.
✶ Diplomacy - Not something you'd think a Demon King would be good at, but how else do you think he keeps those wild demons in order?
✶ Dark Matter - With his power over darkness, he can give physical form to things he molds out of it. This includes his wings as well.
✶ Perspective - Being alive for so long, he's learned the advantage of looking into any and all options to a situation.

[ Personality ]
To the human race, he is nothing more then a deadly Devil King. To his kin, he is their powerful ruler. Able to use his strength and cunning wisdom to lead his demonic races, he is more of a leader then the tyrant humans picture him to be. Knowing how his demons think and act, he has been able to settle countless disputes among his demonic kin without even having to display his power to them. That didn't mean he didn't enjoy bashing a few skulls together when disputes got to out of control. He enjoyed a challenging fight from time to time despite his status just for fun. But if one of his kin were to overstep their boundaries, they would expect a swift punishment from their ruler. While still understanding of their demonic instincts, he didn't tolerate if there was a sign of disloyalty to him. Due to his high status, he always focused on seeking out worthy demons to work beside him for leading his force and to have others of strong skill to enjoy a round or two with. Being the ruler of demons doesn't mean he can't have a little fun once and awhile.
It was during the war that things took a turn for the worse. Enraged by both Tet and the humans attack on him, he did all he could to protect his kin from the human attacks. To this day, he still feels a heavy weight of those that he couldn't save from the attacks as he vowed to take back his world and make the humans pay ten fold for the suffering they caused on his kin. Before, he was a ruler. But now, he plans on becoming the embodiment of vengeance.
Now on Earth, he struggles to keep him and his generals hidden from the humans as they organize themselves and gather enough power to attack once again. Focusing the most of his time to find means to gather magic in this world void of any.
Memoirs
[ History ]
He can still remember the time when he created his races of demons to fill his world. One might sometimes think that a being such as him and Tet wouldn't have to concern over being with others. But for him, at least, it was a needed thing. Guiding and teaching the races as they grew and developed over the centuries that pass by. When he no longer show them the proper needs to survive, he had originally planned to step back and watch them build. But because they were created with his darkness, instincts had a strong hold on the races. Without a proper guidance to lead them on, they resorted quickly into battles against one another. So, unlike Tet, he made his place among them as their King. Forming a strong compassion for them all while even enjoying some of the instinct thrills that they shared. Things progressed smoothly for them until he received word that Tet's creations had found their way into his world.

At first he was delighted for there to be a united peace between their races and offered those that migrated to his world a place to stay. But they kept asking for more. More land, more goods, more commendations. It reached to the point that he finally put his foot down and stopped giving them more then what they should have. That was the trigger they needed to just suddenly fight back. He could never understand how their greed and selfishness would reach to a level that even his demons didn't have. Warning Tet of the events, he was even more surprised to hear that he didn't wish to take action and instead let them do as they please. Disgusted by his answer, he took arms against the humans. Convinced that this little "rebellion" would end shortly. But the celestial gifted humans became far more challenging then what he anticipated and they reached to his castle doors. All around him his kin were being slaughtered by the humans as he struggled to keep his remaining forces in order.

When one of his generals ended up falling to the blade of one of the "heroes", he knew that action had to be taken before all was lost. Making a painful choice, he used all of his powers to open a portal to Tet's world to escape with his generals. Planning to gather their strength and launch a surprise attack. But a few problems came along that halted his plans. One was the unexpected detail that Tet's world was void of any magic. Meaning that just gathering their power again would take far longer then anticipated. The other was that while they were here, they were forced into many needed adjustments to keep themselves hidden from the humans and heroes. But he wasn't going to just give up with those problems. No...he will regain his strength and take back what the humans took from him. Once he does that, he's going to find Tet and make him pay for allow such a crime against him fall.

[ Others ]
Due to him having to wield more power then the generals to change form, he resorts to just changing half way when needed so to not drain all that he has accumulated.