Name:
Matthew Todd
Age:
17
Gender:
Male
Appearance: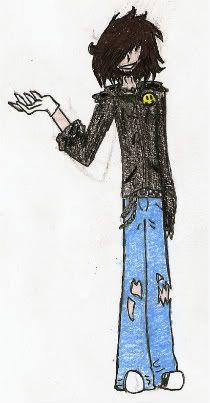 His form could not be described as intimidating - his frame slender and height only 5'6", his strength slightly greater than his visible muscle. His skin is pale, his hair wavy and roughly shoulder-length, appearing dark brown in some lights and black in others. His eyes are black-brown like his hair, but almost always hidden by his bangs. He often has a short beard, but he'll sometimes shave this if he gets the chance. His features are, if not quite handsome, not unpleasant to look at. His smile, though charming when he wants it to be, is rather chilling.
His attire consists of a black zipped-up hoodie and light blue jeans that have ragged holes in the knees, both quite obviously old and dirty. The front of his hoodie is adorned with numerous safety pins and a smiley face button. The two chains at his side are from his wallet and pocket watch. He always wears white dress gloves and rarely takes off his black Converse high-tops.
Profession:
Homeless
Personality:
Usually quiet, odd, and almost innocent. With numerous vaguely canine tendencies, he can even seem cute sometimes. He has a real knack for being startling. Most of the time he's pretty indifferent towards being told what to do; he doesn't much mind being bossed around. He's a sucker for sweets - if he's hesitant to obey for whatever reason, he'll do anything for a cupcake or cookie. His dislikes include cars - riding, driving, or being around them - high-pitched sounds, and certain average public places like department stores and restaurants. Confronted with his phobias of cars or public places, he tends to start counting out loud to keep himself calm. Though he loathes most forms of love, he passes around quick kisses - usually of thanks - like they're nothing, even to other boys, which can be very startling.
Bio:
Matt was raised a single child by pretty normal, loving parents. His Alter wasn't particularly apparent until he was about 12, though he had always been rather eccentric before then, too. Since his Alter looks just like him while in human form, his parents had him diagnosed with normal dissociative identity disorder, but the medication prescribed to him did nothing. They tried psychics, who were terrified of him. They tried exorcism, which only provoked the Alter.
All the while they only knew half of it; almost every other morning, just after sunrise, Matt would wake up with blood all over his mouth and in his teeth. There wouldn't be a spot of it anywhere else. His routine became to simply clean up and then go back to sleep until around two in the afternoon. All his parents ever knew of Syde was his great disrespect and his cold attitude - but that was enough to push them to the edge. Finally it became too much for them to handle and they kicked Matt out when he was 16.
Alter:
Syde - The Nightmare Muse
Gender:
Male
Appearance:
In human form, looks no different than Matt. Hellhound form, however:
Abilities:
Regeneration(fast healing), extreme speed, changing into a hellhound. However, during the day his powers but for regeneration are gone, rendering him relatively vulnerable. For this reason he rarely takes over during the day.
Alliance:
Nemesis
Personality:
Often behaves little differently that Matt, making the switch usually subtle. A faint feeling of something ominous always lurks near him though, a warning of what he's really capable of. His true nature is selfish, opportunistic, and rather sadistic. He is unashamed of being a coward should he find himself in a bad situation. He loves scaring people, and, aided by his intense speed, is very skilled at this. He's rather unpredictable in the sense that sometimes he'll obey even the smallest or most tedious order without anything in exchange, while other times he'll be very defiant or want a deal. He is very fond of sin - bringing out the worst in people, watching or instigating things like horrifying murders, acts of brutality, and adultery. Like Matt, he hates cars and can't stand high-pitched sounds, but he has no problem with public places. Also like Matt, he loathes all forms of love, yet occasionally displays some degree of compassion, revealing that perhaps he isn't as heartless as he'd like to be.
Bio:
Syde gained his nickname by the intense fear he so easily inspires in the humans he comes across. He seems to have been present in Matt since the boy developed a conscious memory, but never started really taking the wheel until Matt was around 12. He would head out at night to take hellhound form and literally eat someone - at least, most of someone. These hunts became more frequent as Matt got older. Investigators and law enforcement had little explanation for it; they wrote it off as some kind of animal attack.
Many of the psychics Matt's parents took him to believed Syde to be a demon, but when they tried to have him exorcised it failed. The exorcism at first amused Syde but soon got on his nerves, as he hates religion. After hearing about Nemesis, Syde all too willingly joined and Matt didn't seem to care either way.
Theme Song:
Build God, Then We'll Talk - Panic! At The Disco