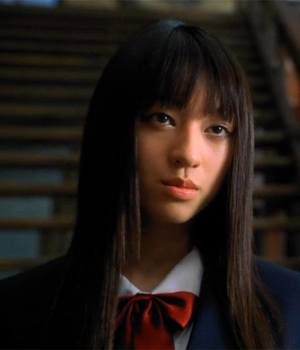 Ju-on
---
MDOC Number: 022061


------

SID Number: 720BJ471


------

Cell Number: Twenty-two, 22



------

Name: Yubari, Kimi, Amelia


------

Aliases: Ju-on/The Grudge


------

Racial Identification: American-Japanese


------

Gender: Female


------

Hometown: Williamsburg, VA



------

Hair: Black


------

Eyes: Brown


------

Height: 5'7"


------

Weight: 185 lb.


------

DOB: 02/14/2000 (17)
---
Crime Description
Attempted murder: The incomplete, unsuccessful act of killing someone.

Kimi had stabbed her boyfriend, Adam Ernest, 13 times in the chest. She had managed to stab one lung and break most of his ribcage. She claimed "self-defense", after Adam assaulted her and attempted rape. Evidence was found of her eventually planning to eliminate him, writings in her journal stating that she was curious to how long he would last if she stabbed the major arteries in his legs in different areas.
Background
Kimi Yubari lived in a picture perfect household, a working father and mother. Her father, Toshiro Yubari, worked as a construction worker, while her mother, Danielle Kenfield, was a nurse. Her parents never fully got along, behind closed doors. Fights were frequent and often left Kimi to tend to herself. She learned how to make food rather quickly, finding snacks for herself and tucking herself in was no problem. Money was no problem, food was always on the table, and living was comfortable. Kimi grew up as a sufficient and promising student. Though, she suffered neglect and parental absence for most of her childhood. Her father was often away from home, while her mother worked long shifts and could barely take care of herself. It was safe to say that Kimi didn't get the attention or guidance she needed.

It started when she was about 7 years old.

Kimi had a friend over, playing with the young girl's cat. She has trying to help her friend get a ribbon on the cat, not noticing how it had been too tight. The cat struggled, the two thinking it was only angry, and slowly came to a stop after 3 minutes or so. They had told the girl's mother, the mother then explaining and disciplining the girls for their mistake. While her friend was in tears, Kimi feeling sorry for the poor thing. Yet, she couldn't help but feel a little curious. In apology, her mother had gotten the family a new cat and tried to help Kimi more as she grew. She become more violent, unruly, and introverted. School had been troubling, many of the students in her class avoiding her because she looked like "Ju-on" or "The Grudge Girl." She had been ridiculed for her looks, earning many racist comments and jokes during class. She transferred schools twice due to bullying.

What many haven't noticed, was the things Kimi did during school. She learned that the "Do Not Eat" packets really meant it, that it was highly toxic to people. She had opened one in someone's lunch, out of simple curiosity and boredom. After the 15 minutes of panic and a child choking, she learned that a classmate of hers had died due to poisoning. It perked her interest more, asking her mother how the human body worked. Her mother was more than happy to teach her about the vitals of the human body, the major artery points, and all sorts of useful information. When she was 15, her parents divorced. Her father had finally lashed out and attempted to beat her mother, Kimi intervening and receiving the abuse. Kimi was sent to live with her mother afterwards.

Things slowly got better, Kimi showed signs of empathy more easily. She had made a few select friends and even tried relationships every once in a while. Kimi took up Judo and self-defense classes, with the encouragement of her mother. She seemed happier and content as she grew. She dabbled in horror and thriller films, looking at a lot of criminal history and the macabre. When questioned on her interested, she lied about being interested in detective work and criminology as a career. Though, of course, her mother worried during her high school years. Kimi stayed out late with friends, went on dates with people they didn't know. Yet, she seemed happy enough whenever she came home. Kimi's mother never questioned it.

Kimi had managed to kill 5 classmates in her span from Middle and High School. When asked for their disappearances, she was cleared of suspicion each time.

The night of her known crime, she had gone to her boyfriend's house. Her boyfriend, Adam Ernest, had gotten drunk. They broke into an argument, Kimi not consenting to Adam's interest in sex. Adam proceeded to push her onto the bed, tearing at her clothes. Kimi broke free, jabbing him at his throat. She reached into her bag and grabbed the switchblade she routinely carried. When Adam backed off and apologized in a drunken stupor, she managed to pin him down and stab him 13 times in the chest.

When she was caught, she did not confess to her past murders. After all, they didn't ask.
Personality
Kimi is selectively mute, refusing to speak to most people unless forced to. When speaking, she is careful with her words and is known to stutter. She is eerily calm in most situations and highly observant, known to be unnerving by some inmates. Kimi is known to be rigid and outwardly cold. She will dismiss people, often blatantly ignoring others when talking to them. Kimi is known to move from one spot to another on occasion when others move into close proximity. She will engross herself in books or any other one-person activity if possible, highly uncomfortable with multi-person activities. When in groups, she will fidget and flinch at loud sounds or quick movement. On few occasions, she has lashed out and thrown inmates across the room.

Kimi is shown to also exhibit obsessive and clingy behavior. When she trusts and involves herself with a person of interest (be it friend or romantic interest), she is known to cling close and whisper to them often. She will seem softer with the person, often showing affection through small gestures or small origami gifts. She will become more compliant with others if the P.O.I. (person of interest) is around. When P.O.I. is not in the area, Kimi will become depressive and withdrawn. It is speculated that this is a habit formed from past neglect and has developed into a mild case of an attachment disorder.

She will have outbursts of anger and violence, having been diagnosed with Manic Depression. She is known to cry, scream, and yell as she acts violently. Kimi will often speak in her first language, Japanese, when doing so. She may also curl up into a ball and rock back and forth. She doesn't take medication for this, so outbursts are rare and unexpected. It's been proven that this was not a factor of her crime. Though, it has been confirmed that she has minor Sociopathy. She has a harder time feeling empathy or remorse, but can feel it.