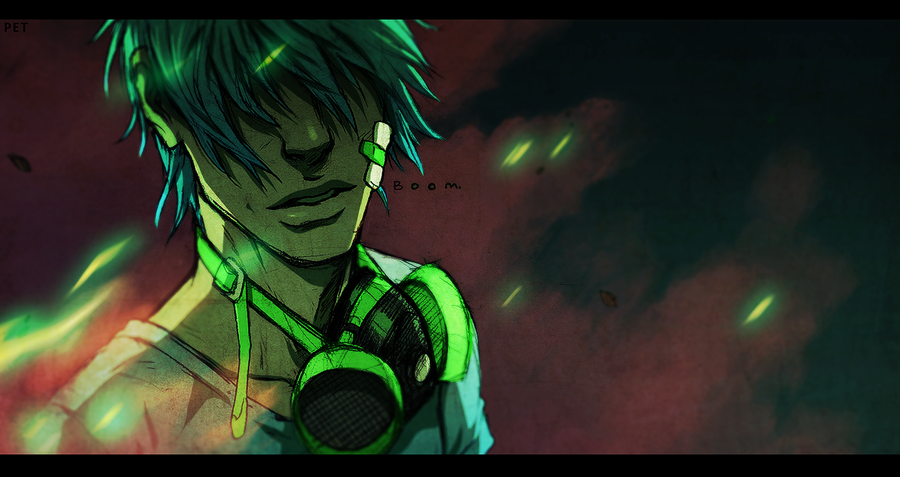 "Demons" || Imagine Dragons
Twenty-three || 'Nix' || Above and Beyond
---
|Gender|
Male
|Sexual Preference|
Heterosexual
|Role|
Marksman
|Weapon|
AI-712 Armament Rifle
|Bionic|
Eyes, L & R Hands, Lungs.
|Race|
Human
---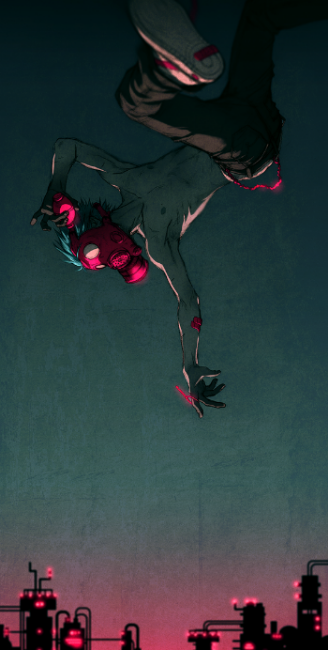 |Eye Color|
Despite the fact that they are more often than not hidden behind a teal fringe, or the glazed over lenses of an almost perpetually worn gas mask, Nixon's eyes are an amber color (though they weren't always), and they are said to glow bright like molten gold when his bionics are triggered.
|Hair Color|
Not your average set of unkempt, and windswept locks, Nixon sports a mop of bright and wild teal hair that stretches to the nape of his neck in the back, and tumbles about the bridge of his nose in the front.
|Body Type|
Lithe and athletic, this elite sharpshooter tends to favor agility and dexterity over brute force - his frame is built to suit his preferred style of movement. However, under the most ideal situation, he doesn't have to be within 500 yards of a target anyways.
|Standard Dress-up Attire|
Grey Cargos, Colored T-shirts, sneakers, and a 'Gas Mask' of sorts. Did I mention the noticeably odd abundance of band-aides and gauze?
|Height & Weight|
5ft 11in & 167lbs - give or take.
|Birthmarks, Tattoos, and Scars|
Nixon wears an array of physical souvenirs, the most notable being the sleek, shiny metal material that now rests where both of his hands once were. A thin line mars and splits his left eyebrow, preventing any further hair growth, alas this is typically hidden beneath a uniquely designed breathing apparatus/mask. As the result of a particular incident, his forearms harbor some old burns and shrapnel marks, and his chest a question autopsy-esque incision. On a more superficial level, Nixon's tongue is pierced, and he has a particular interstellar constellation tattooed on his back, and a smaller one on the underside of his forearm.
---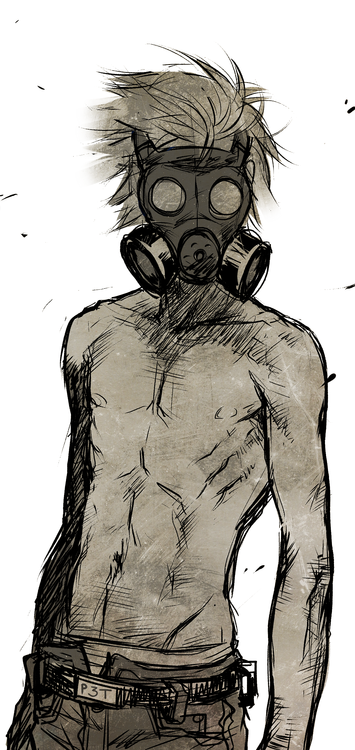 |Personality|
A seemingly taciturn individual, Nixon comes off as nonchalant in the rare moments that he cares to speak. It's not to say that he doesn't enjoy conversation here and there; but rather he opts to observe rather than actively participate. It's not easy to pinpoint what makes this man tick, but he certainly has his quirks. Generally the quiet, aloof type - you'd be surprised to find Nixon can be sneaky and mischievous when the mood strikes. Don't put it past the marksman to accidentally misplace their beloved Pilot's goggles or knuckle busters from time to time, and he's also fond of cajoling some of his shipmates into impossible dares or bets. Despite these tendencies, emotion is not readily expressed on the man's face, but perhaps you can get something from his body language, mannerisms, and hand gestures if you're the perceptive type. To most, Nix may appear perpetually passive,or at ease - but a keen eye will tell you that he's alert and more than ready to act. His impish, yet reserved nature is often mistaken as a type of laziness and indifference to those around him, but make the first move and you'll be met with a surprisingly charming, albeit dry humored persona.

Nix also quickly gauges his opinions of strangers, some would say unfairly, based on gut instinct. He either trusts you or he doesn't, and his reasons are typically sound, and his judge of character has proved to be worth it's merit. Though immediately skeptical, one would be hard-pressed to call him impolite at first encounter, if not frank, as any doubt is guised behind devil-may-care smiles and the slightly out of place chivalrous habits. The sharpshooter is known to revel in shock and awe; those unfortunate enough be a blip on his radar are subjected to scare tactics for his own personal, sadistic glee - expressed rarely in a passing breathy laugh muffled by a mask. Sans select members of the female persuasion or those of particularly young age, his behavior remains unaltered, calm and what some would even title 'proper'. If i had to guess, even Nix has some trouble shaking the remnants of habits formed in the days of strict military training. The state of affairs in his quarters would probably surprise you, for all the wrong reasons.

Drink and weaponry are the man's guilty pleasures, the former of which, in extraneous amounts, turns him into a brooding, belligerent beast. Here his defensive nature may be revealed. Outwardly proud of his exotic traits like a cock of the walk, there are moments when he yearns for normality, when he curses the inability to really touch. However, sulking is not his forte. He is hardly the most intelligent of the bunch, nor can he partake in swordplay without making a scene, but he is a strong presence for the ship and can damn sure shoot a gun. Nixon defends his crew as readily as he taints the supper pot with scalding hot spices. You know, like a jerk uncle.
|Likes|

                                                       

|Dislikes|


✔ Warm Weather                                ✘ Being Planetside for too long
✔ Pickpocketing                        ✘ Ticking Clocks
✔ Graffiti                                           ✘ Free-Floating
✔ Occult Novels                                  ✘ Crowds
✔ Geomagnetic/Solar Storms               ✘ Ignorance
✔ Betting/Gambling                           ✘ Authority


---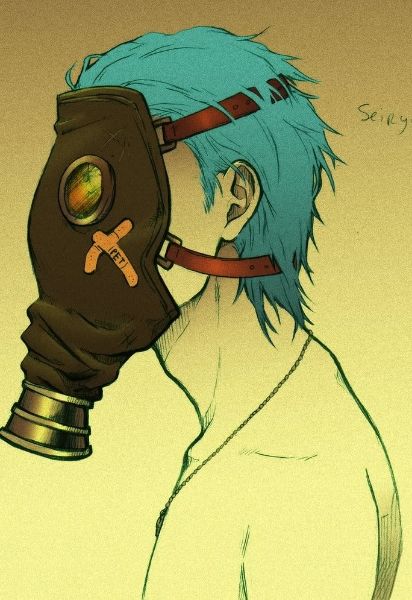 |Strengths|


Perceptive, Versatile, Sure-Shot, Stealthy, Agile.



|Weaknesses|


Stubborn, Close-Range, Cocky, Impulsive, Alcohol.



|Fears|


Asphyxiation || Failure/Disappointing others || Being Alone



|Bionic Alterations|


|| Hands || - Lost during Nixon's tenure at the Military Academy during an unfortunate demolitions mishap, the government funded the simple mechanical replacements. They offer no technological advantage, other than the material being obviously more resilient to temperature and substance. However, he can surely throw a punch without worrying about busting up his knuckles, and the nerveless appendages may give him a slightly steadier trigger finger.

|| Optics || - Similiar to Hannah, the sharpshooters eyes have been enhanced to optimize his weapon proficiency. These bionics are capable of a digital zoom, thermal & night vision to assist in target tracking and acquisition, or otherwise.

|| Lungs || - A questionable and experimental procedure, the respiratory implants were outfitted to help Nixon cope with a previously dormant, yet chronic affliction that once threatened his life. The condition flares up when exposed to particular atmospheric conditions, and if left unattended or unmanaged would result in a slow, debilitating, and fatal case of asphyxiation. While the bionics offer nothing in terms of enhancement, the respirator mask Nixon typically wears compensates and allows for regulated breathing in most types of Atmo.
---




|Family/Relationships|


Father - Marek Moreau || Expired || Former Bio-Chemist for RSI Industries.
Mother - Anastasia Sutherland || Living || Madame of a Brothel, glorified prostitute, and businesswoman.
Sister - Delilah Sutherland || Living || Fellow bastard child, following in Mom's footsteps.




|History|


Born a bastard to a callous businessman and a whore, Nixon spent his developmental years surrounded by scantily clad woman and a constantly fluctuating spread of guilty-looking men with pockets full of money. Needless to say, the boy wasn't lacking in maternal influence. He could cook and properly tie a corset by the age of 7, and he certainly learned the importance of closed door policies and knocking early on. However, his mother was a smart woman and while his fathers [i]visits were anything but routine and unorthodox, the brothel never lacked in customers. It didn't take long for Nixon to play his part in the 'family business', and while the women played it coy and cute, he'd played smart and sneaky promptly becoming efficient at the five-finger discount. It started with a few bills, and progressed notably to rings, watches, and whole wallets. As he got older, things began to change. Never wanting to be like the men that visited the establishment, Nixon was raised a gentleman. And while he got a little to friendly with some of ladies, the bigger issue was when he got a little too protective of others as well -- especially after his sister was born. Playing the role of the White Knight, he wanted nothing more than to rescue the house of damsels and whisk his mother away to a safer, more comfortable livelihood. But not everyone wants to be saved, and eventually the young man had to distance himself a bit - but his motivations hadn't really changed. As soon as he was able, he opted into the military. If he couldn't save his make-shift family directly by defending them from rough and rowdy men, he could at least fund and find them a better home. When he signed up for the Academy, he begrudgingly used his father's name, to aid his chances. Lo and behold, the Moreau name held some weight at the time and he got in. Against some heavy odds, Nixon surpassed expectations and excelled in tracking and marksmanship. While tests weren't exactly his forte, you'd be hard pressed to witness a time when he missed a target. Rocketing through the ranks, he sent money home whenever he could. About a year before graduating his father passed in a laboratory accident, and it struck the man a little more than he'd ever expected it to. Regardless, he finished his military training with flying colors, but slightly questionable discipline. All in all, his proficiency was undeniable and after another year spent in the field, he was placed on the 6-Man Exploratory Team.



|Secrets|


It's not by any means common knowledge, but Nixon cannot survive prolonged periods of time without his respirator mask. 48 hrs at max, otherwise he begins to suffer physical symptoms. Nose bleeds, shallow breathing, & fatigue are the initial indicators - from there, things only get worse. Also, the respiratory implants were outfitted via the Black-Market, as no self-respecting Doctor would approve of, or agree to do the procedure.

The constellation on his back is of the night sky, on the day he first left home. If asked, he'll generally shrug, or make some sort of crude reference to his 'big dipper', or 'uranus'. The one on his arm however is less sentimental. Each star represents a life he's taken.


---