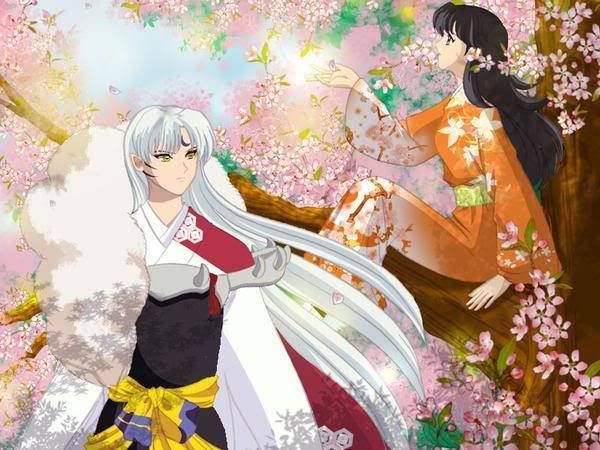 It is eight years after the series ended. Meaning Kagome and Inuyasha are married with a little pup, a boy named Inutaisho(he's about five) and a pup on the way. Rin is nineteen and still living with Kaede(yes shes still alive for now). Sesshoumaru had been visiting Rin at least once a year(on her birthday) but he has not showed in about two years(he has stopped coming because of the feelings he has been having for her but Rin has no idea). Rin is very upset about this and fighting with the "feelings" she has for her Lord. They are all thrown into the middle of Lord Yamashita Kooji's extermination of demons of any kind when they invade Kaede's village searching for a rouge demon. But this lord is not what he seems an evil surrounds him one stronger than Naraku. How will this affect their lives now that they have children. When there is an invasion on Sesshoumaru's land in the west he begins to start an army of demons and humans to go against the evil lord. I don't mind OC's but I would like peeps to be the canon characters too. It starts out in Kaede's village. I'll add more places as we move along.
Inuyasha is a copyright of Sunrise International
http://www.sunrise-inc.co.jp/international/index.html
Hooray Rules!

1. I am the character of Rin nobody else okay. It may make me sound like a bisnoch but hey its my RP.

2. Be respectful to everybody please. I don't like mean people.

3. Have Fun. I like fun.

4. Characters are first come first serve. So if you want to be Kagome and somebody already is your SOL. But if you stop posting in the Rp and someone else wants the character I will give it to them.

5. OC's are just fine. I don't mind it how can you make up a new story without new characters.

6. If your gonna make a character try to post with some regularity.
Arcs are bundles of posts that you can organize on your own. They're useful for telling a story that might span long periods of time or space.
There are no arcs in this roleplay.
There are no quests in this roleplay.
Here's the current leaderboard.
There are no groups in this roleplay!
Welcome home, Promethean. Here, you can manage your universe.
Arcs are bundles of posts from any location, allowing you to easily capture sub-plots which might be spread out across multiple locations.
You can create Quests with various rewards, encouraging your players to engage with specific plot lines.
Settings are the backdrop for the characters in your universe, giving meaning and context to their existence. By creating a number of well-written locations, you can organize your universe into areas and regions.
Navigation
While not required, locations can be organized onto a map. More information soon!
There are no groups in this roleplay!
By creating Collectibles, you can reward your players with unique items that accentuate their character sheets.
Once an Item has been created, it can be spawned in the IC using /spawn Item Name (case-sensitive, as usual) — this can be followed with /take Item Name to retrieve the item into the current character's inventory.
Give your Universe life by adding a Mob, which are auto-replenishing NPCs your players can interact with. Useful for some quick hack-and-slash fun!
Mobs can be automated spawns, like rats and bats, or full-on NPCs complete with conversation menus. Use them to enhance your player experience!
Current Mobs
No mobs have been created yet.
Locations where Mobs and Items might appear.
You can schedule events for your players to create notifications and schedule times for everyone to plan around.
Add and remove other people from your Universe.
Orphanage
By marking a character as abandoned, you can offer them to your players as pre-made character sheets.
"Dreaming about providence and rather mice and men have second tries."
0 sightings
Naraku
played by RolePlayGateway
I'm.... alive? And Kikyo too? WHERE?
The Forge
Use your INK to craft new artifacts in Inuyasha: Rise of Rin. Once created, Items cannot be changed, but they can be bought and sold in the marketplace.
Notable Items
No items have been created yet!
The Market
Buy, sell, and even craft your own items in this universe.
Market Data

Market conditions are unknown. Use caution when trading.

Quick Buy (Items Most Recently Listed for Sale)
Welcome to Kaede's village including the Inuyasha forest.
Welcome to the west
Discussions
Most recent OOC posts in Inuyasha: Rise of Rin