---
Basics
Name:
"Sparks. Is there a reason as to why you want my name?
" You may use that as an alias, but since you're a part of my imagination you can't fool me, you know. Your name is Emiko
Age:
"As the eldest sister in my family, it is my duty to look after Miu."
14
Gender:
"Take a guess, good sir."
Female
Family:
"She's all I have left..."
A younger sister: Miu
---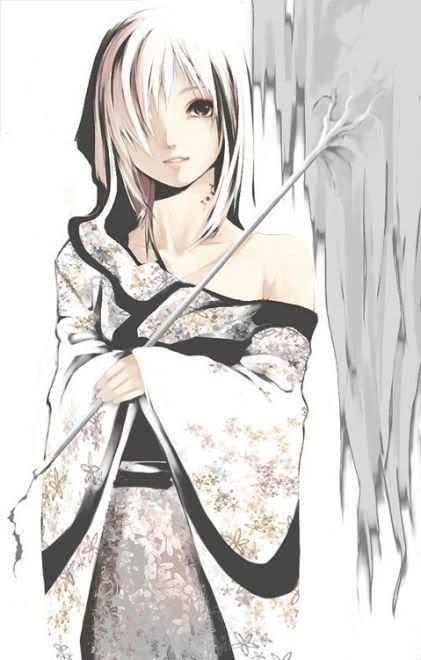 Personal
Personality:
"What is that for a strange kind of question? But very well..."
Emiko has a great sense of responsibility when it comes to taking care of her siblings and those she cares about... or well, I don't know if I should call it responsibility, because she is very bad at taking care of herself but... maybe dedication works? Yes, she is very dedicated to do her utmost to to protect and make those she loves happy, especially now after what happened to her village. Although she used to be a very happy and bright child, although quiet and shy around strangers, her demander has changed now slightly. She won't let herself get upset or show any negative emotions when her sister is around, always giving her weak and reassuring smiles in order to try and keep her happy... but her smiles rarely reach her eyes. The village incident shook her terribly and she is still in the process of healing from the psychical wounds who remained, even after the physical ones healed. Even when her sister is not around, however, she refrains from showing emotions, afraid that it will display weakness in any way. The world she once found so beautiful, the world where she always found something beautiful in, even in the ugliest of things... has suddenly turned to ashes and lost all color. The only thing that keeps her flame burning, is the dedication to keep her sister alive. She'd do anything for Miu, anything to keep her sister safe and happy... anything. Still, as long as Emiko's sister isn't threatened, she always does her best to keep an open mind about everything. She doesn't like to judge people because of how they look and who they are... and will give everyone a fair chance before judging them. However, once she has made up her mind about a person... it is very hard to change. She always carries a sword around, and although she isn't very strong physically, her speed makes up for it. In other words, she has basic knowledge in how to use it and won't hesitate if she has to, but does avoid violence if it is possible.
Sexual Orientation:
"H-hey! What is that for a kind of question?!"
Heterosexual
Likes:
"Beautiful things..."
Flowers- especially spider lilies and crocuses, foxes, her sister, ravens, summer and spring, rain and storms, lighting, riddles, art, darkness, light, day, night, singing, reading, science and magic... mostly science and gardening.
Dislikes:
"A lot of things..."
War, soldiers, people who hurt others, slavery, destruction, winter, crows, threats towards her sister, rude people, decadence, impudence, superstitions, judgmental people and morons.
Biographic History:
"I... don't really feel like talking about this right now."
Emiko led a happy and peaceful childhood, situated with her family of a mother, father and four siblings in a small village. The village was always full of life and everyone would help out each other there all the time. In the summers and during autumn, the children would help out on the fields with the crops. During winter several families would move in with one another and huddle up together to keep the warmth, or make sure the others could heat their home in one way or another. The whole village was like one big, wonderful family and everyone was always ready to help anyone in need of it. No one was ever left alone. However, what the village truly was known for was its wide collection of plants and flowers. It was actually rumored that the most beautiful flowers to be found grew in Floralia Village. Yes, their plants was the main focus of Floralia. Being a society that was driven of a combination of science and magic, they didn't just use their plants and knowledge for medical studies, but magical rituals as well. It was never anything bad, though, and nothing too powerful, as most of the rituals were about keeping the village from harm.
It is rumored that there, however, books with rather dark knowledge hidden within the village... and that the villagers not only were capable of seeing spirits (or so called 'daemons'), but actually were in contact with them constantly, and that is why their plants were so amazing. There is no proof to any of this, however.
Her folk was called 'Descendants of the white foxes', and were all known for their fair complexion, beauty and silver hair, not to mention that they were rather short people. The white foxes were also known as 'sly', however, and despite lacking any bodily strength and being rather fragile, they were feared for their intelligence. Therefor they had always been left alone and other villages refrained from making contact with them... up until now. The white foxes had no chance against such a level of brute strength... so they were wiped out.
About two months after Emiko's fourteenth birthday, her village was raided and burned down to the ground by a bypassing army. It was a horrible experience for the girls, especially as Emiko and Miu seem to be the only ones who survives. With only a charm they got from their parents as protection, and the clothes they wear on their backs, the sisters have started making their way through the world, in hope the one day settle down somewhere.
However, being what they are... will they be accepted? Or will people either fear or shun them? Well, that remains to be seen...
---
Appearance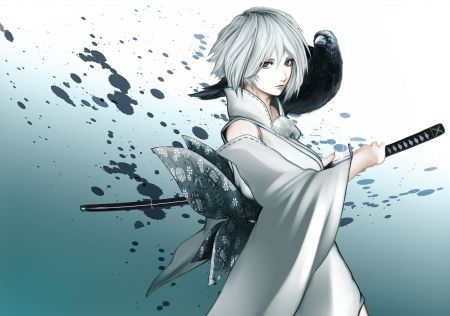 Hair Color:
"It lies in the family..."
Silver/White
Eye Color:
"The same as my fathers."
Amber
Weight:
"Slightly underweight... I haven't been eating a lot lately."
49 kg
Hight:
"And rather short too, I guess... not for a white fox but...."
158 cm
Brief Appearance Description:
Like all white foxes, Emiko has white hair. However, hers reminds more of spun silver than white, especially when exposed to moonlight, but not only. It is not that long, reaching to about the end of her neck and has a rather silky quality about it. Like all of them, she is also rather short in hight and will most likely not grow that much more (having already bled for the first time). She is slender of body form, almost even ever so slightly underweight, although not quite that much yet. Everything about her is petite, which is another trait common for the white foxes; even their men were small and lanky. However, this also makes her appear slightly younger than she actually is. This too, is another trait common for the white foxes... too bad almost all of them are extinct now; Miu and Emiko being the only ones left. Emiko has a red spider lily tattoo an her neck, which often his obscured by her hair. Around the spider lily, thin, thorny vines in a silver color twist their way around the petals. The tattoo is a traditional mark, given to all white fox boys and girls when they reach the age of twelve.