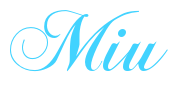 ---
Basics
Name:
"My sister says I'm not allowed to tell my name to people I don't know.!"
Miu
Age:
"I'm a big girl now! Soon I will be seven!"
6, 7 in a week.
Gender:
"I'm a princess!"
Female
Family:
"The bestest person in the world!"
Her sister, Emiko (Miu calls her Mi-Ki)
---

Personal
Personality:
"I'm a lady! And a princess, yes!"
Miu is cheerful and bubbly, like most children you will meet. When you ask her what she wants to be when she grows up, she will always answer 'a princess, because all little girls are princess. Papa used to say that.' She possess the naivety and innocence of all children, which can be both troublesome and positive at the same time. Since her parents and siblings death, Miu is somewhat more withdrawn than what she used to be and not always quite as happy anymore, but it is obvious it has effected her less than her sister. Maybe it is just because Miu still has Emiko to rely on. She, just like Emiko (still is, she just doesn't know it), she can see something beautiful in everything. She always tries thinking positively, even if the situation looks all but with even a ounce of hope in it and hates to see people around her sad, so she tries to cheer them up. She loves anything pretty and cute she can come across, which involves practically anything with frills and baby animals. Added to that, she can't get enough of sweets and loves drawing.
Sexual Orientation:
"Heeeeeeh?"
Not relevant at this age.
Likes:
"
I like my sister!"
Anything with frills, baby animals, animals in general, sweets, pretty things in general, flowers, dresses, gardening, helping people, drawing, kind people, good food, playing and fooling around, laughing, making people smile and playing princess.
Dislikes:
"I really don't like... rainy weather, because it sucks because you get all drenched and stuff, and then you get a cold and then you can't go out playing anymore."
Mean people, scary people (although it takes quite a lot before she finds someone scary), darkness, nighttime, nightmares, coldness, cruelty, people treating her sister badly and vegetables.
Biographic History:
"I-it's a sad story..." See Emiko's form.
---
Appearance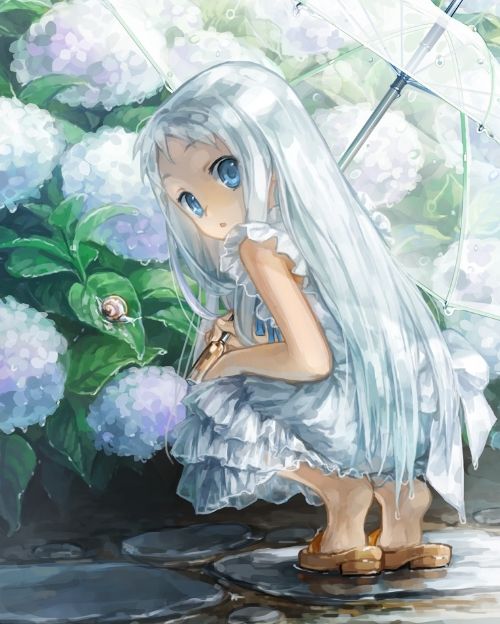 Hair Color:
"Like all white foxes!..."
Silver/White
Eye Color:
"Like mama and Arashi and Akio and Misa!"
Electric Blue
Weight:
"Uhhh... I actually don't know... normal, maybe?"
Slightly underweight.
Hight:
"Far shorter than sis!"
128 cm
Brief Appearance Description:
"I look like a princess!"
That's not really quite true, Mi- no,no! Don't cry! You do look like a princess, okay! Just don't give me those gigantic puppy eyes... it's heartbreaking. Anyways, back to topic. Miu is a tiny girl, even more petite than her sister due to her age. Although she is going to grow over time, she most likely won't surpass Emiko's hight. Her hair, like Emiko's is silver/white, but edges more towards the pure white direction- as pale as the driven snow. Her complexion is fair as well, and other than her eye color, she looks about exactly like Emiko did when she was Miu's age. Miu likes everything in pretty colors and with frills, and will wear it if she can... but since she doesn't have anything even close to that, the rags she usually wears will have to do.