EXPERIMENT #12
━━━
D I A L O U G E

X

C O L O R :

#009599


T H O U G H T

X

C O L O R :

#030056
X
X


After fourteen longspun years of captivity, while it cannot be regarded as a fact it would not be by any stretch of the imagination a suspension of disbelief to assume that a severe lack of sun exposure due to over a decade spent behind the walls of the Hawkins National Laboratory could be behind Experiment Twelve's noticeably porcelain pale complexion. Whether or not her skin tone has anything to do with her years of unending confinement; her tone is complemented by her stunningly arresting sea-green eyes and bow-shaped lips. Standing at an unimpressive stature of five foot three inches, the petite teen's figure is slim and still has a boyishness about it that is currently going through the subtle gradual developments that come along with infringing on the cusp of pubescence.

Dark brown to the point of appearing almost black in coloring depending on the lighting around her; the long thick strands that make up the hair on Twelve's head is always worn loose and has a natural wave to it. Unkempt, the young girl's hair stops an inch or two before reaching the small of her back. A lab rat her entire existence, Eve doesn't have a defined style as she was never given the opportunity to structure one for herself. She's only ever worn the matching white top and bottoms that the lab provided for her to wear. She has no concept of what it means to have a uniquely tailored fashion sense. One thing that she has that isn't accustomed of teens her age is a tattoo. On the inside of her right wrist the number '12'. The number has been her identifier her entire life.

A side effect of the experimentation, when her powers heightened to the point that she succumbs to her 'beast' or 'feral' state as the researchers at the lab coined it; Eve undergoes an evident physical transformation in her appearance. For starters, her skin turns blue, her lips a few shades darker than her complexion. Along with that, her teeth and nails sharpen to the point that she can cut through flesh with ease. The most jarring alteration of her physical being comes in at the eyes; her irises turn a solid black while the pupil like her skin becomes a striking blue in hue. The transition takes mere seconds to occur and is an astonishing sight to witness in person.
N I C K N A M E (S)
Eve, by Thirteen

A G E
Fourteen

B I R T H D A T E
May 5th, 1975

G E N D E R
FemaleS E X U A L I T Y
Demisexual ; Biromantic

R O L E
Experiment #12

F A C E C L A I M
India Eisley

U S E R
fyeahmarvel
Katarina Stevens was six years old when she met the love of her life, Aaron Samuels. The roller coaster ride that was their relationship went through a series of ups, downs, and loopty loops before they inevitably tied the knot and consummated their marriage in 1971. In the two years that followed their nuptials, the honeymooners lived in marital bliss. By 74', Aaron had a stable occupation and Katarina was ready to for them to begin the next chapter of their lives—parenthood. The two began trying to conceive a child almost as soon as Katarina told Aaron she was ready for one. Things for the newlyweds couldn't have been more ideal until a car wreck in late July of that year left Katarina widowed.

While Aaron had had a decent job before his death, he hadn't worked long enough for Katarina to receive survivors benefits after his death. Widowed. Unemployed. And with no family to speak of on either her side or that of her late husband's—Katarina was all alone. At least she had believed that to be the case until in the weeks following Aaron's ill-fated demise she came to learn that she was pregnant with her departed husband's unborn child. With no income to speak of, no family to depend on and a child on the way—Katarina needed to come up with a source of income to be able to provide for herself and future child. This dire need for financial stability is what made Katarina desperate enough to get involved with Project MKUltra. Under the guise of conducting an interventional clinical trial test, they offered Katarina along with several other women monetary gain in exchange for being willing participants in their studies. Promised that these trails would have no ill-effects on her unborn child; Katarina signed the waivers and agreed to be a test subject for MKUltra testing.

Throughout her pregnancy, Katarina endured physical, emotional and mental abuse. This abuse involved acts of sleep deprivation, food restriction to the point of undernourishment, prolonged exposure to an extensive cocktail of anabolic steroids, psychiatric, hallucinogenic, and psychedelic narcotics, along with placement inside of a sensory deprivation tank for extended periods; among a numerous amount of other tests. It wasn't until she went into labor and gave birth to her daughter on May 5, 1975, that her suffering came to an end. Two days after delivering her daughter, Katerina died as a result of the treatment she endured during the strenuous months of testing and the atrophy that overcame her body shortly after delivery. Katarina's death left her child orphaned and with no family to speak of, the lab faced no opposition when it came to taking ownership over the parent-less newborn. As an infant, a tattoo was imprinted on her inner wrist as had been done with her predecessors before her. Two digits, a one and two, were etched into her flesh as a visual representation of her placement in a long line of child test subjects. The number branded into her flesh served a dual purpose, it stood as not only a representation of her place as an MKUltra child experiment but it also served as her name. Twelve.
Twelve was two years old when the scientist charged with monitoring her first observed signs of a change in her that was abnormal of an atypical toddler. Although she was only two, Twelve was hitting the developmental milestones of a child between the ages of four or five. As a tot, she was reading at a second-grade reading level; speaking in complete sentences; her cuts and scrapes would heal in a matter of seconds leaving no visible scar—Twelve achieved feats that shouldn't have been humanly possible. MKUltra brought in a series of expert physiologists that worked in conjunction with their team of scientist and researchers who determined Twelve's physiology was gradually reconstruction itself. Over the following year, they observed her closely and saw a significant development in her conditioning. Her whole body boosted to levels that far exceed those of a natural human being. Among her physical capacity, there was an increase in her stamina, strength, durability, agility, senses, reflexes, and expedited healing factor.

As, unlike most children as Twelve was—she possessed and maintained a childlike wonder and curiosity about the world that surpassed the walls of the laboratory she held in. Twelve was four years old the first time she snuck out of the lab. The facility was the only semblance of a home she'd ever known, which is why she'd had every intention on returning. Twelve just ached to see a piece of the world she was unfamiliar with outside of pictures and her imagination. This did not bode over well with the laboratory staff of caretakers and scientist made accountable for her. Twelve had only been gone for a matter of hours, but when she had returned she was met with a rather hostile homecoming. She had tranquilized and rendered unconscious on sight. When she awoke from her imposed slumber, she found herself locked in a room all alone. Initially, this hadn't been a cause for alarm as Twelve just assumed she had been placed under a standard timeout. However, this would turn out not to be the case.

As a penalty for her sneaking out of the facility, Twelve was tormented for endlessly for days. The punishment she faced was not physical but psychological. The lab would use their insight of her heightened senses to Implement forms of white torture causing sensory deprivation. They'd deprive her of sleep; filling the room with the sound of hard rock-based music whenever she found herself dozing off. She was denied human contact, forced to endure the loneliness of solitary confinement. With the room, she was placed in having no windows or clocks she'd have no concept of how much time would pass. When she was finally released from her sentence, Twelve's view of the lab and those within had been warped. The place she had once looked at as a home and the people she'd viewed in a familial light were eclipsed by a dark shadow of distrust and hatred. Not alone did she now want to escape permanently but she wanted to hurt those who'd harmed her.

Over the following two years, a destructive cycle of violence came to pass. The once cooperative child rebelled against those who had raised her and Twelve's escape attempts were accompanied by a series of violent outburst. After a few dozen death at her hands, Twelve was fitted with an electric collar and was typically kept in restraints for the laboratory staff's safety. When she would manage a successful breakout, her freedom for Project MKUltra would never be long-lasting as they'd always inevitably catch her. When they would get her back, she'd be thrown back into solitary for a lengthier duration of time. Along with an extended amount of time, the enforcers would implement of variation of different torture methods; stress positions, Chinese water torture, no-touch torture with the induction of electric shocks, dietary manipulation, and psychological intimidation. 

Unbeknownst to the lab staff and Twelve herself, there was a beastly side to her physiological enhancements that had been lying dormant within her. However, years of psychological torture caused this latent side of her nature to awaken as a defense mechanism to combat the anguish she felt. Triggered when Twelve was placed in distressing situations and met with intense emotions such as rage or fear; her animalistic side would overtake her. Filled with a sense of ferocity and blood lust, a bestial blood rage would consume her and wreak havoc on anyone or thing in her path. This change in her person was not only behavioral but physical as well. Her physical form would mutate as her skin would become blue, the sclera of her eyes would turn a solid black in coloring while the iris of her eye would change to a bright baby blue, and her fingernails would convert to claws as resembling that of a cassowary bird's talons and teeth sharp enough to tear flesh. Along with the behavioral and physical changes, her berserker nature augmented her already enhanced condition. This antagonistic defense mechanism only made controlling Twelve more debilitating for the staff.

In the early winter of 81', the lab acquired a new test subject in the form of Thirteen. A boy, the same age as Twelve herself. Gifted, but not in the same way that Twelve was. This new arrival sparked a change in Twelve. For the first time in several laborious years, Twelve didn't want to vanish from the lab. She had never encountered anyone of her age which made her take an immediate interest in the young boy. Realizing this, the caretakers persuaded the scientist to allow the two to interact with one another. Having someone she could finally relate to and form a friendship with elated Twelve. For obvious reasons, Thirteen intention hadn't seemed as enamored with the idea of getting to know Twelve as she had been to form a bond with him.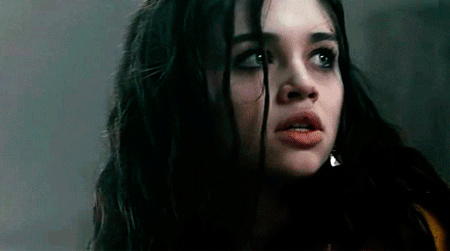 However, in the years that passed with only one another to find comfort and reprieve in the two became exceptionally close. Their closeness had an unforeseen effect on Twelve's abilities. An empathic-sensory link was established between them allowing her to see and hear things from his perspective. Realizes the importance Thirteen held in her life, the lab used Twelve's connection to him to their advantage. Whereas they would originally force Twelve into solitary as punishment for her defiance, they shifted her penance to Thirteen capping her psychological torment by making her feel a tremendous amount of guilt and sadness whenever Thirteen was punished as a result of her actions. Having Thirteen's well-being held over her head as a form of twisted leverage; Twelve submitted to the will of the scientist and conformed to their demands.

In the five years that passed after Thirteen's arrival, Twelve learned to control and suppress her beastly impulses. Her empathic-sensory connection to Thirteen strengthened as their bond cemented. Through a strenuous amount of training, she also came to hone her enhanced abilities becoming faster and stronger than she had been in preceding years. It was in January of 86' that Twelve and Thirteen were relocated to the Hawkins National Laboratory in Hawkins, Indiana. It had been almost three years since Project MKUltra had made contact with an alternate dimension existing in a parallel plane to the world they lived in; coined the Upside Down. While they had seized trying to reconnect with the other dimension in 84' because of all the destruction and death that followed the initial discovery. The Russians coming to Hawkins and almost successfully opening their own gateway to the Upside Down re-sparked interest in the other dimension.

This is where Twelve and mostly Thirteen came into play. Thirteen had been born with the same abilities as the child who had first opened the Gate to the Upside Down and they wanted him to reopen the Gate. Having more knowledge of what existed in the Upside Down than they had the first time around, they planned on using Twelve as a bodyguard of sorts to give Thirteen an added layer of safety when on the other side as they now had knowledge of the Demodogs and Demogorgons that resided there. Using her sensory link to Thirteen, when the two were placed in sensory deprivation tanks, Twelve could accompany him into the Void when he was immersed in his deep psychic state.

While at the time neither she nor Thirteen knew what the scientist was trying to get them to do—Twelve was conjuring up plans of escape in her mind. The laboratory in Hawkins was not nearly as fortified as their old lab had been due to Twelve frequent attempts to escape as a child. Due to her more subdued and cooperative demeanor since Thirteen's presence in her life, the lab staff hadn't felt the need to reinforce their new facility. The only issue preventing Twelve's escape was knowing that Thirteen would likely suffer for it. While her will hadn't been entirely snuffed out, years of imprisonment left Thirteen defeated. She couldn't convince him to flee with her and she wasn't prepared to leave without him—so she stayed put not willing to leave her most beloved friend who she christened Tree behind.

It took over three years to accomplish, but Thirteen did succeed at reopening the Gate that those before them had fought so hard to seal and keep closed. Through her frequent eavesdropping on the staff, it didn't take long for Twelve to her of the disappearances occurring throughout the small town and she knew it was anything short of a coincidence that people were starting to disappear after the lab's mission had been realized. Pleading with Thirteen, Twelve convinced him that it was time for them to leave the lab for good and never come back.

With their combined power and might they overcame their captors and fled from the lab. While Twelve wished to go somewhere far away from Hawkins and the state of Indiana as a whole, Thirteen couldn't find it in himself to leave the town of Hawkins to reap the repercussions of his actions. He wanted to find a way to reseal the Gate his powers had pried open and against her better judgment, Twelve couldn't abandon him. For the past couple of days, while they've been trying to come up with a plan on how to shut the Gate, they've been living in the forest on the outskirts of town snuck between the lab and a hard place.

Twelve does what she can to keep the two of them safe, however, in her experience it is only a matter of time before the people trying to take them back catch up with them. She wants nothing more than to just to leave and never look back but her connection to Tree won't allow her to. So, it seems until they find a way to close the Gate and quiet Thirteen's conscience; she stuck in Hawkins.
XXXXXXXXXXXXXXXXXXXXXXXXXXXXXXXXXXXX


Due to the childhood trauma prompted by years of forced imprisonment, psychological manipulation, and abuse, along with the denial of a proper childhood—Twelve behavioral health was distorted long ago. Eve's weathered psyche has left her stunted emotionally. The years of incarceration and maltreatment caused the negative aspects of her personality to rise to the forefront. To protect herself from those who did her harm, Twelve fashioned herself into a ruthless killer short of a conscience. This front shielded her from the scientist who wanted to experiment on her; to an extent.

Her volatile temperament gave those who had to interact with her pause and made them more cautious when around her. The innate fear of what she could potentially do to them made them more self-aware of the way they handled her. It also caused them to limit their interactions with her. Which was a godsend to her as the times when they left her alone were the only times she felt remotely safe. Excluding the times when this solitary time was met with additional forms of psychological torment.

Her life at the laboratory evoked a deep sense of distrustful of authoritative figures in her. However, this skepticism does not extend to everyone she encounters. During her short-lived stints of escape from the lab, she had no choice but to call home she'd had brief run-ins with people not associated with the lab. These fleeting moments of genuine happiness she experienced with others kept her from deeming all people untrustworthy. It was the momentary bursts of joy she felt when away from the laboratory that made her willing to seek out a relationship with Thirteen. Deprived of true social interactions for the better part of her life, Thirteen's arrival in her life gave Twelve her first real friend.

Twelve's presence in her life evoked a protective instinct in her that for the first time in her life wasn't tied to her sense of self-preservation. In fact, her need to shield Thirteen from the torment she had endured in her life often contradicted her desire to preserve herself. This was in part a large reason why the scientist conducting the experiments on the children felt it necessary to send Twelve into the Void with Thirteen. They knew if anything ever went wrong her instinct to protect Thirteen over herself would potentially save their most valuable asset.

In her heart, Twelve desires nothing more than her freedom. It's all she's ever wanted since she was a young girl. However, Thirteen's presence in her life has complicated this as now she just doesn't want liberation for herself but for him as well. Twelve has proven that when provoked or felt justified she has no qualms about killing anyone that posses a threat to her and by extension Thirteen. However, she is more than just a heartless killer and she hopes that once all this stuff with the Upside Down has been dealt with her and Thirteen can start over somewhere new far away from the troubles of their past.
XXXXXXXXXXXXXXXXXXXXXXXXXXXXXXXXXXXX
XXXXXXXXXXXXXXXXXXXXXXXXXXXXXXXXXXXX
XXXXXXXXXXXXXXXXXXXXXXXXXXXXXXXXXXXX
XXXXXXXXXXXXXXXXXXXXXXXXXXXXXXXXXXXX