Let go of those who are already gone...
---
Full name:
Amano Rin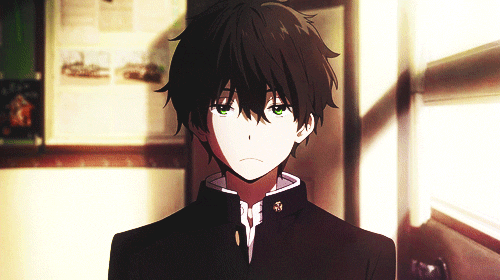 Nickname(s):
Dopey, Grumpy, Lazy, Idiot, Stubborn Brat
Face Claim:
Oreki Houtarou
Gender:
Male
Sexual Orientation:
Heterosexual
Nationality:
Japanese
Age:
17
Link:
Uncomfirmed yet.
---
Appearance: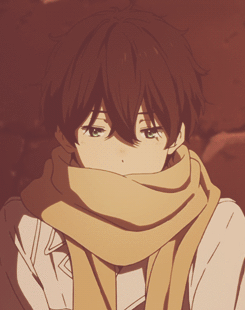 Rin has green eyes and brown hair. He is known to wear a lazy expression on his face 24/7. He normally wears either his uniform or sleepwear, however on rare occasions will wear a plain beige coat, green scarf and casual clothing depending on the occasion. Rin never has put much effort into his appearance, keeping his hair a mess and his clothing a disaster.
Personality:
Amano Rin, thought to be the embodiment of laziness. He may be a genius, but he just can't be bothered showing it. Being sleep deprived isn't the best thing for the personality, making him quick to snap and easy to trigger. When he does get enough sleep, however, Rin is intuitive and a genius, calm and collective. Rin is altogether a stubborn idiot who knows quite a few things but can't be bothered using what he knows. Rin has a lack of motivation and is unable to process other's emotions, leaving him clueless to many things.
Background:
Rin had a pretty normal childhood until he was four years old. He had gone to a fair with his elder brother when his world came crashing down. The time was 6:30 PM when they got on the empty Ferris wheel. Once at the very top, the Ferris wheel capsized on itself. Rin fell out of the carriage, landing in the river and receiving severe brain damage, sending him into a coma. His brother didn't make it however. When Rin woke up, three years later, he knew nothing of who he was. And so, his guardians erased all knowledge of his deceased brother and the accident. Rin caught up with his lessons pretty quickly as he had already taken them when he was younger. When Rin had found out the truth, he didn't get mad, or cry, but rather just shrugged it off and accepted it as just another piece of life.
When Rin turned fifteen, he was given a scrap book that informed him of who he once was, teaching him the only things he didn't know. He soon learned to accept everything as some form of life's idiotic surprise tests.
Strengths:
Rin is kinda a genius, no matter how lazy he is Rin is reliable and supportive.
Weaknesses:
Sleep deprivation, lazy, scared of spiders, stubborn, constant headaches,
Speech colour=
#007c7c
Thought colour=
#26b7b7
---