Extra, extra.
It is Victorian London.


Five women are dead.



They call him Jack the Ripper due to the blood and the gore. Thick black drops scattered across the stones, pooling, seeping into the cracks. One of the women was stabbed

37 times

. But despite the explosive violence, there is a measured, cold, calculating factor to the murders. Their innards were removed with surgical expertise.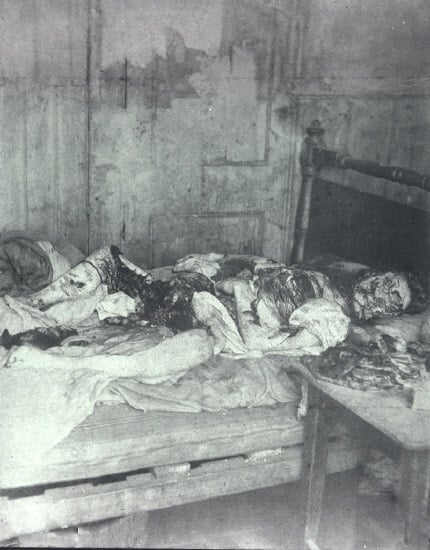 However... there is evidence that Jack may not be the

only

mysterious killer roaming the streets.



The underbelly of London

is a dark and sinister swarm, filled with anger and blood. Serial killers have turfs. They may be loners, but it is as competitive as any mafia. Some just want private satisfaction, some want street cred, but

Jack is not the biggest fish

in the serial killing sea... only the most well-known.
Our characters
The Killers
There are four of them roaming the streets. They have different methods, different motivations. Jack is among them. Some, like him, enjoy

slicing 'n dicing

, bloody and big for the world to see. Some are quiet, preferring dark alleyways and silence. Whatever their reasoning, they are twisted people.
They are not just mindless killers, however; they are

intelligent

, and have reasons for murdering who they do. They appear so mysterious to outsiders, so alluring... attractive... perhaps even

romantic.


They have their own interrelations, but for the most part these serial killers walk alone. When it comes down to it, they are different killers fighting for their own private goals, and any who stand in their way is their enemy. They will fiercely protect their turfs. They are

not kind

or friendly towards each other, though they have histories.



Jack: Closed




2: Closed


3: Closed
4: Closed
The Girls
These three girls, for whatever reason, often find themselves hurrying through dark streets. (Or lingering, who knows?) Whatever be their background, they are familiar with the London night.



1: Closed




2: Closed




3: Closed
How do they come together?
The killers are pursuing their own goals, becoming increasingly more competitive as London goes into a state of utter panic. Curfews,

innocent people killed

by police... the world is going to hell. Scotland Yard is exploding. The whole city is collapsing in upon itself and the murderers are gleefully

hacking away

at its foundation.
However, in the smoky and

intriguing

criminal undergoings of the night, the girls become mixed up in these affairs.
And suddenly, plans just seem to go... kablooey.
Perhaps they threaten to tell. Perhaps there is kidnap or blackmail. Perhaps an unexpected friendship. Perhaps

love

. Perhaps the police are breathing down their necks. Perhaps the girls are allured to this dangerous world. But the murderers' plans are suddenly damaged. Everything is at stake. They could be executed, all of them, by their deeds or just by association.

So have fun while you can. Survive. And don't get caught.
Murderers
Code: Select all

Role: [IMPORTANT. READ THIS IF YOU WANT TO BE ACCEPTED. I made there be four killers because I want CREATIVITY. Wow me with their methods, personalities, motives. Create a fascinating idea for a new serial killer. Something catchy.]
Name:
Public Nickname: [For example, Jack the Ripper.]
Gender: [I will probably accept more males than females, but a really fascinating female murderer would be... well, fascinating!]
Age: [Be reasonable. No 16 year old killers.]
Appearance: [As much detail as possible, but I don't really care about the exact tone of their skin or the deep details of their hair color. Try to describe their appearance in a way that implies something about their personality. A picture too, if you want. Anime, cartoon, photo, it's all the same.]
Personality: [Think outside the box!]
Likes: [At least 6. Even murderers like stuff, so try to be more creative than just "Blood. Killing. Night." Bleh.]
Dislikes: [At least 6.]
Motive for Murder:
Preferred Victims:
Brief history:
Other: [You can design your character skeleton to look however you want, but all of these fields must be filled out. You can even add more fields if you want, but this info is required. Now have FUN! Oh, and please please PLEASE read all the rules and the ENTIRE plot before submitting a sheet, okay? <33 Love y'all!]
Girls
Code: Select all

Role: [For those of you playing girls, remember that this will be a gritty role-play. I'm not saying that the weaker brand of female is banned, but just... try to make someone who will actually SURVIVE. Or... have a chance of it. Muahahaha.]
Name: [Something Victorian London-y.]
Gender: [Clearly, must be female.]
Age: [Please be reasonable. A 16 year old would not hold any kind of meaning to cold, callous murderers.]
Appearance: [Give me a good two or three paragraphs. A picture too, if you want. Anime, cartoon, photo, it's all the same.]
Personality:
Likes: [At least 6.]
Dislikes: [At least 8.]
Brief history: [Required. It can be short if you'd like, but you must explain things such as why they are so often on the streets at night. It could be something as simple as they have to take the long way home, but explain yourself.]
Other: [You can design your character skeleton to look however you want, but all of these fields must be filled out. You can even add more fields if you want, but this info is required. Now have FUN! Oh, and please please PLEASE read all the rules and the ENTIRE plot before submitting a sheet, okay? <33 Love y'all!]
This will be romantic. I know I made it seem all dark and intriguing and insidious, and murder is the primary function of this role-play, but keep in mind that rather than the forty year old men that these killers probably were, our role-play will be modern, edgy, and sexy, so while there may not be some deep romance going on, there may be attraction.

Please go with the flow and do what comes naturally. Don't go on and on about "starlight in her hair" or whatever. This oughtn't be forced. Notice that there are four males and three females. That's for dynamic, people. C:


First Rule: I am God | I am the lord of this role-play, the eternal queen of this cosmos. I am Jaws with lasers mounted on my back and gigantic bat wings wielding Excalibur and an orbital laser built by Zeus as a team of black unicorns tow my Morgan-Freeman-endorsed jet ski. Please don't give me a hard time if I ask you to do something. There are only seven characters, and I am choosy, so don't be upset if I reject! Please! I'm a big softie...

Second Rule: Characters | Prove to me that you can handle this role-play. This is a given to most role-plays and if you cannot give me details via a character sheet, how do I know you will be able to put out in the role-play?

Third Rule: Quantity | Please don't give me five pages worth of material. The true mark of a writer is saying as much as he can in as little as he can. I do not want to wade through 2000 words just to deduce that the character smiled shyly and said a single sentence.

Fourth Rule: Be Committed | Excuse your character out of a situation if you have to, but please do not leave us hanging.

Fifth Rule: Reservations | I'm choosing whoever is the most creative. I really don't do reservations. Creativity determines it. In other words, submitting a character just to grab your spot will NOT work. Which means if you submit a WIP, feel free to work on the character and tell me when they are done, but the character will not be considered until they are fully finished.
5b: Jack | I am killing myself by not playing Jack. Seriously. I want him to be quite well done, so I will be picky but flexible. Please PM me to work out details on this spot.

Sixth Rule: OOC | I will be giving more vital info on OOC, so keep up there.

HAVE FUN and GROW IN YOUR WRITING! C:
Taking place in...
6 posts here • Page 1 of 1
6 posts here • Page 1 of 1
Arcs are bundles of posts that you can organize on your own. They're useful for telling a story that might span long periods of time or space.
There are no arcs in this roleplay.
There are no quests in this roleplay.
Here's the current leaderboard.
There are no groups in this roleplay!
Welcome home, Promethean. Here, you can manage your universe.
Arcs are bundles of posts from any location, allowing you to easily capture sub-plots which might be spread out across multiple locations.
You can create Quests with various rewards, encouraging your players to engage with specific plot lines.
Settings are the backdrop for the characters in your universe, giving meaning and context to their existence. By creating a number of well-written locations, you can organize your universe into areas and regions.
Navigation
While not required, locations can be organized onto a map. More information soon!
There are no groups in this roleplay!
By creating Collectibles, you can reward your players with unique items that accentuate their character sheets.
Once an Item has been created, it can be spawned in the IC using /spawn Item Name (case-sensitive, as usual) — this can be followed with /take Item Name to retrieve the item into the current character's inventory.
Give your Universe life by adding a Mob, which are auto-replenishing NPCs your players can interact with. Useful for some quick hack-and-slash fun!
Mobs can be automated spawns, like rats and bats, or full-on NPCs complete with conversation menus. Use them to enhance your player experience!
Current Mobs
No mobs have been created yet.
Locations where Mobs and Items might appear.
You can schedule events for your players to create notifications and schedule times for everyone to plan around.
Add and remove other people from your Universe.
Orphanage
By marking a character as abandoned, you can offer them to your players as pre-made character sheets.
"A tense moment is only brought around by the people whom are tormented by it."
"'Jack the Ripper', eh? It's quite catchy."
The Forge
Use your INK to craft new artifacts in Jack the Ripper. Once created, Items cannot be changed, but they can be bought and sold in the marketplace.
Notable Items
No items have been created yet!
The Market
Buy, sell, and even craft your own items in this universe.
Market Data

Market conditions are unknown. Use caution when trading.

Quick Buy (Items Most Recently Listed for Sale)
None
Discussions
Most recent OOC posts in Jack the Ripper