Name: Nira Ku
Age: 28
Appearance: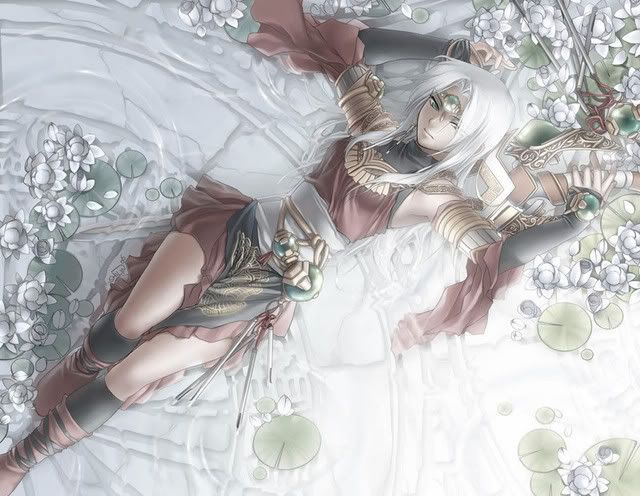 Jewel: Demon Jewel
Jewel Power: Black is the color of her jewel. The power is electricity, a darker form that torches anything it touches and can be used to paralyze instead of kill if she wants to.
Abilities: As an elf, she has some magic. However, her magic that used to be pure has been tainted by her demon jewel. She uses mostly poisons and underhanded tricks to win a fight. She is stealthy and fast, darkness is her advantage, blending in and out of the shadows like a wraith. Her swords man ship is highly valued and she is a match for most anyone.
Personality: Nira is cruel, ruthless, utterly evil and enjoys others pain. She holds no love for anyone and will use them to her advantages even if it means their life will end in the process. There are only two people that are important to her, one more so than the other and she will do anything for them. Otherwise, she is independent and acts on her own will.
History: Nira was there with Kreon at the beginning when he first formed the group of Shades. She, like him, relished the world they lived in and wishes to see it re-done. Kreon's only love is her, and so he took her as his wife. However, Nira doesn't share that same love, but he is still important to her because of what he's doing. She secretly loves Talazar, but would never tell anyone this because she believes it to be a weakness that would most certainly get her killed. She is the epitome of evil, killing because she can and because she enjoys it. She has no real reason, aside from Kreon wanting her to be at his side. Nira is Kreon's right hand, and her word is his order. Unless otherwise told not to, Nira does what she wants, and her ultimate goal is to create the weapon that would destroy the world. Only then does she plan to kill Kreon and take everything he's made as her own.