As if it wasn't obvious enough...
Age and Year of Highschool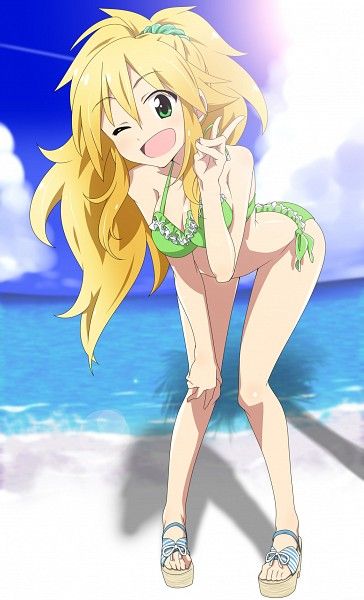 Overflowing with enthusiasm, Claire could light up a room with one of her everlasting smiles and acknowledges, occasionally almost abusing, that quality. She despises that awkward pressure when she meets a person, so she tends to invite anyone and everyone in with open arms. Though with her never faulting sunny attitude, comes her unpredictable mood swings. It's highly possible to see the blonde skipping down a hallway with one of her trademark smiles, then see her chasing down one of her classmates with a ravenous smirk seconds later. Once in a blue moon, if someone manages to actually damage her ego, Claire just zones out into her own world. It is almost as if she shuts herself off and ignores just about everyone who confronts her; usually only her closest friends or parents can snap her out of her semi-unconscious state. Good thing that barely ever happens. However, being friends with virtually everybody she meets, Claire hasn't found any potential love interest in anyone and only finds the people she meets as friend zone material, so the blonde lacks in that area especially.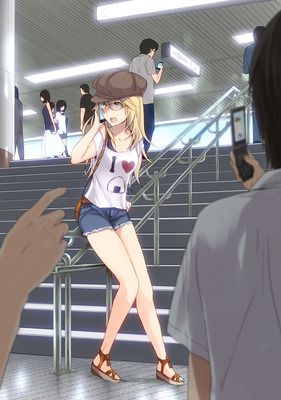 All Yōkina females are identified by their long platinum blonde hair and pearly-white smiles. Claire has inherited those traits straight from her father and her mother's porcelain, creamy skin. She has a curvy, slender yet semi-muscular frame due to her constant participation in active sports. Standing at a steady 5' 6" and weighing in around 115 lbs, Claire considers herself at a rather average size. The blonde has a somewhat large bust which seem to scream for both the male and female student bodies' attention. She also has a pair of chartreuse green eyes that her family, who nearly all have sky blue eyes, says she inherited from her beloved grandfather. She refuses to get even a simple piercing other than her ears, but has a simple tattoo on her upper right thigh of her name in calligraphy.
Even though Claire enjoys studying just as much as the next student, being an honor student and all, she does her best thinking when on the field, exerting herself to her max. She participates in several sports from lacrosse to even football as long as she can work up a sweat she'd be more than willing to join the game. She also loves music, though she can only play a few songs on an acoustic guitar, she has a voice that can rival the best and occasionally sings at public events. Not to mention, the blonde also overly enjoys cooking. She's constantly been put in charge of almost anything food-related when her family or friends host a party.
American & Japanese foods
Spending time with friends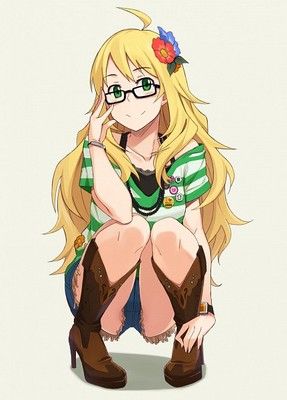 Piles and piles of homework
Atychiphobia- fear of failure
Acrophobia- fear of heights
Arachnophobia- fear of spiders
"I thought it was kinda weird how there's a private school for the loveless, but it turns out to be a pretty cool school."
The Yōkinas are a well respected American/Japanese family, the head of the family being Claire's father. The family's major occupation being anything and everything in the medical business. Her family has founded several hospitals in the West and was known for their immense acts of compassion towards everyone in need. That being a fact, Claire grew up comfortably, in the upmost luxury but never actually let it go to her head. She often snuck out of her house when she was little and made friends with the other children in her community. Claire suffered the loss of her mother when she was young yet old enough to remember making it a rather sorrowful memory for the usually all-smiles blonde. Now, however, receiving a letter saying she's been accepted into a private school that out right tells her to lie to her father about going to a different school, Claire couldn't help but let a rebellious smirk form on her face. She loves her father with everything in her being, but this opportunity is one that is too great and sparks her curiosity far too well to pass up.
My favorite animal is the panda.
My favorite food is lasagna.
"Don't Say Lazy," by K-On!