Everyone knew it would happen one day. The U.S, Germany, China and other major countries were failing and soon everything would be in chaos. Communication was almost impossible out of the country. You could walk outside and see people killing other people. But this was only the beginning.
To try to put an end to the war advances in technology took a major leap. Machines were created to kill faster, operate longer. The creator of these mechs was called Xedous. Slowly but surely they were taking the world by storm.
50 Years Later
Xedous rules everything. Buildings have crashed and nature has begun to take back the land. Most recently Xedous has begun to to take stragglers and other humans as slaves to help regulate cities and help capture other humans. Xedous has created a new type of tech equipment call a Slave Headband. These are applied to the head of the slaves and programmed to give of waves of pain at the masters will. If the slave ever tried to run away, a sensor would be set off and the headband would release a lethal injection of poison into the slave.
Recently Mechs and other Airships have been collecting powercells and other tools and taking them back to headquarters. Xedous is planning something, something big...
Mechs
Scouter
- These mechs are usually seven to eight feet tall. Some are equipped wit shields and blades attached to there arms and others with only blades. Scouters are the weakest of all mechs and fall with a couple strong hits. At some points they can me in 'Sleep' mode if they aren't activated and are easy to sneak by.
Scanner
- These mechs cause no harm. Depending on the setting they can scan up to fifty yards away. If alerted a signal is sent out to mechs in the the surrounding area calling them to the designated area.
Gunners
- Gunners are exactly what they sound like. They have over a hundred bullets per round and are very accurate. Sadly, up close they are virtually harmless.
Stunners
- These mechs shoot electric bolts out of their arms which stun you for around 30 seconds. Enough time for them to attack.
Rams
- All strength and no brain. They have arms connected on a chain that they shoot out and try to hit their enemy with. If there arms make contact, you will be dead. Usually though if provoked it will charge, as long as you move out the way it will damage itself until it dies.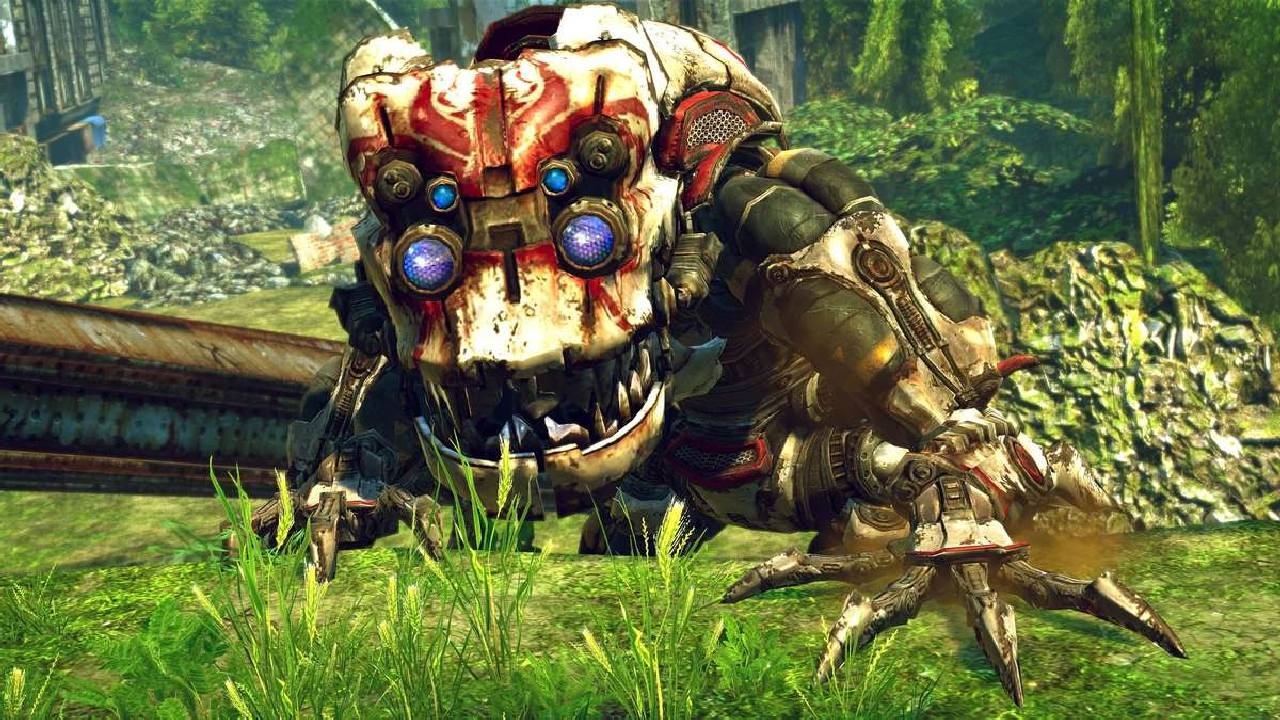 Dogs
- Huge, fast, and strong. Usually about as tall as a one story building these mechs are sent out to find and kill. It has a power cell in the middle of it's chest, get to that, and you can kill it.
Worms
- They hide under ground and wait for vibrations to come up and attack you. These mechs don't die, best to stay away from hollow ground.
Gadgets
Cloud
- This handy device is used only in certain areas with an strong electro-magnetic field. it's a flying circle of sorts that is a means of fast transportation. When not in use it compacts into a glowing disc about six inches wide.
Dragonfly
- Fairly hard to catch, but if caught it's possibly to program it to scan surroundings areas for any sign or mechs or to scout a path to get somewhere.
_________________________________________________________________
That's the storyline. You live in this wasteland of sorts and either have been surviving on your own or with someone else. Either way, your supplies are running low and you have to move on. Nowhere is safe, and the only way to make this place safe again, is to find Xedous. So that's exactly what you are going to do, and maybe you'll learn why they started attacking people in the first place. On the way you meet others on the same path as you. It's your choice to band together or stay alone, either way, this is a perishable journey that's not easy.
__________________________________________________________________
Yay! the serious stuff is over, so here's your Sheet
Name:
Age: Please don't put like 16, because sixteen living on your own is very unlikely. 19-35 is the perfered ages.
Nickname:
Personality:
How long have you been on your own/With someone else:
Gadgets: You can use the ones I gave you or other ones you make up, I'd prefer for you to come up with your own weapons.
Skills: Climbing, tech, engenering...ect.
Reason for going to Xedous: put anything here
Background: Not really needed since it doesn't really matter but if you want to put it you may.
______________________________________________________________________
I want a small group of people so around eight. Four girls, four boys.
Female:
Female:
Female:
Female:
Male:
Male:
Male:
Male:
Slots will be reserved for only 2 days.
Taking place in...
16 posts here • Page 1 of 1
16 posts here • Page 1 of 1
Arcs are bundles of posts that you can organize on your own. They're useful for telling a story that might span long periods of time or space.
There are no arcs in this roleplay.
There are no quests in this roleplay.
Welcome home, Promethean. Here, you can manage your universe.
Arcs are bundles of posts from any location, allowing you to easily capture sub-plots which might be spread out across multiple locations.
You can create Quests with various rewards, encouraging your players to engage with specific plot lines.
Settings are the backdrop for the characters in your universe, giving meaning and context to their existence. By creating a number of well-written locations, you can organize your universe into areas and regions.
Navigation
While not required, locations can be organized onto a map. More information soon!
There are no groups in this roleplay!
By creating Collectibles, you can reward your players with unique items that accentuate their character sheets.
Give your Universe life by adding a Mob, which are auto-replenishing NPCs your players can interact with. Useful for some quick hack-and-slash fun!
Locations where Mobs and Items might appear.
You can schedule events for your players to create notifications and schedule times for everyone to plan around.
Add and remove other people from your Universe.
The Forge
Use your INK to craft new artifacts in Journey to the West. Once created, Items cannot be changed, but they can be bought and sold in the marketplace.
Notable Items
No items have been created yet!
The Market
Buy, sell, and even craft your own items in this universe.
Market Data

Market conditions are unknown. Use caution when trading.

Quick Buy (Items Most Recently Listed for Sale)
None
Discussions
Most recent OOC posts in Journey to the West