Insane Patients were transfered to Julia's House For The Insane. Every Patient has a kept file in Dr. Julia Hoffman's office. This door is locked and the key is on a chain around Dr. Hoffmans neck. Every Patient has there own room in the House. Nurses give them treatments and help them calm down. Doctors keep all records of behavioral issuses and how patients act towards their doctors. Guards walk up and down the hallway to make sure that no one is trying to escape. In the Patients rooms there consists of one bed, one bathroom, one closet, one nightstand, and one window that has an iron grate on it.
This house takes place in modern day Japan, so all character application pictures must be anime.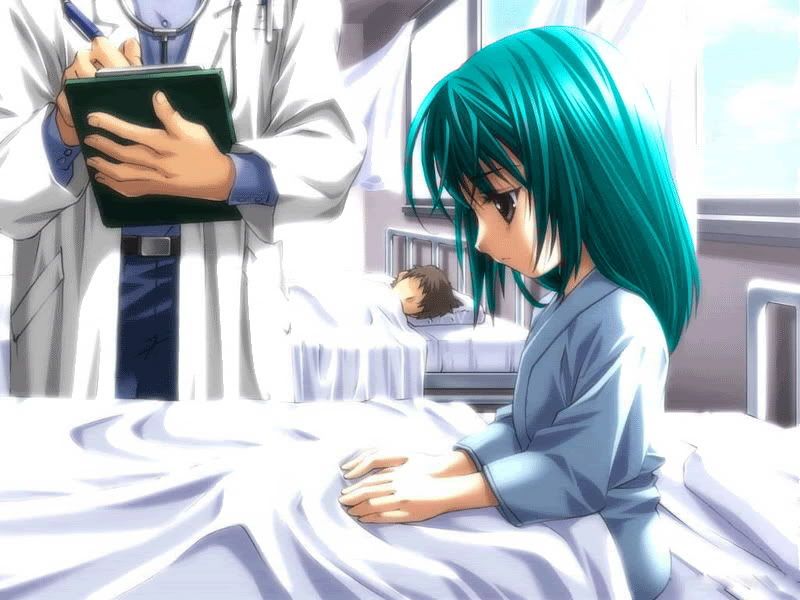 Character Roles
Male Patient 1:Draco James Artic-You need to edit your characters picture.
Female Patient 2: Eua Dove Lourdes
Male Patient 3: Ali Wilson-You need to edit your characters picture.
Male Patient 4: Henjai Lowk
Female Patient 5: Accalia Leonard
Patient 6: Reserved
Female Patient 7: Kya Winters
Female Patient 8:Yuki Sato
Female Patient 9: Michiko Mori
Patient 10:
Patient 11:
Patient 12:
Doctor: Dr. Julia Hoffman
guard:
Character Skin
Name:
Picture:(Must be anime)
Age: (15-19)
role:
Gender:
Race:
Scares:
Likes:
Other:
-_-
1- No godmodding
2- Foolow ALL RPG rules
3- minimal romance
4- minimal bad languge
4- No killing off characters
5- No leaving
6- Please post once or twice a week
7- All character pictures must be anime
Arcs are bundles of posts that you can organize on your own. They're useful for telling a story that might span long periods of time or space.
There are no arcs in this roleplay.
There are no quests in this roleplay.
Here's the current leaderboard.
There are no groups in this roleplay!
Welcome home, Promethean. Here, you can manage your universe.
Arcs are bundles of posts from any location, allowing you to easily capture sub-plots which might be spread out across multiple locations.
You can create Quests with various rewards, encouraging your players to engage with specific plot lines.
Settings are the backdrop for the characters in your universe, giving meaning and context to their existence. By creating a number of well-written locations, you can organize your universe into areas and regions.
Navigation
While not required, locations can be organized onto a map. More information soon!
There are no groups in this roleplay!
By creating Collectibles, you can reward your players with unique items that accentuate their character sheets.
Once an Item has been created, it can be spawned in the IC using /spawn Item Name (case-sensitive, as usual) — this can be followed with /take Item Name to retrieve the item into the current character's inventory.
Give your Universe life by adding a Mob, which are auto-replenishing NPCs your players can interact with. Useful for some quick hack-and-slash fun!
Mobs can be automated spawns, like rats and bats, or full-on NPCs complete with conversation menus. Use them to enhance your player experience!
Current Mobs
No mobs have been created yet.
Locations where Mobs and Items might appear.
You can schedule events for your players to create notifications and schedule times for everyone to plan around.
Add and remove other people from your Universe.
Orphanage
By marking a character as abandoned, you can offer them to your players as pre-made character sheets.
1 sightings
Yuki Sato
played by Chocolate~Pyrus
"Shhh... Be quiet. The angels can hear you."
I'm Not Crazy!!!!!
Please be nice to me...Jessa won't like it if you're not...
The Forge
Use your INK to craft new artifacts in Julia's House for the Insane. Once created, Items cannot be changed, but they can be bought and sold in the marketplace.
Notable Items
No items have been created yet!
The Market
Buy, sell, and even craft your own items in this universe.
Market Data

Market conditions are unknown. Use caution when trading.

Quick Buy (Items Most Recently Listed for Sale)
A Big House Filled With Many Rooms
The room where patients have a session with eachother.
A fairly large room with one window with a grate on it, one bed, one bathroom, one closet, one nightstand, and one desk.
Discussions
Topics

Replies
Views

Last post
Most recent OOC posts in Julia's House for the Insane
Please post.
Characters are still being open.
Please make a character profile if you are intrested...
the guard spot is still open.
I made a character last night
I just made a character. :)
Is the guard spot open or not?

Thank you!
can i still make a character?
For some reason Eua's profile picture will not change to the anime one I selected. I made sure it was no more than 100 pixels and it's saved to a file but it doesn't seem to want to change!
hey can you unreserve my character. sorry.
ATTENTION ALL PEOPLE: I HAVE MADE RULE #7 PLEASE LOOK AT IT OR I WILL TAKE OUT YOUR CHARACTER!!!!!
Chocalate Pyrus and LainPinky I have already reserved you a spot but LainPinky you need to submitt a character.
Hello, I would like to reserve one of the patients.
Thank you.
Can reserve patient 8? Thanks.