Ramas Kharbo: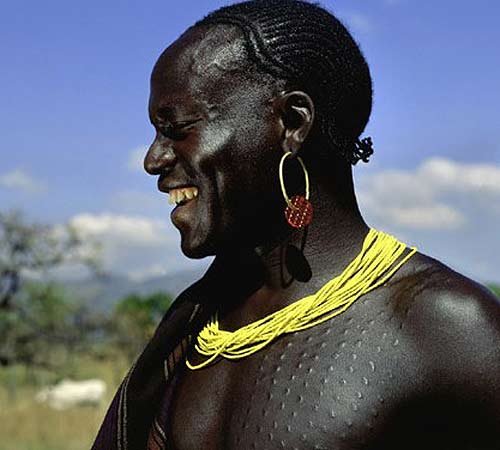 Physical Description: Ramas is tall and impossibly broad, his muscled, scarred torso often heaving with great booming bouts of laughter. Though he adorns practical, efficient armour in battle, he often trains and relaxes in his traditional shirtless garb, revealing his rippling muscles and criss-crossing scar tissue. His dark hair is braided back over his head and he keeps himself meticulously groomed.
Personality: Ramas, despite his imposing figure, is a jovial and warm man of great laughter and loyal nature. He is friendly and often inappropriate with just how dismissing of formality and hierarchy he is. There is nothing Ramas likes more than a good meal and a joke, often eating eough for two men and laughing enough for three, his indomitable spirit a warm light in the ranks of the otherwise often sullen Harrowers. Though he cannot get them to laugh (often) Ramas has taken great pride in his befriending of the brooding Da'Karro and silent Isabelle, and views them as his personal project in giving them back the happiness they have lost.
Equipment: Thick leather armour covers his massive frame, accentuating his already impressive build. In his left hand he carries a buckler that would be large on a smaller man, but is wielded deftly by the Dark skinned giant. In his right is a Large, curving headhunter axe, a weapon native to his people in the jungle islands. Though large, this weapon is used to deadly skill by Ramas, and in a pinch, he is even skilled enough to hurl the heavy axe a great distance with unnerving accuracy.
History: Ramas was born to the Kharbo tribe of the Southern Islands, and spent much of his childhood learning the ways of hunting, fishing and survival. Life was hard and dangerous on the islands, numerous predators both on land and sea secured a tenuous existence fraught with peril. The Kharbo tribe hunted great beasts on the island and often sold the pelts and bones of the creatures to trading vessels and pirates that frequented the isles. Ramas was already a social oddity in his tribe, his unusual and boisterous sense of humour often earning him the ire of his more serious and stern tribe. Yearning to see the world, Ramas asked to book passage on a visiting merchant ship, and was taken from there to Modra, where he made his way doing odd jobs across a wide variety of fields. He worked as a labourer, merchant, sellsword, survivalist, woodsman, alchemists apprentice and a cook, before finding his way into the Modran Military. Though possessing a rebellious streak and a casual dismissal of the seriousness of the Military Hierarchy, his strength and skill cold not be denied, and he was soon recruited into the ranks of the Harrowers, where he has served ever since.