""I'll end the lives of those who stand within my way.""
Theme Song - Kuusou Mesorogiwi
---
---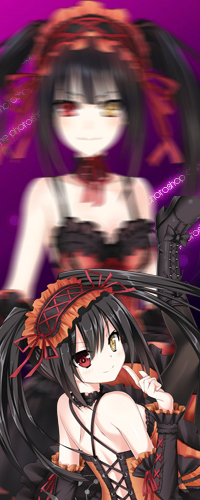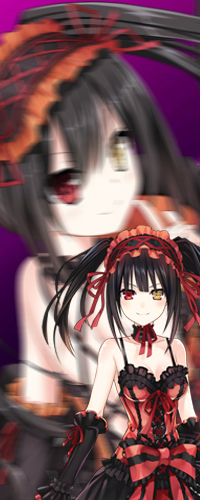 Name: Kurumi Tenpouin
Nicknames: Kuru-sama. [ By her clansmen. ]
Age: 18
Gender: Female
Nationality: Japanese
Birth Date: Unknown
Occupation: The Dark Queen
---
---
Height: 5"4
Weight: 103lbs
Description:"A girl with astonishing beauty," as described by many. She appears to be elegant and has a eyes like no other. She has black hair in long twintails. Her right eye is red tinted while her left eye appears as a gold, inorganic clock face. The clock's hands, moving in a counter-clockwise direction, represents her life. The Astral Dress she wears is made out of crimson and black frills, giving her the appearance of an elegant Gothic lolita with uneven twintails. On her head she usually wears a big crimson net bow, holding her hair. She also wears a crimson and black collar on her neck and wears a pair of black pantyhose.
---
---
Personality: Kurumi is a person whose personality is hard to read. She possesses a dislike of humanity that borders on mistrust. She is a skilled actress, capable of putting on the facade of an innocent, curious young girl when she needs to. However, under that mask lies a psychotic woman, prone to fits of insane laughter and possessing no regard for others life, regarding them as an entertainment source to play with in her own time, and thus, a disposable commodity. There is a twisted justice behind her methods however, as the people that she brutally murdered were those who were a threat to children. Such as abusive parents,or rapists.
---
---
Likes:
✓ Spicy foods.
✓ Manipulative acts.
✓ Maturity.
✓ Clever beings.
Dislikes:
✗ Improper things.
✗ Sensitive people.
✗ The color green.
✗The Purple Clan.
---
---
Languages: English ; Japanese
Background: Before becoming the Dark Queen,Kurumi was raised by a high class family. With her father,being an airline successor,and her mother being a famous actress,she lived in a large mansion. Surrounded by dozens of butlers,maids,and whatnot. However,this was not a life that seemed as good as it may sound. Every night,Kurumi and her unnamed younger sibling,who is said to be deceased,were beaten by their father while their mother went off for reversal. Kurumi herself states that one night,while her mother was away,Kurumi's father beat her younger sibling half to death. It's a theory,but some say that Kurumi managed to bring her sibling back to consciousnesses,then flee with them. Since then,they have lived as a part of the Dark Clan. Kurumi being the Queen,and her sibling possibly being her lieutenant.
---
---
Other



Sexuality: Straight

Relationship status: Single. She herself states that no one would love a 'demon'.

Love interest: No one strikes her interest,yet.

Thoughts and relationships of other characters: To be added!
---
---