X







X







x







X







X
X







X







x







X







X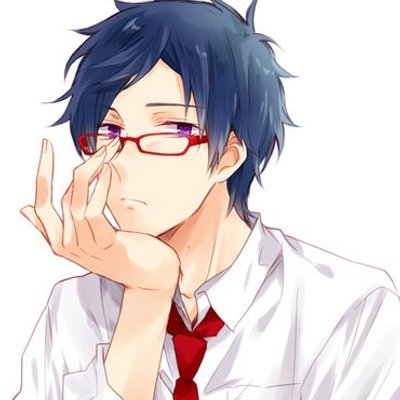 ჻
჻
჻
჻
჻
჻
჻
჻
჻
჻
჻
჻
჻
჻
Nickname(s)
Age
Gender
Clan
Role
Ethnicity
Birth Date
Sexuality
♢
|
The Knight of Scepter 4, Genpsycho
♢
|
Twenty-two
♢
|
Male
♢
|
Scepter 4
♢
|
Right Hand
♢
|
Japanese
♢
|
November 23
♢
|
JUSTICE!
I mean homosexual.
Riku is the rightly named
Knight of Scepter 4, the Right Hand and best friend of the King
idol king Tanabata Emi. He is also known as Genpsycho by most if not all of his subordinates because despite of his
fairytale prince appearance
he has an
intense, somewhat ridiculous personality
and he's
a monster of a trainer.
He's entirely
devoted to his job and JUSTICE
and strives to maintain order and like any other good Blue Clan member,
despises HOMRA and <JUNGLE>.
POWER

「

▋

▋

▋

▋

▋

▋

▋

▋

▋

▋

」

XX

AGILITY

「

▋

▋

▋

▋

▋

▋

▋

▋

▋

▋

」

XX

CHARISMA

「

▋

▋

▋

▋

▋

▋

▋

▋

▋

▋

」
Riku is an idol.
Or at least that's what people mistake him to be. He definitely presents himself that way. With
violet eyes, dark blue hair
that he keeps impeccably styled (constantly managed by the small comb in his front pocket), a
pale and smooth complexion
and standing at
6'2''
with the perfect body, he's the image of a high school girl's fantasy and just as well, his morning routine has paid off. His posture is straight and rigid with his head held up proudly and hand always ready on the hilt of his sword, making him look always alert and attentive. His nails are perfectly filed and he will unashamedly admit that chapstick, concealer and hairspray are a vital part of his routine - no, as a part of any soldier's routine! He never smiles, looking duteous is just his natural expression.

He practically lives in the Scepter 4 uniform and it's always super clean and devoid of wrinkles. If you get a mess on it or ruin it in any way I hope you've already written your will. He
wears red rimmed glasses
and won't switch to contacts because he feels glasses make him look more respectable.
ART

「

▋

▋

▋

▋

▋

▋

▋

▋

▋

▋

」

XX

INTELLIGENCE

「

▋

▋

▋

▋

▋

▋

▋

▋

▋

▋

」

XX

BEAUTY

「

▋

▋

▋

▋

▋

▋

▋

▋

▋

▋

」
Loves:
JUSTICE!

|

"JUSTICE!"




Any sort of work or task

|

"Whatever I can do to support our cause will always be an enjoyable task."




Perfection

|

"Making something lacking in quality won't do the materials used justice."




Jupiter Steve

|

"Jupiter was my first love. I completely idolised him as a child. Of course when I heard he was getting his own show based off the spin-off manga series I got excited. Without him, I never would have aspired to be the protector of the innocent I am today!"


Ken |

"Of course. If I wasn't devoted to my boyfriend, how could I be trusted to remain dedicated to protecting humanity?"
Hates:
Injustices, big and small

|

"People who resort to illegal means should be punished, of course." "A stray? All animals should have a home! That's JUSTICE!"




The sound of people chewing

|

"I apologise for disturbing your meal, but if you must continue eating may I request that you remove yourself from this area?"




His personal life coming to work

|

"M-M-Mum, Ran-chan! Wh-What are you doing here?!"




Being babied

|

"D-Don't... stroke me that way, it's disrespectful... I SAID CEASE IT!" *flips the table*




People messing up his hair or uniform

|

"... Of course you must realise this makes it personal, yes?"
▋
▋
▋
▋
▋
▋
▋
▋
▋
▋
▋
▋
▋
▋
▋
▋
▋
▋
▋
▋
▋
▋
▋
▋
▋
▋
▋
▋
▋
▋
▋
▋
▋
▋
▋
▋
▋
▋
▋
▋
▐ Hero of Justice
Riku is the sort of person who uses justice as a motivation for everything he does, and he so strongly believes in his motivation that everything he does turns out perfect... or, the thing's he's good at anyway. He's humble in the way that he doesn't believe he's showing off, he's just using everything he has to promote justice and anyone else could do the same if they tried hard enough. This mentality is applicable in all aspects of his life, for example...

*painting* "It is the fate of all canvases to be painted, of course. How unfair is it that the destiny of this pure canvas is shaped by the one who wields the brush. I will use all of the artistic ability within me to do this canvas JUSTICE!" *proceeds to speed paint an incredibly detailed Renaissance-style portrait of Emi dressed as a Greek goddess holding golden scales*

*cooking* "Every year, billions of cows die to be overcooked in a mediocre stew. But that won't be you, my fleshy victim of human hunger. I will use all of my culinary experience to turn you into the tender masterpiece that you deserve! I give you JUSTICE!" *proceeds to speed cook the most delicious meal you've ever tasted*

*movie night* "It is a shame that this film has had so much hard work put into it only to have potential audiences warded away by reviews of those who watched it with a critical mind. It's decided! We must watch this film without expectations of greatness to honor the work of those who slaved over it and deliver them JUSTICE!" *proceeds to intently watch B-grade horror movies while everyone else is asleep or just can't bare to stick around*

Yeah... so it isn't always good things that come from this mentality. He may be absolutely gorgeous to look at but once this intense side of his personality is revealed it tends to make people go "Oh, OK. *scoots away*"
▐ Strict
Your best effort is the only effort! He's a super strict trainer but he believes to lead by example, so any punishment he gives them he takes as well, such as running fifty laps around the grounds. He also has a set of "house rules" and if he catches you breaking any of them... I pity you. He's very rigid and sticks to rules and regulations and respects them wholeheartedly. The only time he would break a rule or go against the command of his King would be if it went against his moral code.
▐ Humorless
Despite his flamboyant actions and sometimes outrageous things he says, he does it all with a completely serious attitude and straight face. Also he has little to no sense of humor and won't pick up on any of the following: jokes, wit, sarcasm, irony and flirtatious banter. The only thing that people know of that makes him smile is Emi's presence. When they're together he seems to do a complete personality switch. There are two things that makes him laugh - reminiscing about the past with Emi, and one other thing that only Ken and Emi know... and Ken will never tell anyone and hates that Emi knows it too (he's a little bit... possessive, that way). If you figure it out I'll be so happy I really want to write his manly giggle. It might inspire a little bit of blood lust in Ken though.
▐ Workaholic
If that wasn't already obvious. Sometimes he sleeps at Scepter 4 HQ or lately even collapses outside of his apartment door. He's been getting nearly no sleep since the Grey King's death and it's obvious to those who are closest to him that he's pushing himself way too hard.
▐ Sensitive
He's the sulking cold-shoulder type.
▋
▋
▋
▋
▋
▋
▋
▋
▋
▋
▋
▋
▋
▋
▋
▋
▋
▋
▋
▋
▋
▋
▋
▋
▋
▋
▋
▋
▋
▋
▋
▋
▋
▋
▋
▋
▋
▋
▋
▋
If you came here expecting tragedy... I already have an energy draining character and I'm not prepared to have two tearing up my heart. Riku's father, Gensai Hiroshi, has been a member of Scepter 4 for as long as Riku can remember and was often away working, but sometimes would take Riku with him at the child's request. He saw the work they were doing and wanted to be just like his dad and couldn't understand why Scepter 4 were disliked by his peers. As far as he was concerned they were real heroes.

Because his dad was such a workaholic (a trait that he inherited) he was away a lot, leaving Riku alone with his mother (Gensai Kaori) and three little sisters (Reika, Ran and Ruriko). He became the "man of the house" and worked very hard to look after and protect his mum and sisters, something that helped build the selflessly devoted man you see today. Also comics and cartoons influenced him into hero work (Jupiter Steve!!!! <3) but that's less admirable. He joined Scepter 4 when he was fourteen and his family have always supported him and are very proud of how much hard work he put in to find himself the King's Right Hand man. His twelve year old sister Ruriko wants to join too, but Riku feels uncomfortable about that.

He met his boyfriend, Fujiwara Ken, at a convention. Ken was a game developer at one of the panels and organised to meet up with Ruki because apparently he was working on a top secret Jupiter Steve video game. That was a complete lie and just a ruse to get Ruki to go on a date with him (Ruki didn't find the fact that Ken had organised the meeting at an aquarium suspicious and only when Ken held his hand while they were walking beneath the shark exhibition did he - no, I'm getting that wrong, he still didn't recognize it as a date and just assumed that Ken was afraid of sharks so he squeezed his hand a little tighter and gave a speech about sharks never getting justice). They've been official for about two and a half years now and have been living together for about three months. Ken has been furiously working behind the scenes during that time to get the Jupiter Steve game green lighted by his employees on account of his guilty conscience.

((Quick personality summary: Ken is laid-back guy who finds himself acting as Riku's caretaker, as though Riku may seem amazing on paper Ken knows that he overworks himself and is a useless with a bunch of things that aren't his job. He's a bit of the jealous type and can be overprotective (Riku attracts too much attention with his face and also is too busy protecting his city to watch his own safety) and Riku doesn't like that because he feels like he's being babied by him. He hates Emi because she has the childhood friend + shared tragedy bonus and feels like he's third wheeling whenever he and Riku spend time together, but he won't say anything to Riku about because the last time he mentioned his dislike for Emi, Riku sulked for an entire fortnight. Usually though, they get along - Ken helps Riku lighten up, and Riku helps Ken get off his ass.))

Gensai Hiroshi is currently being presented as 'King' to the public for Emi as he's an older and well respected member of the clan. Riku is overjoyed that he's been chosen by Emi as her Right Hand but would not want to be promoted any higher because he feels more comfortable following rather than leading. The murders that recently started happening have hit him hard and he has been overworking himself tirelessly to find the culprit, despite his family, king and Ken telling him to slow down.


Now, onto his history with Emi. Five years older than her, he met her and her twin sister Aimi when they couldn't even crawl and used to looking after his two little sisters (at the time - Ruriko was still on the way), he practically adopted them. From that point on, they were inseparable. They would hold hands everywhere they went and the grown ups would joke that their relationship would become more complicated when they were older and their dads placed bets on who would marry who. With Emi and Aimi both harvesting childish crushes on the boy (one crushing way, way harder than the other), Riku innocently promised to marry the both of them and told each of them to keep it a secret from the other. Aimi of course bragged to her sister and Emi revealed that she had gotten the promise too, and... that didn't go over well with Aimi.

Riku never thought too much of it. When Emi was scouted (the talent scouts took one look at Riku's face and tried to get him to join a boyband but Riku didn't have time for music, only justice!) Riku put her up on a pedestal and worshipped the air she breathed but Emi kept telling him that being a "princess" was nothing compared to being a knight, all while Aimi seethed alone in the corner.

On the day Emi's father was murdered, Riku was riding his bike to her house to welcome her back home and give her and her sister their birthday/christmas presents. Instead of Emi leaping into his arms and telling him she missed him, he was greeted to a locked door and his princess on the other side screaming for help. He immediately went to the neighbours and called Scepter 4 before running back to the house and breaking in by climbing to the second window and breaking a window and getting pretty beat up in the process. Inside he found Emi crying, trapped in her bedroom with a bookshelf blocking the door from opening. He stayed by her side and covered her ears with his bloody hands to block out the sounds of Aimi hacking at the door. They remained like this until Scepter 4 arrived. That was the moment that Riku pledged that he, as a knight, would protect his princess.

That was the turning point for Riku's character. After that experience, he became the workaholic that he is today and strived even harder to be a hero of justice. He needs to ensure that next time, instead of just saving one, he will save all of the victims.

Dammit I said there was going to be no tragedy.