---
---
Theme


[url]Song Title | Author[/url]


Image Song


[url]Song Title | Author[/url]
---
---
---
---



♣Affiliation

Rizzo




♣Gender

Female




♣Nickname(s)/Alias(es)

Ala || Snow White || coniglietto (bunny in Italian)




♣Age

18




♣Love Interest

None ATM




♣Face Claim

Irisviel from Fate Stay Night

---
---



♣Height

5'6


♣Weight

105 lb


♣Build

Apparently nonexistent, but to ones surprise she has a light build, something close to a runners. She doesnt appear to be a person of muscle however, due to her small frame and envious curves that hug her body


♣Hair Color

A snow white


♣Eye Color

A piercing Crimson


♣Scars/Tattoos/Piercings

None


♣Description

TBA



♣Preferred Clothing
---
---
[img]IMAGE%20HERE[/img]
♣Oddities
Happiness - She always seems to be happy, which is expressed by her natural smile that calmly graces her lips.. So to see her frown? Its definitely a sign of something being wrong.
Mysterious - People usually call her ignorant.. or stupid, but at times people spot a knowing look from her direction, and it causes doubt
Oddly dark? - Its rare, and unbelievable, but at times, people swear they see her red eyes grow dark red, and her smiles turn ominous, a cannibalistic gleam in her orbs.
Has a strange obsession for the Rizzo's - Its nothing more than love and gratefulness for the family
♣Skills
Speed: She is extremely fast, despite her clumsy nature. Maybe its due to her agile and narrow frame.
Flexibility: Because of her narrow and agile frame as well.
Determined: Due to her positive hope, she continues to trod forward no matter the chances narrow or slim.
Luck: For some reason, maybe its because of some god looking down at her with favor, she has pretty good luck for the littlest things to something big like a fight or decision between life or death.
Quick - Both physically and mentally, her muscles and body tend to be able to react at break neck speeds, surprising for a clutz like her. She is also quick to learn, often taking in her surroundings rather fast.
Acute - Her senses are almost animalistic on how accurate they are, especially her sense of smell and hearing.
360 vision - Like rabbits, she too has a 360 vision.. excluding the bottom of her nose. Its not the fact that her nose is anything large or the sort, but the genetics that were placed into her, just disabled her eyes from looking there.
Strength - Specifically her legs, she can jump a good few meters, and her kicks are anything but merciful. Along with her legs, come her jaws.. or her teeth for this matter, they appear human like, but when used to bite, she can chomp off many things. she dislikes this method, for she hates the taste of blood, desperate times calls for desperate measures.
♣Likes


✔ New Anything/Feelings - Stolen from her childhood, Althaia rarely experienced anything fun or anything "new" so to encounter something of the sorts, she'll certainly be pleased even if it was something saddening
✔ Adventure! - Again, she had no childhood, so having a little adventure here and there sounds exciting!
✔ Flowers - Animals - Anything innocent of the sort, she finds them particularly pretty. Her expression and actions around them are always gentle, loving, but at times her eyes turns dark around them- sadistically dark.. But no one knows why.
✔ The little things - From little trinkets, to wistful smiles, she finds many things fascinating and appreciates it for what it is. So no matter if a friend did something so small or gave her little she would be happy oddly enough
✔ Her family - Despite their usual reputation, Althaia sees nothing but humans who have their own goals.. She loves them, no matter what.
✔ The moon of course - Its her symbol, the beautiful moon.. so whats not to love
✔ Carrots - Any vegetable really, always had a knack for them. but carrots more so, due to the cute books she read on rabbits and their signature trait which is nibbling on the orange root.


♣Dislikes


✘ Blood - Not in general, more specifically her families blood. She could usually tell whos blood was spilled, and if its her loved ones..? Well she turns rather cannibalistic.
✘ Scientist - They were always the one to hurt her as a child.. their white coats, glasses, cold expressions, she never wanted to be near one again
✘ Monstrous Creations - Like herself.. She could always see horrified eyes looking her way and she could only wonder if she was even human anymore
✘ Gloomy moods - Whats fun with that, hm? No need for an explanation there
✘ Loneliness - she isnt obsessed with attention, no, but she does indeed feel pleased with the love given to her. Just being surrounded by the people she knows is comforting.. knowing their safe and alive is even better


♣Hobbies


To play chess - Being coped indoors, she became quite a master at the game.
Green Thumb - She enjoys to plant little flowers, and would personally enjoy a garden in her modern time.. but the dirty air does not allow it.


♣Phobia(s)



Failing her loved ones - She did once before, and she never wants to fail again.. besides.. what other purpose does she have?
Isolation forever - What more to say. she loves the rizzos..
Small places - She has a need to jump around, much like a rabbit, so to be trapped in a cage? Its inhumane in her opinion. Eventually she grow restless.
♣Sexuality


Pansexual || Demisexual - Despite her preference for nothing or no one specific, she does have to have a bond to necessarily have a sexual attraction for them.


♣Personality
Althaia is an odd ball of the rizzo's due to her.. unusual innocence that rolls off her. It could be close to a rabbit, who was eating grass in an open field, causing people to be rather wary around her, in fear of hurting her. [TBA]
---
---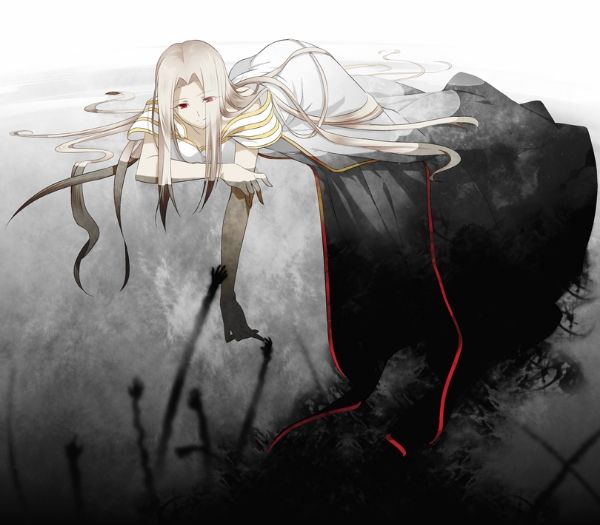 ♣Relationship Status

Single


♣Family

The Rizzo Family



♣Personal History
Althaia's family was literally bred for the Rizzo's. Her father, Pryde, was a previous ring bearer, a well known psychotic scientist. He was a cold hearted man, who cared little less for anything other then his family's accomplishments. He went as far as to experiment on himself to be the perfect knight. He was a monster because of it. So when he realized his era was almost over and that immortality was impossible, he seeked a proper offspring. He searched for a bearer, and after careful analyzing, he choice a female warrior- Cassiopeia. A woman, beautiful and deadly, she too was growing old, and seeked what she never had, love. But she had no choice, her father gave her away to Pryde, and from then on, she remained a toy.
Years past, and her mother beared one child, a female- Althaia. Her father wanted only a son, but afterwards, Cassiopeia had none. It failed, and so Pryde worked with what he was given, Althaia which he never saw as a daughter but a pet. So suitably enough, when she reached a certain age, he injected her with something similar to what he did himself when he was younger. She grew physically stronger, and faster, along with mentally smarter. And unlike his older injection, he found the closest thing to immortality, slowing age.
Her injections also including various of traits, very similar to the animal, the rabbit. It took a while to adjust, and people often saw her as a freak. [TBA]
---
---
♠Techniques
Coniglietto of the reflecting moon - Similar to how the moon reflects the energy of the sun, she'll be able to use as much energy as her enemy does, and at the same time, canceling out their usage. The more she consumes, the more she grows faster, stronger, and more animalistic. Physically, nothing changes.. much, but at her pinnacle, she seems to be enveloped in her white flame, the hue forming translucent rabbit ears on her head. At times she can grow so fast, no one can see her, while her strength, more limited, can become monstrous. But it does have its consequences, as this was an artificual experiment, and the more she turns, the more life energy she sacrifices. But she doesn't mind, because she dislikes hurting people unless she needs too, and if others threaten with their powers, it tells her that she needs to protect her family as well.
Cannibalistic - This is a skill that is used only in.. dire situations. She never used it, but if there was a case where her energy was out, she could steal from her allies. Due to their blood connection, the energy she consumes is stronger than whatever she stole from her opponents.
Canceling - Basically, she can cancel any flame, and from a good radius as well. Maybe a few feet if not meters away from her person.
♠ Weapon

She has a few up her sleeves, but she rarely uses any. The ones she does use though are a few miles of wire, and two short scythes.


♠ Main Box Weapon

TBA


♠ Sub-Box Weapon

Jack in the box - Jack refers to her rabbit animals (white with red eyes), that are quick and jumpy. They usually jump around the room, stealing the powers and energy of the people they near. They are capable of other things of course, but it usually needs Althaia's energy.


♠ Extra Box Weapons

(You don't have to have to have any Extra Box Weapons)
---
---