---
---
[color=choose color]

Theme

[/color]
[url]Song Title | Author[/url]
[color=choose color]

Image Song

[/color]
[url]Song Title | Author[/url]
---
---
---
---
[color=choose color]GENERAL INFORMATION[/color]





♣Affiliation


Rizzo



♣Gender


Female



♣Nickname(s)/Alias(es)


Shadow: Judging from her power and her ability to conceal her presence until the last moment, this is a pretty fitting nickname for the quiet girl.
Kuro- Black. With her being the dark matter flame, she doesn't quite mind that alias. She is comfortable so far as to adopt it as a second name, with her original one meaning dark.



♣Age


14(tell me if she needs to be older)



♣Love Interest


None so far.



♣Face Claim


Sunako Shiki --- Shiki

---
---

[font=choose font]



♣Height


4'8. Kurai is actually rather petite and small, her body resembling something of a doll. She used to wish that she would grow taller so she would not have to arch her neck in order to look someone in the eyes, but that doesn't bother her as much now as it did in the past.



♣Weight


90lbs. She is again rather light even for her age, and could easily be thrown off the ground with one blow. It is something that irks her greatly to this day, but it allows her to temporarily defy the rules of gravity in the air as well. She seems to nearly float to the ground.



♣Build


Kurai is rather skinny and petite, looking like a fragile china doll. Her short frame coupled with her childish face doesn't help much with that fact, and she succeeded in looking like she could easily break at one touch. don't underestimate her however. With her body built like that has allowed her to dodge attacks, rushing nimbly at high speeds. She is proficient in climbing things as well, and more than once has her body proved to be a great advantage to her.



♣Hair Color


Her hair is actually a dark mauve color, close to a pitch black. Its color does change ranging from a light purple to just black depending on the color and angle of light however, but her hair usually retains the shade of dark mauve. Her hair seems to have a mind of its own sometimes, freely flying up and moving about with the wind, sometimes inexplicably. Never once has she ever thought of cutting it short however, just leaving it as it is most of the time. She keeps her fringe trimmed despite that, to the length of just above her eyes, as even she didn't want it to hinder her in battle.



♣Eye Color


At a first glance, her eyes are inky pools of darkness, enough for one to wonder if she was a demon. However, on closer examination they are actually contain tinges a deep velvet red. If she is not under direct sun her eyes remain their black color, and only rarely did her eyes show the tinges of red they actually contain.



♣Scars/Tattoos/Piercings


She has none, as she does not relish the idea of someone painting pictures with a needle on her skin. Her skin is unblemished and retains its pure white quality, much like the cold snow she derived her last name from.



♣Description


She has a small build, her weight and height allowing her to do things such as dodging and climbing easily. Her body might be small, but she is most definitely not weak. After all, with her preferred style of attacking suddenly, her body is the most suited to do that as she could easily deliver a sneak attack without any problems involved. With her hair an enchanting color of mauve and her eyes a deep velvet red, she is quite a sight to behold in the light, looking like a porcelain doll, fragile and easily breakable. She is far from that however, her prowess in battling hard to observe by just looking at her build. Her body has allowed her to launch surprise attacks as once her enemy underestimates her, that will possibly be the last thing they do in a long while. She strikes at any chance, her slim figure dodging blows quickly and effectively as she leaps upon her opponent.



♣Preferred Clothing


She is not one for the latest trends of fashion, but surprisingly Kurai loves to dress in frilly, old-fashioned dresses, furthering her appearance as a doll. She adores dresses with lots of frills and ruffles, ones that she could twirl in and the whole thing would look beautiful. They do give her a sense of childish wonder, even if she would die before she admitted it. She makes an effort not to wear it in fights in case it might hind her movements however, and wears a streamline black dress while fighting to reduce air resistence pushing her back.
---
---




♣Oddities


-Hair. Her hair is a queer thing that floats around sometimes as if she was submerged in water. They seem to move of their own will and frankly, Kurai doesn't care much about that fact.
-Eyes: many find it odd that Kurai had eyes that black, without a trace of light in them. In fact, they seem to be like a black hole, all light vanishing when they hit her orbs. That's why most people did not know of her true eye color and dismisses it as simply black.



♣Skills


-Moving quickly: With her small body she could move at incredibly high speeds, dodging quick blows and all the while weaving her path to her opponents. Hardly anyone could stop her if she fixed her sights on someone, unless they block her attack with a big shield once she gets close to them.

-Concealing her presence: She likens her fighting plan to a snake, slowly creeping in on her victims and striking as quick as a viper. Before they know what happened, they would be dead. She doesn't prefer fighting up front as her body is skinny and rather weakly, but she could handle a sneak attack, and thus hiding her presence is an important factor to do so.

-Fighting: That is probably the simplest way to put it. Kurai enjoys all forms of fighting and can switch her strategy and fighting according to the flame she wishes to use.




♣Likes


-Sweets: Like every other girl, Kurai loves sweets. She has them whenever she could get to them when they are not fighting, and they are her one guilty pleasure. She could get hooked on those sweet treats, and she would make sure to bring at least a bag of them when she went around, even in serious fights. It seems that she could never get enough of them.

-Tea: Especially Earl Grey. Kurai enjoys all forms of tea and she finds herself craving for a tea party with snacks.

-Dolls: Those porcelain ones are her absolute favorite, especially if they have pretty dresses too. Collecting them is an odd hobby that she has, and she has a roomful of them up to this time. She would honestly be rather devastated if even one of them was missing or gone.



♣Dislikes


-Noise: She doesn't understand why there must be noise in this world, perfectly happy just to be silent most of the time. Especially if she was doing something it is best not to distur her by making noise, as that might just be the last thing you do.

-Meaningless violence: In fights using violence is fine to her, but meaningless ways of using violence without fighting just makes someone look like a thug. She does try to avoid that, only showing her skills in fighting or threatening someone.

-Tears: They are signs of weaknesses for her. Though she can't help crying sometimes, she dislikes showing her feelings and tries to keep them bottled up inside her, just out of sight from the others.



♣Hobbies


-Daydreaming: It's an odd hobby for her, but you would never know what her mind is thinking with her emotionless eyes. Her imagination has no bonds and her world in her mind is vivid with colors and places to explore. She would honestly rather live in her mind than in real life.

-Reading: it's a hobby she picked up, and it has proved to be very useful. She is like an encyclopedia with the information stored in her mind, and usually she would be holding a book most of the time.

-Doll collecting: She has literally her room full of them, and she is always delighted to get a new one. She loves the delicate dolls and gave them a name each. Having tea parties with them just like a little girl would.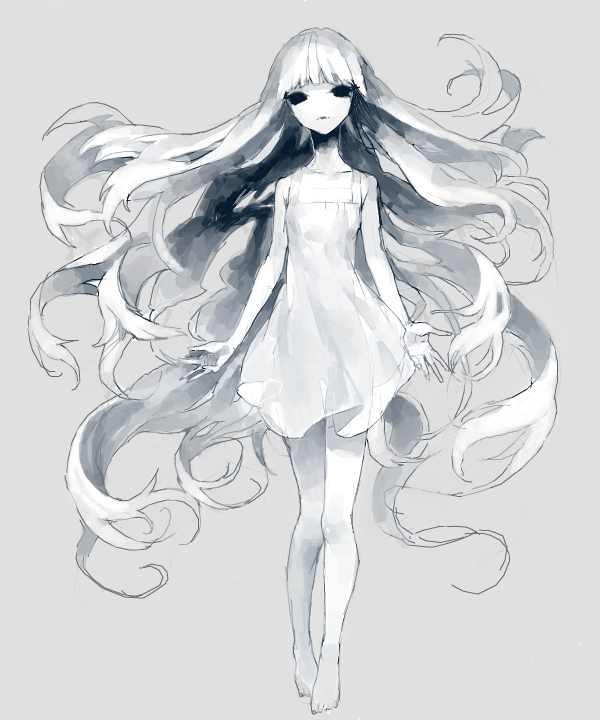 ♣Phobia(s)


-Anarchiphobia: She has a acute fear of spiders, and her feelings toward them are complicated. Ranging from pure killing intent to just plain fright, her reaction is either flight or fight depending on the type of flame she decided to take.



♣Sexuality


Asexual. She is currently uninterested in any relationship prospects.



♣Personality
Cold as ice, cold as snow. Her surname marks what she is like accurately. Kurai is like a chilling piece of ice, hardly showing her emotions. Needless to say, she does have them, but bottles them up inside her unwilling to let the others see her inner turmoil. They do overflow sometimes, so she does cry, albeit very quietly and in the confines of her room. That's when the ice she usually puts up melts a little, proving her to be a much warmer person than what she shows. She thinks emotions are useless and that they only hold you back and hinder you with your goals. 
Shy and quiet, she tries not to engage in conversation with the people she just met, only confiding to the people she knew for quite a while, the Rizzo family. They are the closest people to her as she would ever let them get, but she opens herself up easily to them instead of others. She stays out of sight most of the time and conceals her presence until she finds there is really something for her to say, usually with a book to pass the time. She simply cannot stand the awkwardness and would often find herself hiding her face with her book to conceal the blushes she often got.
She like to think herself as mature, not like the child she is, but she couldn't hide her childish tendencies and thus she often indulges herself in tea parties with her dolls, that being the only time she could finally relax and enjoy herself. The only other time is in her imagination, and she would often want to go and live in her imagination instead of the terrifying reality she is stuck in.
---
---
♣Relationship Status
♣Family
♣Personal History
---
---




♠ Weapon

A gun and daggers concealed on the back of her hands. She uses the guns as a far distance attack as she is weaving in slowly on the opponent, and also uses her bullets to shoot away obstacles that she couldn't dodge. The daggers hidden smartly under her long sleeves are for when she gets into striking distance in close proximity, and she tends to use it as a surprise attack. The surprise will be spoiled if she misjudged her distance and swiped the air, so she makes sure she is within striking distance first.





♠ Main Box Weapon


A small black cat she named Kuro after her nickname. It can transform into a panther when she infuses it with the sun flames she chose to use but other than that it helps her distract the opponent with its scratches. Nimble and agile, it could also bring things for her like fallen weapons and shield her from the opponent's flames enough for her to get theirs.



♠ Techniques


She has a variety of techniques depending on which flame she chooses, but she uses mostly Rizzo flames as she doesn't have a clue of the Vongola's yet.

Temporary prison: utilizing Allistor's space flames, she could reproduce his technique, temporal pain with a weaker version of her own. Her space flames act the same way by pushing out on all obstacles, only not hard enough to cause pain. She could pin a person to the wall with it however, enough to give her time to attack.

Time perception: Something that she herself has found out by playing around with it. As she does not have the hour or minute hands unlike Allistor's, she found her own technique using the space flames. Time perception is simply changing the opponent's perspective of time, making it seem slower and much more laborious to them. Her movements and actions while using that power would also be perceived as slow and sluggish, even when she speaks. As a result, their own actions are slower and less precise, even if they don't realize it in their minds.

Flame consumption: With Althaia's moon flames, she finds herself able to consume and gain power from an opponent's flames, even leeching off them sometimes In fights. Her period of consumption solely depends on the time she holds eye contact with the person however, and once it is broken it will stop.

Temperature: She can effectively raise or lower the temperature, enough to let it go below zero. She herself is not affected, though she needs water to make ice. She often carries water in her for that purpose especially.

Meteor grenade: After finding the true nature of the asteroid flame, she has mastered it enough to handle its explosive qualities. She simply uses it as a normal grenade, flinging it at the enemy, though it can explode in a larger radius and prove to be more dangerous.

Dissonance defense: The Quaker flames that act around Cornelius making him a grenade himself actually protects her. Any objects hurled at her in the time where she covers herself with the shield will explode before it touches her, and she can use Kuro as a moving missile if it is necessary.

Berserker: a mode she hardly ever goes into, this takes away nearly all her conciousness and burn on her energy. Her dark flames will burn more strongly as a result, even taking on serveral different flame types at once. However, it could be said that she was being supported and even controlled by her flames so she doesn't care if it's an enemy or one of her allies. She simply attacks everything in her path and is insanely strong and dangerous until her energy runs out. After that she immediately loses consciousness, and it renders her vulnerable so she hardly ever uses it.





♠ Sub box weapon


She has a sickle with a long handle and a even longer blade, nearly several times her own size. The blade is made out of her dark matter flames, and she can infuse it with either one of her enemy's flames by choice.
---
---