---
---
"They say when you want to remember someone's name, you should write it on the palm of your hand three times!"
---
---
---
---
---
---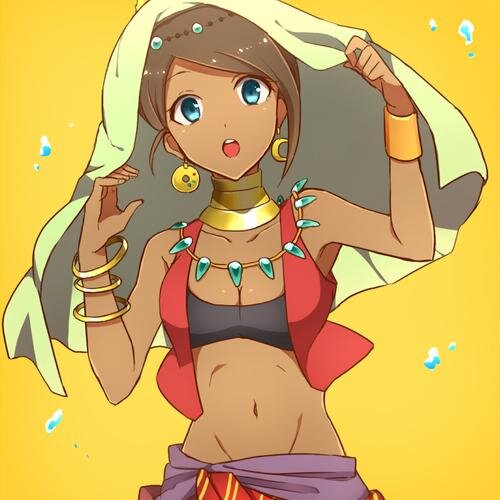 FULL NAME
ALIAS
None really that she knows of.
AGE
GENDER
FLAME TYPE
OCCUPATION
A high school student, and she babysits time to time.
GENERAL APPEARANCE
People often look at Roni and immediately decide that she is the pretty, but stupid one. They are half right at least. Her body is considered quite mature for her age, but that gives her all the more reason to flaunt it. Very petite in size, only 5'5" and weighing 122 pounds, her brother towers over her. Her gracious curves are the first to catch eyes, but with closer inspection, one can easily see the taut and toned muscles littering her body. Her hair is dark brown in color and incredibly wavy. It falls to the bottom of her shoulder blades, but she rarely lets it down. Preferring to keep it up in a tightly twisted bun of sorts.
Roni prefers to wear sports attire for the most part. running shorts, sneakers, a sports bra, and her favorite red jacket. She actually wears her red jacket with the white stripes running through it, almost everyday.
---
---
---
---
PERSONALITY
Roni is nothing you would expect of a sibling of Jett Hideaki. She is seemingly naive about the outside world, yet is unmatched in knowledge about sport and botanical science. Her innate kindness is palpable from the moment one lays their eyes on her. From her easy graceful movements, to her doe eyes. Roni is quite childlike most days. Simple in her ways and deeds. Always on the search for entertainment as her restless soul is unable to still for fear of becoming unoccupied.
She is affable and loves to speak to anyone and everyone. She could talk to a wall if need be. Her confidence shines through each of her soft words and posture. She never fears voicing her opinion on any topic. Though, she will refrain when she has no applicable knowledge on the subject. She loathes ignorance and would die if she were to display such behavior. Roni does not hate a whole lot, but if she does find something that falls into that category, she will make it clearly known. She is not the confrontational type, but is very passive-aggressive and can be somewhat of a brat.
There are some low days that she will experience once in a blue moon. They appear sporadically and leave as such. On those occasions her physical appearance is unaffected, but you can really see it in her eyes.
LIKES
• Chewing Gum | Roni is always chewing gum. The flavor varies on a daily basis, but her favorites are definitely bubblegum and spearmint. She eats through a whole pack on slow day. Preferring to chew her gum until the flavor is gone, then just popping in another piece, after piece, after piece. She thinks of it as a work out for her jaw.
• Basketball | Not playing, but watching. Basketball was one of the few sports that Roni did not really take to, but her brother sure did. Roni absolutely loves to watch Jett play basketball. He is completely in the zone, and it appears as if he was made for it.
• Sweets | Roni has a crazy bad sweet tooth. She loves to consume anything sweet. It just has to have sugar in it. But Roni has a bad habit of over-sweetening her meals. Adding so much sugar that sometimes you can not even call hat she is drinking coffee/lemonade, but more of a sugar sludge.
DISLIKES
• The Cold | Roni is more of a summer girl. She and the cold just can not mix. Roni can not function properly if the temperature drops below 60. She becomes increasingly irritable and slow functioning in cold weather.
• Bananas | They are gross. The worst fruit there is practically. When you peel them you have to make sure to pull off those little stringy things, and then after all that work, It does not even taste good. Plus it feels weird on her tongue.
• Bugs | They are so gross. So freaky. The freaks of nature to be exact. With all their tiny, squirming appendages. The way they skitter about from place to place creep her out. And no one, wants to be near if she should ever find one crawling on her.
• Ignorance | No, Roni does not have a problem with people not knowing certain things. She has an issue with people not wanting to learn, or not accepting correction.
FEARS
• Claustrophobia | There is not a real history to it, but Roni has always feared tight, enclosed places. Does not matter if it is light or dark, as long as there are walls blocking her on all sides, she can not help but feel trapped. She is left a panicked and useless mess. In moments, she can lose any and all semblance of rationality and honestly believe that she'll be trapped forever. She can drive herself to tears, hyperventilating, and passing out
SKILLS
• Flexibility | Some people have a lot of physical strength or speed to envy. Roni's best physical attribute is her ability to bend and twist, which, paired with trained reflexes, means that she can usually get out of the way of things trying to hit her. Fortunate, considering that she's not exactly a tank, metaphorically speaking.
• Herbology | Roni's mother was a flourishing herbologist, and before she died, she taught Roni most of what she knew. Since then Roni has expanded on the knowledge on her own. She has a multitude of handwritten journals detailing hundred of species of plant-life. Detailing their anatomy, living conditions, and medicinal and toxic qualities.
HOBBIES
• Sports | Literally, her life. She has been involved in sports since she could walk. It is the reason why she is so in shape. She has been involved in almost every sport one could think of. Presently she is only really active in two. Swimming and Lacrosse.
SEXUALITY
Pansexual - Roni is attracted to all genders. Boys, girls, and etc. . .
ODDITIES
• Light on Her Feet | When ever she moves she seems to be bounding from one place to the next. With each step it is infused with twirls, and leaps, and slides.
---
---
---
---
ABILITIES
Roni excels at hand to hand combat. Making the best use of her natural speed and agility.
WEAPONS/TOOLS
• Trench Knives | Roni commonly wields a pair of small blades that have brass knuckle guards welded into them. Allowing her punches to hurt like hell and even her grazes can be injurious.
BOX WEAPONS
TECHNIQUES
• Fighting Style - Roni known for her intense and aggressive attacking style and general lack of adequate defensive moves. Her own personal style features quick, successive attacks that utilize momentary bursts of extreme power, much like an explosion. She optimizes a strong continuous offense, sacrificing defense for greater power.Using swift, whirling kicks and punches generate diversity and distractions. Her goal is to attack preemptively. Using her speed and precision to prevent her opponents from getting a chance to strike back.
• As for flame oriented techniques, she has not coined any that she feels is unique.
STRENGTHS
• Compliant | She is a great part of any team. Content with any given position, she does not argue or usurp the positions of others above her. She listens to commands simply and carries them out to the best of her ability. She does her utmost not to be a burden to those around her.
• Affable | Roni is quite the social butterfly. She will talk to anybody who will listen and adores being in the mix of things. Her cordial nature makes it easy for even strangers to approach her and strike up a conversation.
WEAKNESSES
• Defense || Due to her philosophy, Offense is the best defense, Roni does not have any effective defensive tactics. So if and when her flurry of offensive attacks are proved useless, she will have nothing to aid her. Once her opponent got through her aggressive maneuvers, it would be simple to overwhelm her and do their will as she is very physically weak.
• Indecisive | Roni does not enjoy being wrong. So, when it comes to making decisions, she lingers over each option. Hating to choose the incorrect one. Rushing her will cause her severe anxiety.
• Soft-Hearted | When the victim of a misdeed, Roni will lash out accordingly. Afterwards though, she is known to feel guilt. If her tormentor were to show genuine regret or repentance, she would be sorely tempted to forgive them and give them every opportunity to make it up to her.
---
---
---
---
ROMANTIC INTEREST
Roni is a sort of crush whore. She has at least two different crushes each week. She tends to fall in "love" at the drop of a dime, whether it because they were just an absolute gentlemen, or they had the most beautiful eyes. The reason can border on ridiculous. At the moment Roni does have a crush on this goofy kid her age.
FAMILY
•Jett Shotaru Hideaki - Her older brother by almost exactly two years.
• Julian Christopher Guinn - The Hideaki sibling's father. He abandoned the family when they were still very young, so his ex-wife removed his surname from their names. Roni is unsure of his whereabouts.
• Shikadai Kozato - The original heir to the Simon Famiglia. Was crippled in an altercation years back. Has gracefully given up his position to Jett.
• Shizune Hanabi Hideaki - The mother of the Hideaki siblings. The second child of Enma Kozato, the 10th Simon boss. She grew up to become a well known spy for hire. Hideaki is only one of her many aliases. She was assassinated a few years ago.
• Tsubaki Mei - The Hideaki siblings Godmother. She claimed guardianship over them when their mother passed and had them move into her home in Nanimori.
HISTORY
The Hideaki siblings had a very isolated childhood. Residing on the outskirts of a rural town outside of the country. Their small town had very few children their age. And they rarely interacted with them. For a multitude of reasons. They were perceived as a strange family. Roni was too boisterous and came on too strong. Jett, even from that young of an age, was intimidating to be around. He rather disliked random people. Shizune, their mother, arrived late one night moving into the decrepit home on its outskirts, and rarely, if ever went into town. The townsfolk found her circumstances ominous.

The siblings were content with their situation. They had each other all of the time. They were home schooled by their mother, who thought herself superior to the public school system. They learned a lot about a wide array of subjects. From the sciences, to literature, to plant and animal life, to close combat. Nether Roni nor Jett thought it strange as there was never anyone around to tell them so.

At the ages of thirteen and eleven, their life took a bitter turn. Under the cover of night and storm, their home was invaded by a single intruder. An assassin who had come for their mother. Roni and Jett could only cower in the pantry and watch as she fought valiantly to protect herself and the children she kept hidden from the world. In the end, they both fell dead.

It took quite some time to compose themselves, but they had instructions to follow from their now deceased mother. She had always warned them of something like this. In the past she was a spy, a darn good one at that. With a multitude of clientele, people she had spied on and stolen secrets from were no different from the ones who hired her. To her, it did not matter if she worked under one mafia family one day then sold their secrets the next. Over time she had gained a list of enemies and garnered much discord. So she changed her name again, and seemingly vanished from the world. Deep down she knew that they would find her and exact vengeance.

The siblings disposed of the bodies and gathered any and all necessities. Hitting the road without leaving a trace, true t their mother's lessons. Their destination, their Godmother, who their mother managed to keep in contact with. Making it to her home in Nanimori, she took them in without a complaint and revealed to them the finer details of their heritage as per her friend's wishes.

In these five years, the Hideaki siblings have been introduced to their long lost relatives of the Simon Famiglia. And have been steadily integrated into the fold. In the beginning there were feelings of wariness and resentment as they appeared out of the blue. But time had passed and everyone is on friendly terms for the most part. Roni and Jett have bonded the most with their elder brother, Shikadai, who held the title of heir before their arrival. The only son of the previous Simon boss' first child. Due to an accident years ago, Shikadai has become wheelchair bound. Recognizing his weakness he has accepted the fact that Jett will take his place as heir and Roni as backup. The two train daily to fulfill their new roles.

As of yet, the family has not revealed their inclusion of the Hideaki siblings. Many still believe Shikadai to be the Simon Famiglia heir. They await an opportunity to formally announce the change. Holding off might prove to be advantageous in their favor.
---
---
---
---