---
---
---
---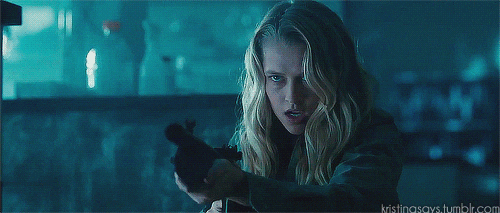 Nickname:
Andrea Lyons
Nickname:
Andy
Age:
22
DOB:
24th January
Gender:
Female
Sexuality:
Heterosexual
Crush:
None
Nationality:
English
Role :
The Cure
Face Claim:
Teresa Palmer
---
---
''It's the end and I'm not afraid to die''
---
---
Height:
5ft 7''
Weight:
120 lbs
Hair:
Blonde
Eyes:
Brown
Tattoos/Piercings/Birthmarks/Scars:
She has a scar on her upper left arm from a burn when she was a child. She had her ears pierced, but removed the piercings once the apocalypse started and a nose ring which she still wears. she has some tattoos
one on her back
,
One on each wrist
and
one on her foot
Clothing:
Wearing
| |
Spare
---
---
''I don't need a man, I need a strategy''
---
---
Family Members:
Andrea was an only child. She lived alone with her mother until she re-married when Andrea was fifteen. Both her mother and her step father were killed in the apocalypse.
---
---
''Who will tell the story of your life?''
---
---
History:Andrea was an only child. She lived alone with her mother until she re-married when Andrea was fifteen, they lived in an average size house in the countryside. She moved out of her parents home and into the city once she turned 19 to find work. Her Step-Father didn't treat her well and often hit her. Andrea has never had a serious relationship thats lasted more than a few weeks.
---
---
'' The Future is Bullet-proof, The Aftermath is secondary ''
---
---
Equiptment and Skills:
>10 food packs
>3 water bottles
>Spare cloths
>Torch
>Medium Backpack
3 items of choice:
- Pistol (5 Packs Ammo)
- Katana
- First Aid Kit
Strengths:
Fast
Good in panic situation
Intelligent
Persistent
Brave
Weaknesses:
(+5, equal to strengths)
Negative
Bad tempered
Ignorant
Trust Issues
Impatient
---
---
5 descriptive words:
Confident
Determined
Hot-Tempered
Impatient
Loud
Personality:
Andrea is strong minded and deals well with panic situations. She is confident and likes to have her opinion heard, she gets angry with people who don't listen. She is impatient and will loose her temper with anyone who annoys her. Survival is her main objective, things such as love and friends are secondary to her. Despite survival being her main goal, she isn't afraid to die, however she is afraid of becoming a zombie. Andrea trusts few, and depends mainly on her own instincts rather than what others say.
Likes:
Being in control
Beaches
Rain
Sunsets
Talking
Being heard
Dogs
*Dislikes (+7)
Liars
Zombies
Backstabbers
Hugs
Heights
Being trapped in small spaces
Wasting time
Fears (1-3)
Becoming a zombie
Running out of food
Heights