---
---
❝What am I? A monster among monsters?❞
---
---
Name:
Rymol Nurskiva
Age:
17
Sexuality:
Demisexual
Keeper Type:
Keeper of Earth
Ceremonial Robe:
Personality:
Rymol isn't the easiest child to understand. Or rather, he attempts to make it to where no one can understand him. Rymol strays away from other people when he is able to for fear of being hurt by them. Over the years, Rymol has developed a deep distrust for other people. One could even describe it as hatred. Whenever something good happens to him, Rymol gets his hopes up to an almost desperate extent. This is however, unmatched by the level of depression he goes through whenever that hope is met with nothing but disappointment.
Whenever he is forced to confront someone, he gets nervous and mumbles his words. He is actually quite shy. Despite his rather dark perspective of other people, he still feels the need to please them in hopes that they won't hurt him, or at least be merciful. Whenever someone else shows signs of anger or irritation, he immediately begins apologizing. This also goes for when they show an emotion he doesn't understand. This is simply his ultimate defense mechanism, since he doesn't know how to deal with people any other way.
Rymol sees himself as a monster. This is a thought brought up from his many years of being called such by his father. He feels that he can't be understood by anyone, so he shouldn't even try and build a connection with them. Who would want to understand a monster, after all? His sees his distrust of others as a mutual perspective. As much as he fears them, he often wonders just how much they might think the same of him. He is very conscious on this subject. However, because of the way he sees himself, he bears no remorse when he devours plants or meat. As badly as he wants to, his primal instincts won't allow him to die just like that.
Every now and then, Rymol's psyche will push beyond his breaking point and he will let out aggressive remarks, venting all of his frustration and hatred. Of course, once he has calmed down, he will automatically resort to apologizing. Over and over again. However, deep inside, he likes the part of him that does this. The part of him that knows how to speak up for himself without fear. At the same time, he fears it. He often thinks to himself "Is this the monster within me that my father spoke of?" Not knowing, not understanding. These are the aspects of life he can't stand the most.
History:
Rymol was always a loner since birth. His only real relationships were with his parents. He was never allowed to go out and play with others and was pretty much a shut in for the majority of his life. Rymol always preferred the company of vegetation and wildlife. He can often be found supposedly talking to himself, while kneeling in front of a bed of flowers. Rymol feels comfort from doing this. Even when he truly was only talking to himself, Rymol felt that he could feel how the many animals and plants he came in contact with felt. He always thought that he had a deeper understanding of what their lives were like than anyone else. He often felt jealous of them. Those who caught him in these acts of loneliness have thought him to be a freak and shunned him completely. Adults, children, everyone.
It wasn't until he turned six that he started to notice sudden changes in both of his parents. His father began drinking more and more each day. Whenever his mother attempted to stop him, he began beating her. When she could no longer take it, she suggested taking his frustration out on Rymol. His father had no objections regarding this idea. His mother even helped him with the beatings sometimes. From then on, his father and mother caste out his name, and simply referred to him as "Monster". Whenever the beatings were over and Rymol and her mother were alone, she would always hug him and apologized for what felt to him like an eternity. This was the only reason he still remembers his actual name. Because she always called him it at these times. For a time, he truly believed that she was sorry. But as the years went by, his trust towards her became the exact same as it was towards his father.
On his 11th birthday, his father took him out into the uninhabited part of the island forest during the night time. At first, Rymol felt happy because his father used his actual name when he told him to come. He felt hopeful for the first time in years. He thought that perhaps, his father was trying to make things up to him. The next thing he knew, his father was holding a gun to Rymol's head and telling him to run for his life. Without a moment's hesitation, Rymol went into an all out sprint. The first shot hit his shoulder and blood shot up into his right eye. Half-blinded and in pain, he keeled over and began rolling down a hill. His father continued his pursuit. Rymol was in too much pain to move. The bullet had barely gone through the edge of his shoulder, so the wound wasn't too serious. But this was still pain unlike that of which he had ever felt before. Once his father found him, he placed the gun to his head once more, his face completely deadpan. Before he could pull the trigger, his mother appeared from behind his father and pushed him away. Enthralled, his father began punching his mother, until finally shooting her in the stomach. His father, just realizing what he had done, dropped the gun and fell to his knees. Letting out a loud yell, Rymol's father got up ran through the forest, screaming the entire time until his voice trailed off in the distance.
Rymol went to his mother's side, almost as if on instinct. He could tell she had but only seconds left. The words she spoke to him next were words that he would engrave into his heart for the rest of his life. "You are just like a dying wolf trying to please the hunter who shot you..." After that, Rymol's mother went limp and her breathing stopped. He sat there, shocked and confused. He didn't know what to do next. Tired and emotionally impaired, Rymol fell over next to his mother's corpse and fell asleep. The next day, he was found by a group of orphans who were on a berry picking trip with their foster father. Seeing as Rymol was still alive, they quickly took him with them back to their home and alerted the authorities about the corpse. From then on, the orphanage took care of him up until his 16th birthday, where he started to hear strange voices in his head. He tried to ignore them at first, but noticed that they only spoke to him when he was near plants and animals. One day he attempted to approach a flower and spoke to it. To his surprise, it answered back to him. A little while after this, the foster parents began to worry about his mental health. Of course the death of his mother and arrest of his father must have been tough for him, but they were surprised that he hadn't shown that if effected him earlier. Soon they took notice that he had become the keeper of the earth. They were overjoyed that Rymol had become something so magnificent. He himself was indifferent to his new found role as Earth keeper. It only meant he was forced to interact with other people, while at the same time actually able to speak with animals and plants. This life was not one that he chose for himself. Then again, he never chose anything for himself even once.
Likes:
*Plants
*Animals
*People who aren't afraid to show their true selves
Dislikes:
*Weapons(especially ranged-type weapons)
*Violent people
*Himself
Shrine: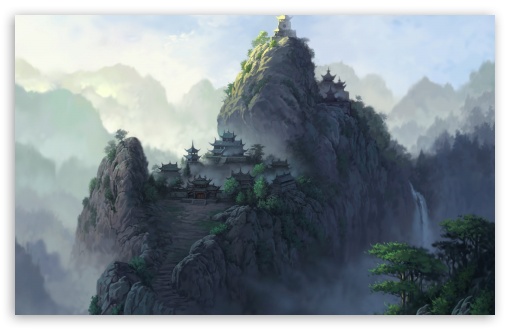 Other:
While he is generally distrusting of people, Rymol is good at telling when people are lying and when they are telling the truth. Almost everyone he meets shows him a facade, that he instantly detects. He can only truly feel close to people who are real with him. In turn, he shares his true self with them. Even if it turns them away in the end. He also has a phobia of ranged weaponry such as guns and bows.
In a battle ready situation where the strong are the key factor in survival, Rymol is definitely not the one to look to. He will not run away from a fight if he "knows" there is no chance of escape. He will choose the side that will bring about the most peaceful solution. If that doesn't work, then he will always resort to his final defense of repeatedly saying "I'm sorry." While having been forced to learn self-protection techniques along with the other keepers, Rymol proved to be one of the least proficient out of them all. Not being too fond of weapons, the most he is capable of is simple, mediocre martial combat.
In a truly dire situation, Rymol can call upon nearby wildlife to assist him in any way they can. However, once hes called for them, the animal will risk their life without hesitation for his sake. He can't control what they do completely. He can also summon a different variety of plants to do as he commands them. With them he could possibly bind someone with a tree root or make tree fall to block an attack or offer a barrier in between him and the enemy. He can draw poisonous plants and use them against enemies as well. For when Rymol reaches his breaking point, his mental instability does two things. Any animal within an 6 mile radius becomes completely feral and violent. This also somewhat effects other "regular" humans. Making them slightly more aggressive than usual. It has absolutely no effect against other keepers. All plants and vegetation around him tear out their roots and attack the surrounding area randomly. This only lasts for a short time, until Rymol can get his bearings and calm himself down.
Appearance:
Rymol's overall demeanor is very sluggish yet tranquil. He stands at 5'8 in. and 157 lbs. He isn't exactly buff but he is still has a somewhat athletic build. While not exactly being scrawny either, his body is more like that of a track runner. Rymol has dim-blond hair and crimson, red eyes. Despite that fact that both of his parent's eyes were blue, Rymol had a birth defect where he was born without eyeballs. Through cosmetic surgery, he obtained the still functional eyes of a donor. This donor's eyes just happened to be red. Although the surgeons hadn't noticed, Rymol's eyes were slightly damaged, so his vision is slightly impaired to an extent where he would normally require glasses. He has never told anyone about this, having had this sight since he can remember. He always thought it was normal. Rymol's facial features are still slightly underdeveloped, giving him the overall presence of a child when shows his shy side. He has yet to grow even the slightest facial hair upon his face. This could just be because of a latent maturity process or perhaps he stopped aging a little earlier than a usual keeper. Needless to say, Rymol is a complete baby face. Rymol prefers wearing brownish green colors for the most part. Usually plain T-shirts with dark-colored slacks. He can always be seen wearing his black and white hoodie, which he likes to use to hide his face with.
Face Claim:
Kano Shuuya from Kagerou Project(Kagepro)
Ah yh. almost forgot. Curry. o -o