"I'm your worst nightmare."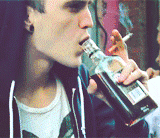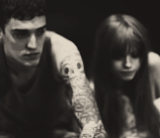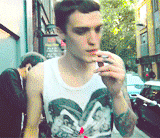 | Full Name |
"It's pretty simple."
Anthony Henry Greyson

| Nickname |
"Whatever you want to call me I guess."
There's not much to shorten his name to, so Anthony usually just goes by Anthony, Tony, or Tone. People do tend to call him asshole a lot too, if that counts.

| Age |
"Who cares? I do what I want anyway."
Nineteen years old

| Gender |
"Ouch."
Male



| Appearance |
"I don't know, brown?"
Hair
>> Dark brown, almost black <<
>> Shorter on the sides, longer on top <<
>> Naturally a little curly on top where it's longer <<
>> No facial hair, keeps himself clean shaven <<
Eyes
>> Light greenish color <<
>> A little blue, but less so then Keira's <<
Build
>> Tall <<
>> Keeps himself in shape, well built <<
>> Defined muscles, though not overly muscular <<
Piercings
>> Both earlobes gauged <<
>> Nose pierced, though he doesn't wear it all the time <<
Scars
>>

Back of shoulder

<<
On the back of his left shoulder, Tony has three bullet scars from a drug deal gone bad. He'd tried to run, but he was shot three times in the shoulder before managing to get away. Thankfully, he escaped with his life and the bullets didn't kill him.
>>

Knuckles

<<
Covering his knuckles, he has various scars from fights he's been in
>>

Along his jaw

<<
Along the right side of his jaw, Tony has a scar that he actually got from Keira. She was pissed at him and they got in a pretty brutal fight that left a scar.
Tattoos
>>

Left Arm

<<
His entire left arm is tattooed in asleeve
>>

Knuckles

<<
Covering the scars on his knuckles, Tony has the words Love Life tattooed
>>

Right side

<<
Running up his right side, he has a couple of roses and a gun tattooed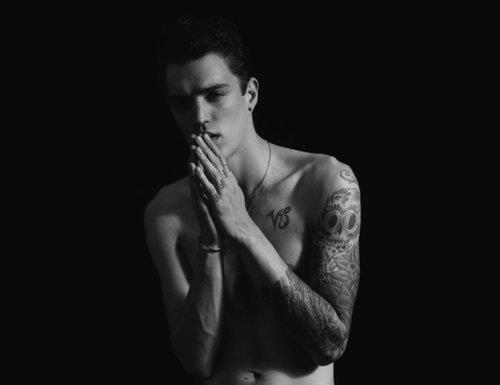 | Likes |
"I like when people leave me the fuck alone."
♥ His dog, Tubs (Keira named him)
♥ Keira
♥ Sex
♥ Sleeping in
♥ Drugs
♥ Guns
♥ Danger
♥ Being reckless
♥ Parties
♥ Breaking rules
♥ Whiskey
♥ Tattoos
| Dislikes |
"Clingy bitches."
✗ Seeing his sister upset
✗ His mother
✗ Being told what to do
✗ Being told no
✗ Rules
✗ Annoying girls
✗ People who ask stupid questions
✗ Idiots
✗ Tea
✗ Cats
✗ Waking up early
✗ Speed limits
✗ Being disrespected
| Fears |
"I don't feel fear."
☠ Losing Keira ➛ Though they bicker sometimes, that's normal because they are siblings. At the end of the day, Keira's the only person he really loves in the world and he'd do anything for her. The thought of losing her is absolutely unbearable. Because of this, he fucking hates her boyfriend Killian and, if it wouldn't get him in trouble with the mafia, he'd kill him if he could. He can't lose Keira. It would devastate him.
☠ Being useless➛ All his life, Anthony has had a purpose. He's always been there to protect Keira and when his family started to fall into financial ruin, he stepped up and started to sell drugs to take care of them. He's the one who drives Keira or his mother to the hospital when they OD. He's afraid, one day, nobody will need him anymore and he'll be useless.
☠ Commitment ➛ Tony will not commit to one girl. He never has and never wants to. The thought of being tied to one girl is honestly just scary. Besides, he's never found a girl good enough to call his anyway. He'd rather fuck random women and never worry about calling them back.



| Personality |
"So I'm an ass. Tell me something I don't know sweetheart."
The best word to describe Tony is asshole, plain and simple. He's rather selfish, really only caring about his own wants and feelings. The only other person who's feelings and needs he even considers is Keira because he loves her and he would do damn near anything she asked of him. Other then that though, forget it. He doesn't make attachments and he doesn't feel things for other people.

When it comes to women, he uses them and throws them away. He doesn't have girlfriends. He meets girls, fucks them, and then forgets about them. If they're stupid enough to come back the next day, he treats them coldly, as if he doesn't even know them, and sometimes, he really doesn't because very rarely does he even remember a girl's name the next morning.

This is because Tony is quite the party animal. Much like his sister Keira, he loves to party. His favorite thing to do is get drunk and high surrounded by hundreds of people who are also fucked up. He's very rarely sober to be honest. The drugs and drinking make him cruel and cold. He's even hit Keira while fucked up before, which is something he'd never do sober.

Tony also has a pretty ugly temper. Should you light his fuse, you're lucky as hell if you survive. He's dangerous when angry. Blinded by rage, there's honestly no telling what he might do, which is a scary though because he's capable of committing murder and getting away with it too.

Despite being an asshole most the time, however, there are good aspects to Anthony. For one, he's loyal and protective of the people he loves. If he trusts you and loves you, you can bet your ass no harm will ever come to you again if he can help it. Anyone who hurts the people he loves (basically just Keira or sometimes his mother), is in for a world of pain.

On the off chance that you happen to catch him when he's sober, Tony can be a decent guy sometimes. He's less cruel and cold, though he may not exactly be open and easy to talk to, he's considerably more manageable and treats those he loves with a lot more gentleness and respect. It's harder to piss him off when he's sober, which is a good thing because it's when he's angry that he really lashes out and treats people like shit.



Headstrong
Trapt
Circling your, circling your, circling your head,
Contemplating everything you ever said
Now I see the truth, I got doubt
A different motive in your eyes and now I'm out
See you later
I see your fantasy, you want to make it a reality paved in gold
See inside, inside of our heads (yeah)
Well now that's over
I see your motives inside, decisions to hide

[Chorus:]
(Fuck!)
Back off I'll take you on
Headstrong to take on anyone
I know that you are wrong
Headstrong we're headstrong
Back off I'll take you on
Headstrong to take on anyone
I know that you are wrong and this is not where you belong
I can't give everything away
I won't give everything away

[Verse 2:]
Conclusions manifest, your first impressions got to be your very best
I see you're full of shit, and that's alright
That's how you play, I guess you'll get through every night
Well now that's over
I see your fantasy, you want to make it a reality paved in gold
See inside, inside of our heads (yeah)
Well now that's over
I see your motives inside, decisions to hide

[Chorus]

[Verse 3:]
I know, I know all about [x3]
I know, I know all about your motives inside, and your decision to hide

[Chorus]
_________________________




_________________________
Addicted
Saving Abel
I'm so addicted to
All the things you do
When you're going down on me
In between the sheets
All the sound you make
With every breath you take
It's unlike anything
When you're loving me

Oh girl lets take it slow
So as for you well you know where to go
I want to take my love and hate you 'til the end

It's not like you to turn away
From all the bullshit I can't take
It's not like me to walk away

I'm so addicted to all the things
You do when you're going down on me
In between the sheets
All the sound you make
With every breath you take
It's unlike anything
When you're loving me

Yeah

I know when it's getting rough
All the times we spend
When we try to make
This love something better than
Just making love again

It's not like you to turn away
All the bullshit I can't take
Just when I think I can walk away,

I'm so addicted to all the things
You do when you're going down on me
In between the sheets
All the sound you make
With every breath you take
It's unlike anything

I'm so addicted to the things you do
When you're going down on me
All the sound you make with every breath you take
It's unlike anything when you're loving me
Yeah
When you're loving me

How can I make it through
All the things you do
There's just got to be more to you and me

I'm so addicted to all the things you do
When you're going down on me
In between the sheets
All the sound you make with every breath you take
It's unlike anything
It's unlike anything

I'm so addicted to
All the things you do
When you're going down on me

All the sound you make with every breath
You take it's unlike anything
I'm so addicted to you
Addicted to you
---
---