---
Rules are meant to be broken, right?
---
---
---
| NAME | Ellan Doren

| NICKNAME | Ellan or Ren, Friends and Girlfriend (my Maddy) call me Ren though

| GENDER | Male

| AGE | 19 years old

| ROLE | Kidnapped boy #2

| FACE CLAIM | Josh Hutcherson
---
❝What do I see in the mirror❞
---
❝... A handsome man what else? You scare me dude.❞
---
| EYE COLOR | Blue

| HAIR COLOR | Actually I have brown hair. But I like to dye it into a blonde color. Why? Cuz I like it.

| HEIGHT | 6"1'

| WEIGHT | 130 lbs

| SKIN TONE | Tan

| BODY MARKINGS | A small scar on his back "Better don't ask me where it's from, dude."

| GRADE | Senior Year
---
---
❝ Want to know me? Just ask, not like I am biting you or something - unless you like such things. ❞
---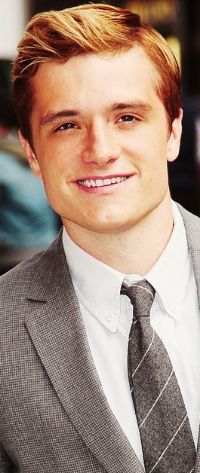 | HABITS | My habits? Well... emm... I guess everyone has it's quirks. So what are you asking me that? Probably the only habit I have is stepping on the floor along the beats; not just if my girlfriend sum a melody, but also everywhere. I am just being me, ya know? Because...

| LIKES | ... I really love music. And it's so awesome that my girlfriend does too. Yeah, I love my girlfriend, got a problem with that? And of course, skating and skiings are my dearest hobby, though sometimes I play soccer too, but never was particular good at it. Anything like kicking or throwing the ball doesn't suit me much. I am more the guy who likes taking the action by himself; doing stunts and such. I love such sports that make my adrenalin raise; though I am aware that they do have their risks.


| DISLIKES | Yes, you can say I hate boring things. If something doesn't interest me, I can really throw it up and don't give a damn; example: School. But Maddy being there... you know. I started to come school regulary now. Not the big deal; though I still hate History and Languages... ugh, only thinking about it make me feel like wanna throw it up. But for Maddy sake... I'll go there.
I really dislike someone picking on my girlfriend, I hate it actually. Though I don't like violence, I won't hesistate if someone dare to do that. This city... it's just too unsafe. I really don't like this city. If I get a proper work, I'll swear, I get out of this stinking city.

| PERSONALITY | Honestly, why are you even asking me this? I can't guarentee that everything is the truth... but well. Believe it or not, I think my personality is honest. What? Already saying that this is the first lie? - People, please. Maybe I am sometimes sarcastic, okay, often sarcastic, but I am actually an honest person - to my friends that is. Students, Children are always lying to the teach and parents. So why should I be an exception?
Maybe sometimes, I can be pretty much... too not giving a damn. Well, that's me folks. If something do not interest me, I can be very ignorant. Though I do care for something that is important to me. Sometimes, I am a bit over protective, though I guess, my girlfriend doesn't have any problem with that. I don't like to push her to anything - I don't want her to hate me. Yes, you may say I am 'sweet' or something, many friends are already doing it actually. They are just a jealous bunch. I am stubborn. If something doesn't is like my imaginations, objectives, I never give up. But such things are common right? If you'd start something, you have always to finish it too. It's just natural. Though maybe I am sometimes a bit too easy going and looks things from a very weird perspective like my friends said, I am a good guy to kill time with, I guess.
---
---
❝ Cool. Just cool... why do you look at me like that? I did not meant it sarcastically! - In a way. ❞
---
| FUTURE PLANS | Marry my woman (who definitely is Madelyn Fairbanks) and get the hell out of this city.

| FAMILY |
Father: Gerarth Doren - 48 years old - Works in an industry
He works too much. Sometimes, I shall drag him home. He is a kind old man, sometimes he is real aggressive though if it has to do with my grades ar school.
Mother: Mathilde Doren - 47 years old - Housewife
Good mother. Good housewife. Love you mum!
Brother: Horen Doren - 16 years old - 10th grade
I am not shy saying he is more intelligent than me. In the other hand, I really welcome that. Why? It's a sneaky answer, I better not say it.