---

◤◥
«

"I am who I am, I'm not going to change."

»


⌠Sexy Naughty Bitchy Me | Tata Young⌡


Fᴀᴄᴇ Cʟᴀɪᴍ ◆ Nina Dobrev ❘ Pᴏʀᴛʀᴀʏᴇᴅ Bʏ ◇ Aquamarine


Dɪᴀʟᴏɢᴜᴇ Cᴏʟᴏʀ ◆

Magenta

❘ Tʜᴏᴜɢʜᴛ Cᴏʟᴏʀ ◇

Cyan


◣◢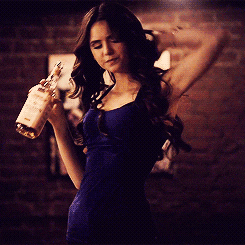 |Full Name|


⌊Candie Denise Jones⌉



|Alias(s)|


⌊Spirit || Commonly Used⌉



|Gender|


⌊Female⌉



|Age|


⌊21⌉



|Year|


⌊Sophomore⌉



|Sexuality|


⌊Heterosexual⌉



|Nationality|


⌊Bulgarian⌉







|Secrets|


1. Witnessed part of the death of Miranda, the previous Delta President.
2. Started the rumor about Cassie's suicide attempt.
3. Sleeps with her English Professor.
4. Spent two months in juvie for starting fires.



|Personality|


Candie is your typical sorority girl. She has the attitude, the looks, the style, and of course the guys. She loves to party and she pretty much throws one almost every weekend. When she doesn't throw one, she attends one. But that doesn't mean she doesn't stay on top of her school work, that always comes first. Candie just prefers the drugs, alcohol, the boys, all the sex, etc. All in all, she is the typical bitch of the school. Besides, if it weren't for her, half of the rumors and gossip about the students wouldn't be around, she is the one who started most of it. Though the most recent was about Cassie. But you'll have to join the school to get in on it.

Don't get her wrong though, she does have a more classy and kind side, one that she shows around adults. Around everyone else, she is who she is and there is nothing you can do about it other than just dealing with it.




|History|


Candie Jones was born into money, she always got everything she wanted and that will never change. Because of this she turned into the stubborn bitch she is now. She doesn't really care about anyone but herself. That showed while growing up. Her parents forced her into straightening out her attitude around other adults because they didn't want Candie to make a mockery out of them. Of course she did as she was asked, but behind closed doors, she was the one who ruled the house.

During high school, she was the queen bee. All the girls wanted to be her, all the guys wanted her. She became captain of the cheerleading squad her sophomore year, the youngest captain in the history of the team, this position she held until her senior year. Candie was given a scholarship for her cheerleading when she took her team to the national championship and won.

When she turned eighteen she was given access to her trust fund, which she will be living off for the rest of her life along with the money she would be making when she gets her dream career.

---



|Other|


Delta Delta Delta Sorority President

Cheerleader (Since her freshman year.)

Took over the role as president of the sorority after the previous president was murdered.

Is a waitress at the campus cafe'.

---