Theme
Battle Theme
Name: Ulixes 
Age: 20
Species: Nobody
Organization number: V
Appearance:
Ulixes is fairly tall, with neck-length chestnut hair, and deep green eyes that seem to hold much more complexity than he lets on. He has a slim, yet well-toned physicality. He also seems to have an almost partied-out look to him, as if he's extremely tired, and looking for rest, but tries to hide it.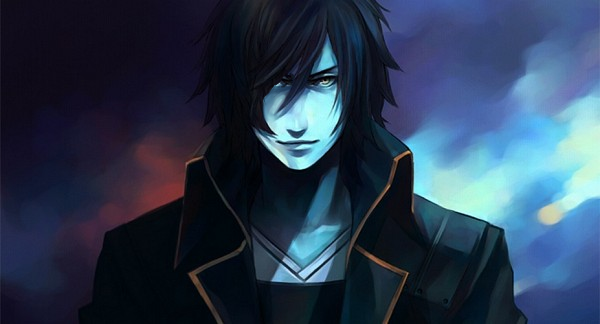 Clothing wise, he wears the standard Organization black coat, and is almost seen with headphones, either his prized white and black pair on his head or around his neck, or a pair of silver earbuds. He also wears a variety of rings on his fingers, and a silver bracelet on his left wrist.
Personality:
Ulixes is loud, and colorful, always putting on a show, and always having as much fun as he can. He has a relatively laid back personality, preferring to relax and listen to music, or make some fresh new beats then to fight, but that doesn't mean he isn't a force to be reckoned with when he is pushed. He really doesn't enjoy 
the organization's rule, and the paranoia it has caused, but he'll do anything to get his heart back. 
Magic:
Darkness abilities:
Master of Ceremonies: Control over the Dancer type Nobodies.
The Main Event: Control of the Siren Boss-type Nobody.
Corridors of Darkness: Allows for convenient travel between worlds at will. Too much use can corrupt the heart from exposure to darkness. (Negated from the effects of the Black Coat.)
A Whisper in The Dark: Allows Ulixes to manipulate sounds. This could range between creating a ear-splitting bass to deafen opponents, to making them think they are hearing things, to mimicking someone's voice.
Weapons:
Ulixes uses a long silver spear as a weapon. It's ability allows him to duplicate the spear and instantly recall the original to his possession.
World:
I'd like to keep his backstory somewhat secret for now.
The Siren
The Dancers