Beginning.
Battle.
End.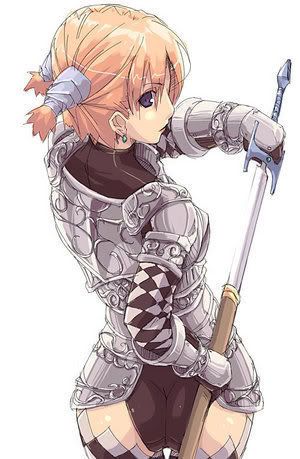 Name:
Kianne Valentine
Age:
19
Alignment:
Light
Keyblade:
Heaven's Seeker
Strengths:
Heaven's rain – spears of light crash in the ground around her enemies, striking them or pinning them to the ground.
Light Raid – Light energy surrounds Kianne's keyblade as she throws her keyblade towards her enemy.
Bright Shield – A wall of light covers herself and others that she wants to protect. The shield suffices for most lower level attacks, though can be broken at close range or with extreme attacks of darkness.
Weaknesses:
Luca – anything associated with him makes her hesitate and her hard exterior brake. Once broken, she is unpredictable.
Personality:
Kianne is calm and collected, always taking a moment to think of the bigger picture before running in and doing something stupid. She is confident in herself and her own abilities, though finds it hard to trust in anyone else at the moment. She has a habit of taking everything on herself, feeling that all these tasks will only get done properly if she does them. Kianne can come across as shy, seeing as she generally doesn't speak unless spoken to – though once in her company, she may be willing to open up more. When in the company of her loved one, she is totally different, her hard exterior melting away and revealing the true softness of her.
Likes:
Sunshine, the sound of crashing waves, keeping her blade sharp, her Love, her small wooden flute.
Dislikes:
Being stuck indoors, being told that she can't do something, dints in her armour, flowers.
Marital Status:
It's complicated, explained in History.
Appearance:
Kianne stands at around 5ft6 with the features shown in the image on the right. She also has armoured boots that match the style of the armour shown, covering most of her legs.
History:
Kianne grew up in a city close to the ocean, a land bathed in light. She trained to be a keyblade wielder with her brothers and her closest friend Luca. When her brothers moved on to complete missions under the Organisation of Light, Luca and Kianne trained more frequently together. They found their love for each other made their powers stronger. Soon they became more than just friends, their relationship growing to an engagement. When together, Luca treated her like a princess in armour.
Kianne and Luca were about to announce their engagement when the DarkHearts attacked their city. Instead, the lovers dove into battle together. Their paths were split as they fought to hold back the foes. Kianne eventually made her way back to find Luca, though when she found him – he was not the same. The Darkness had awakened something different in him. She could feel the darkness seeping from him, and it scared her. He still spoke with Luca's voice and looked at her with his eyes, but she was no longer his princess. Instead of running into each other's arms after the battle, they clashed blades. They had fought so many times in training he knew all of her moves, though this new darkness had tainted his class and she found one of her hardest fights.
She was defeated in the battle, and expected to die that day. She remembers lying in the sand of the beach by the city, blood soaking through her dinted armour. He stood over her, his blade lingering over her heart – though everything faded before she knew whether he would deliver the final blow. When she woke, her brothers from the Order of Light were with her. The order had healed her, and her brothers advised her to join the Order as soon as possible. She did, with the intention of finding Luca. She wasn't sure what she would do when she found him again, but she wouldn't allow herself to be defeated again.