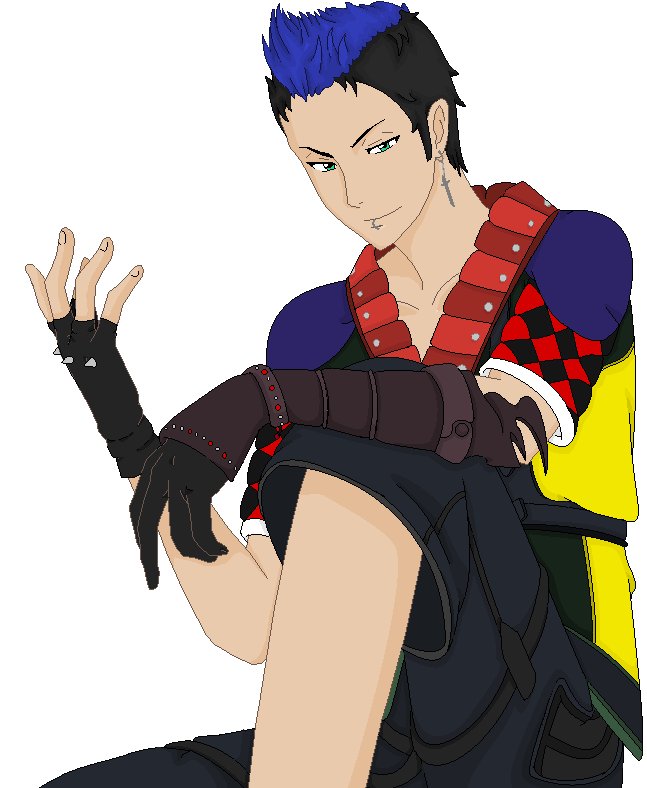 Name: Ryuukasu "Soki" Shinozuka
Age:19
Height:6'2"
Weight:175 Ilbs.
Alignment:Neutral
Your Class: Dargoon, Valor
Theme Songs:
Intro
battle theme
outro
Personality:Soki is all about jokes, and puns. He really tries to see the lighter side of most things, at least if there is a lighter side to be made. Regardless of the situation be it life or death, or someone has a minor injury, he always tries to tell at least a simple joke to either get people laughing, or to get people's minds off the stuff going on around them. Though regardless of this fine layer, he does have a darker side as well, once he's completely annoyed or even slightly angered he doesn't mind using violence to rearrange someones perspective on life, regardless if they meant any harm to him or not. He is loyal to friends, usually though he does get annoyed when he has to step up and be a leader, or pretty much do anything that brings him out of the shadows of others.
Martial Status:Single
Keyblade(s):
His Light
his darkness
Strengths:
Earthshaker: He uses his ability to jump high, slamming his keyblade into the ground causing tremors to occur unbalancing his foes.
Stalactite shuffle: He summons spikes of earth casting them into the air and having them rain upon his foes or the terrain to give him time to escape
Spike:He summons an indvidual Stalactite and casts it forth at a foe
Earth uppercut:He forms a protective layer over his arm and slams his fist into the chin of any enemy sending them skyward.
Overdrive: Work In progress
Weaknesses: Work in progress
Homeworld: Isles of Hope
History: Ryuu's history is pretty clouded. He was born to single mother, no father in the picture, though his childhood was no less then happy and perfect for him. His life was perfectly normal for a kid running around with friends, getting into trouble here or there, but no less then enjoying life to it's fullest. Well it all had to end though right? Ryuu's memory gets "Foggy" on the night the darkness claimed his world, all that he really talks about is that he gained the control of the light in the form of a keyblade, but was still not strong enough to save his mother and friends. Which is what brings him to Traverse town, found by moogles and all but brought back to live by their kind hearts Ryuu, or Soki as he went by now decided to repay them with the odd jobs around the town, delivering their merchandise, to those who didn't wanna go out into the dark invested town. Which is where those that know him today, know he gained the power of his own inner darkness. Ryuu still doesn't really get into details about his history, and those that ask usually just get a smug little smile and a wave of his hand, but your welcomed to try and ask for more if you wish.