---
---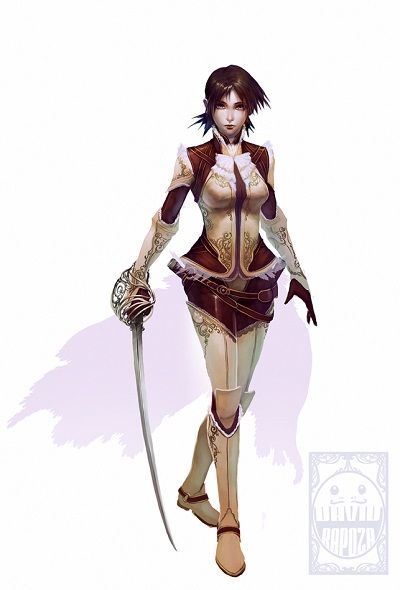 Name:
Marie Jansen
Age:
26
Description:
Though athletically fit, Marie's appearance often downplays the extremities of her personality. Few would ever suspect the faded jewel of the fire empire to be the danger she is on first impression, for a faded jewel is precisely what she is. Marie is neither particularly flamboyant nor daring in looks. Part of this can be attributed to a collection of scars, accumulated from a lifetime of fighting. Part of it could also be down to the fact that she sees little reason for cosmetics on a battlefield. Often she keeps her dark brown hair in a tight bun or short for purely functional reasons. That said, perhaps there's some natural beauty to be found in her looks, provided she ever let her guard down long enough for it to show.
She isn't particularly intimidating either, though with a lithe build and 5'8" of height on her one could hardly blame the woman. Marie prefers to her personality and skills do most of the talking instead, and close combat is precisely what she is built for. Long limbs give her the speed of a cheetah and the reach of a giraffe. Even unarmed they substitute for deadly weapons themselves as Marie is well trained in manipulating the body. Her sharp, almost violet eyes give her a hunter's vision, imbuing her with the ability to track and follow her opponents without so much as batting an eyelid. She is the ultimate killing tool.
Power:
Fire
Abilities:
Marie's fire magic is fueled by rage and bloodlust. The greater the power of her foe, the more powerful her abilities. Her magic is rather more innate as opposed to the common outward displays of fire. From Marie, you'll rarely see a fireball or many of the more typical fire skills for that matter. Instead, she uses her flames to fuel her own attacks, creating fiery slashes from a single sword swipe or even burning tornadoes if she rotates fast enough.
Fire Within – By rapidly draining her own endurance, Marie can use her flames to drastically increase her own strength and resistance. The fire within is a process in which Marie harnesses the power of fire magic to actualize her inner-self. Excessive use of this power can eat away at even her life force, drawing her closer to the red thirst.
Mantle of Fire – Often used in combination with Fire Within, Marie is also capable of wreathing her body in flames. The flames add further protection from melee attacks and have even been known to melt certain projectiles before they could hit her. Anyone in melee range of Marie also has a chance of being burnt.
Feedback – A skill which disrupts an opponent's magic spell. If an enemy is within 50m of Marie's field of vision she can disrupt their casting process and instead set the caster on fire.
Protector or King:
Protector
Personality:
If Seth represents the dualities of fire, and Siya its comforting warmth, Marie is the wildfire. Uncontrollable, fiery, vicious and all things chaotic. Being a drugged induced gladiator leaves its marks like that, particularly when one has a natural disposition towards violence in the first place. Once unleashed, there are few things indeed which can stop her indomitable will and thirst for combat.
Despite the many doubts surrounding her sanity, Marie nonetheless possesses some small token of honor and control. Never has there been an occasion where's she fully lost control to her urges, a fact that she prides herself on. Still, treading the line of a berserker is a fine one indeed and it is said that it is inevitable for every berserker to one day lose themselves to the red thirst. For Marie, that battle is a daily occurrence.
It is for these reasons that she can appear distant at times. Giving in to the red thirst means relinquishing everything and any bonds. It means devolving into a rabid beast, far worse than any animal and putting her allies at risk. Such a burden weighs on her shoulders heavily and Marie is often the first to openly warn her companions of her condition. To that end she keeps to herself for the most part, but give her a battle and she'll be the first to leap in anytime. In all other aspects Marie is abrasive, obnoxious, and unashamedly rude. She's even been known to attack allies in the heat of battle, or if lacking alternative adversaries. Life is too short to worry about the details, and Marie is undoubtedly the brightest spark soon to be burnt out.
History/Bio:
Marie is a berserker, an ancient race of bloody warriors who came into existence over five hundred years ago. Despite their relative youth, they quickly established themselves as ferocious warriors, peerless and without equals in all things related to war. The berserkers carved a name out for themselves as sell swords and mercenaries mainly, travelling in bands of a dozen or more people. Though powerful, they lacked the experience and development of other more established races. They were nomadic by nature, and it wasn't until the fourth Great War that berserkers began to build any prevalence.
It was during these times that armies found a real use for these fearless fighters. Employed as highly effective shock troops, a unit of berserkers could clear any rampart or lay waste to a field of soldiers in minutes. They were renowned for their magic, strength and near limitless capacity for slaughter. Eventually, the race of berserkers saw a boom in population growth. In such times of war, they prospered where others declined. Those who survived the battle field lived to pass on their blood line and exceptional skills.
Fearing them, the majority of other races joined together and decided to curse the race of berserkers to a fate far worse than simple death. Every berserker would eventually succumb to what would one day be infamously known as the red thirst. Giving into their instincts meant utterly losing yourself and any traces of your former identity. Quickly, the race of berserkers dwindled, falling upon themselves in episodes of violent carnage.
In the modern era, there are few berserkers currently left in existence. They are an endangered species, and thus, highly prized by the gladiatorial arenas. Marie was never aware of her parent's identities and her earliest memories are those of death and bloodshed. It's most likely that she was adopted by the arena's managers. Alchemical drugs were employed from an early age to heighten her killing intent, ensuring that she would only feel great joys from fighting. Marie became an arena spectacle, with a proven track record for winning. As she grew older, her abilities in combat would only increase, further facilitating her victories.
She never thought of freedom, only how to defeat the opponent she was next scheduled to fight. It wasn't until Siya, the current Fire King, invaded the city and liberated her from its hellish practices that she gained a modicum of awareness. Through him she learnt that she was a berserker, a ticking time bomb. Marie pledged to protect the King for the remainder of her years, their bargain being Siya, and only he, would kill her if ever she should succumb to the red thirst.