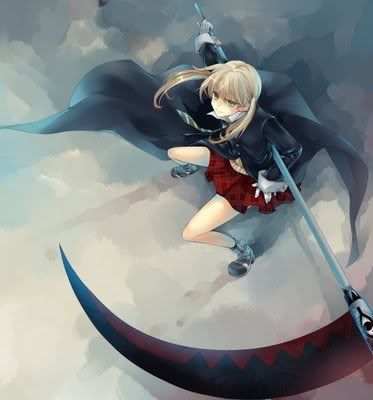 Name: Maka Albarn
Age: Will edit when I know what time period it is
Weapon:
Soul "Eater" Evans
Will edit when I know what time period it is
Resonance:
Maka's Soul
Bio: Maka Alban is the weapon meister of Soul Eater Evans. She is shown to be a fairly level-headed girl who's also extremely smart (acing Stein's "ultra-hard exam" and beating Ox). She is also the daughter of Spirit, Shinigami-sama's Death Scythe, although she seems to have disowned him due to his nature to chase women.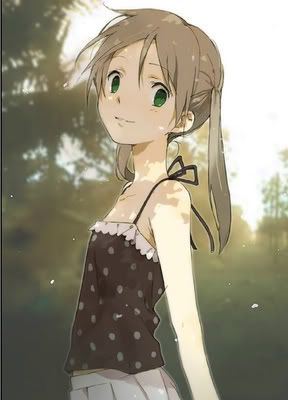 History: Maka was born around the same time Black Star was taken in to the DWMA, which was approximately thirteen years prior to the series's beginning. She apparently knew Black Star from a young age. Her mother, Kami, was an esteemed Scythe Meister, and her father was Spirit, Kami's Weapon partner who became a Death Scythe under Kami's hand. Maka was inspired from a very young age to become a student of Shibusen. Spirit often read books to her, which led to her love of reading and books at her present age. However, ever since she was small, Maka was constantly aware of Spirit cheating on her mother, which resulted in her dislike for her father and men in general. She can still remember all the instances in which Spirit had cheated on Kami. Kami divorced Spirit one month prior to the start of the series, and Maka vowed to make a Death Scythe like her mother, one that was even stronger than Spirit.
One day she met Soul playing the piano and the Demon Weapon played her a strange dark song on the instrument, stating that this song was what he was. Maka, however, liked his song and felt that he was an interesting person to get to know, also the first boy that she felt she could trust. The two agreed to become partners and have been a Weapon and Meister team since then.
Clothes: See pic
Height: 5'3"