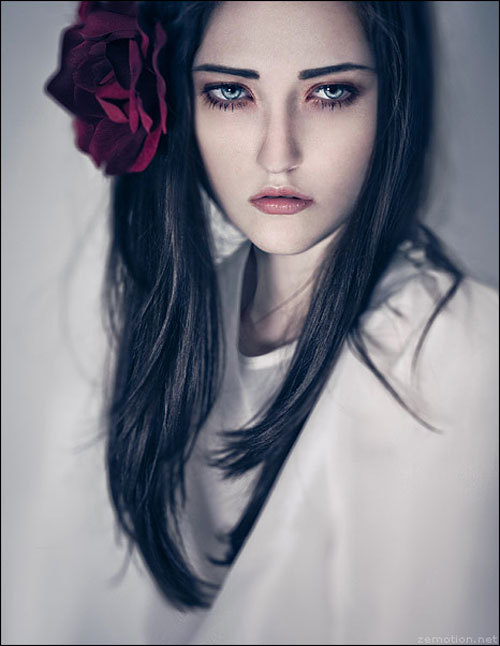 In these eyes hide a million secrets which you will never learn.
---
Role: The Second McHall Adoptee, the Faerie
Gender: Female
Age: 847
Apparent Age: 16
Nicknames: Peri, Riza, sometimes Anya
Species: Faerie
Birthplace: Yekaterinburg, Russia
---
Height: Five feet, five inches
Build: Slender (more like thin) and slight with long arms, legs, and fingers. She almost has an hourglass figure, with a tiny waist, wide hips, and wide shoulders.
Hair Colour: Pure black with grey/white streaks
Eye Colour: Almost unnatural silvery grey, sometimes with hints of blue or green.
Markings: On both of her collarbones.
On the back of her right shoulder.

On both of her wrists.
She has an almost unnoticeable scar on her neck.
Brief written description: Peri is almost too skinny, weighing approximately ninety pounds. She has what people call either artist's fingers or piano fingers--her wrists are tiny, her hands big, and her fingers long. Her eyes are unsettling to look at, and even more unsettling if she's staring at you. Her eyelashes are very thick, and she never wears makeup. Her hair is on the long side, and usually straight. Her skin is pale, and her face has an almost inhuman quality to it.

Clothing preference: She will wear anything she's comfortable in, and it usually looks good, though her clothes are usually on the tomboyish side--she never wears skirts or dresses to school, although she may wear them at home. She usually has ribbons or something in her hair. She dresses in a slightly Gothic fashion.
Face Claim: N/A
---
Skills: Peri is a faerie that has air powers. This gives her a myriad of powers, only a few which she can use without exhausting herself easily.
The ones that can be used easily, without her tiring easily: creating/controlling small breezes, bending the air to create illusions, using wind to "fly" and give her abilities similar to telekinesis (only works with small objects), changing temperature of air, and using winds to hear things that are far from her.
The ones that exhaust her but that can be used in an emergency: Controlling weather, creating/controlling gale-force winds, and solidifying air, as well as using winds to lift up heavy objects.
Quirks: She's very polite and reserved. She uses an arsenal of glares and stares to get her points across. She usually hums or sings under her breath, or at least mouths the words. Her feet or fingers are always tapping. She needs to have a window open in any classroom she's in. She frequently goes out to play in storms/rain. Peri hates being touched. She doodles a lot to help her focus.
Likes: Wind, "flying," warmth, silence, nighttime, storms, traveling, learning, music, piano, singing, comfortable clothes, birds, drawing, cooking, heights, children.
Dislikes: Being touched, no open windows, makeup, fighting, meat, owing people, being underground.
Fears: Being tortured. Having to remember her past. Being caught/hunted down. Her wings being ripped off of her. Being buried alive.
Written description: Her wings are retractable, but this is what they're like. She only has two.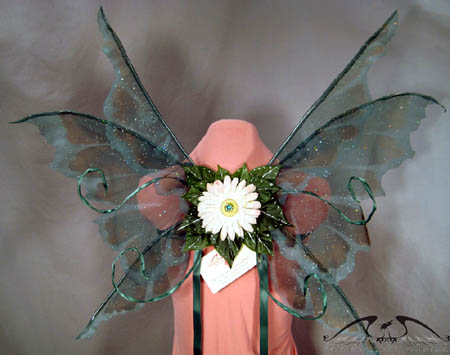 Peri is a loner/free spirit. She was adopted recently by the McHalls (only a couple hundred years ago), and has major trust issues--she's not willing to open up much, not even to her family. Before she joined the McHalls, she traveled the world, mostly on the run. She was being hunted down by people in the past, hence the scar on her neck, her inability to trust, her quiet, reserved, introspective nature, and her knowledge of various things.
She is a very quick learner, and is skilled in various things, including singing, playing piano, cooking, and drawing. She is very kind, although mysterious, and doesn't like calling attention to herself. If she sees you coughing, for example, moments later you might find a bottle of water and a few cough drops next to you.
She's very polite, and it's hard to break down her walls. Even though it's hard for her to trust people, she is a very trustworthy and loyal person. Her anger is difficult to set off. She's very protective and motherly, and adores children. She is the happiest with her wind, flying at nighttime, although she also revels in storms. Even though it seems like she's stuck in her own world a lot, she manages to pick up on anything that's going on, perhaps because of her winds, and remains very observant. She never says anything about her past, except for some of the places she's been to.
---
Relationship Status: None
Family: No one who's blood-related to her. She does have her adopted family, the McHalls, however.