Naota Suzumi
---
---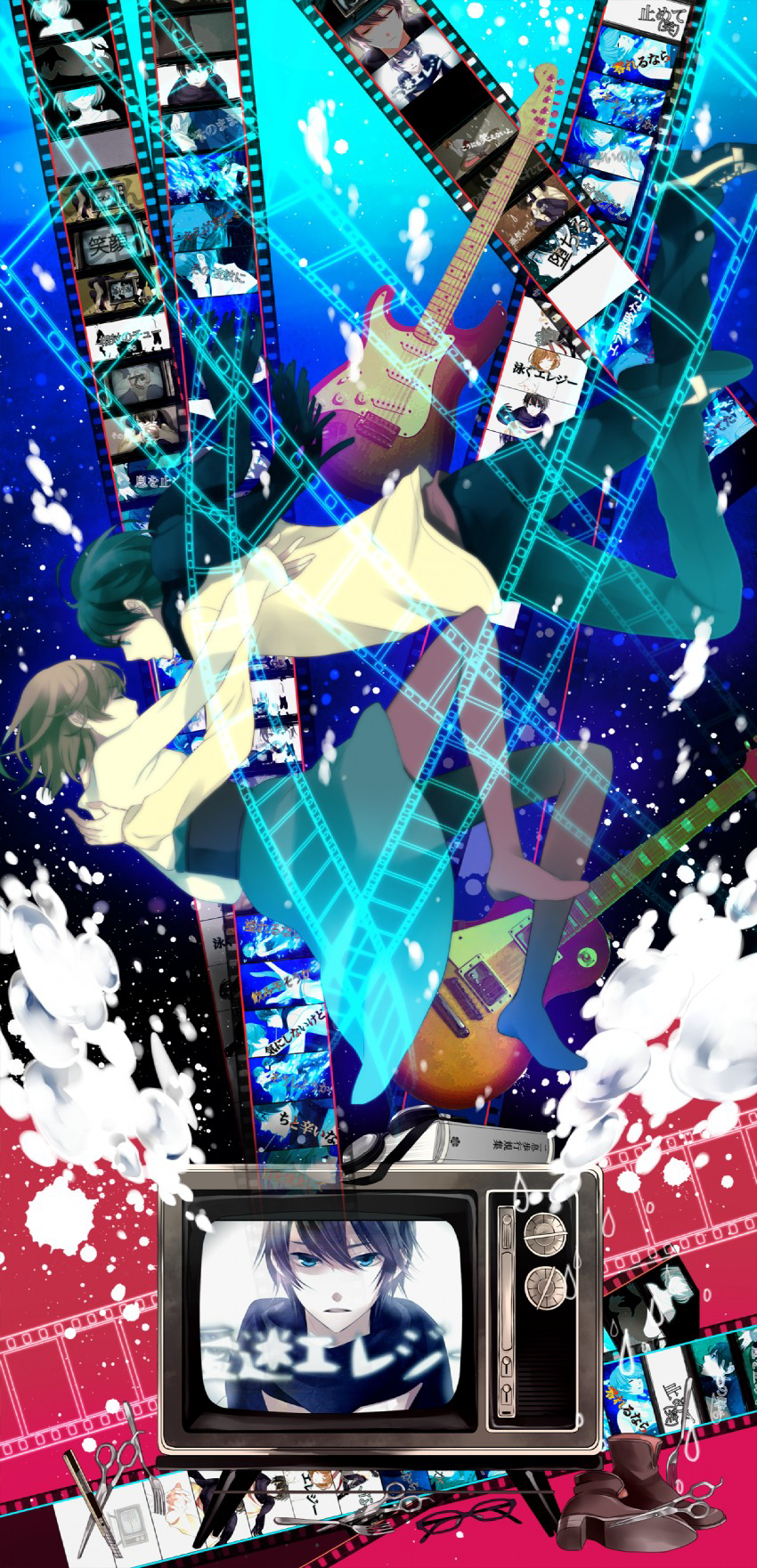 ---
---
Name:
Naota Suzumi
Age:
19
Gender:
Male
Height:
5'11
Weight:
166
Sexual Orientation:
Heterosexual
Nationality:
Completely Japanese
Romantic Interest:
Had none, has none.
Job:
He's a professional singer, but during his free time, he works part time job at a bakery.
School:
College
---
---
---
---
Personality:
Naota is someone who shows little emotion, keeping it all bottled up inside, including his thoughts. He's not one to claim what he wants, or what he likes very often, and when he does, it's almost always with a straight face. But what he will declare without hesitation is what he doesn't like. Strange right? He calls it the truth, but it really pushes people away from him if they don't understand what the true intentions of his words were.
It's not that he doesn't care for people and things, it's just that he doesn't show it. He actually cares for a lot of things, and probably cares for them greatly but he has such trouble expressing himself that it's impossible for him to get out the right words, usually ending up with hurting a friend, or hurting someone else. You'll rarely see him smile as often as an average person would, but if he were to show any signs of emotion, it'd usually be embarrassment or surprise.
The only way Naota is able to express himself clearly is either when he's around someone he trusts over everyone else, working his part time job at the bakery, or singing a certain song he is able to relate to. Naota does have friends, yes, but he'd have trouble saying what he thinks to even his best friend if they don't pull the right cards on him. He's also very open at the bakery. They're mostly older people, around their adult years or early elder, but he enjoys being with them most besides his friends. Singing is something he does as a job, a professional job really, so he has to make up his own songs, and usually, if someone were to listen close enough, they'd easily hear what he was thinking or feeling at the time.
Oddities:
Suicidal Thoughts - He doesn't know why he has them because his childhood and life is and was great (Kinda...). He likes his life, but at the same times, he's always wondered terrible things like
'What would happen if I was hit by a car...'
or
'How would people react if I jumped off a building and died...'
It's dark thoughts, that for sure, but he knows he'll never do it, just that he's always had his mind on it, almost 24/7.
Likes:
~Cats
"Nya."
~Music
"It's my job and it helps me get things out that I would never be able to say..."
~The bakery
"My part time job is somewhere where people don't recognize me as the popular singer... they see me as Naota, and only as Naota."
~Sleep
"I don't get it very often from writing my music... so when I do, it's like a privilege, or luxury."
~His family
"My sister... my father... my mother... I really do love them all... if they were still with me..."
Dislikes:
~Loudness besides music
"If it's not music, and it's loud, I don't think I'll like it."
~Arguing
"I'll just go with what you say even though you're wrong..."
~Not being able to express himself
"I really do want people to know what I'm thinking... but I guess only my music can speak for me."
Fears:
~Monophobia
"Being alone isn't something I like. I enjoy groups, even though many don't see that..."
~Phronemophobia
"I can't help it. I'm afraid of what other people will think of me, and how they think of me."
~Achluophobia
"Does being afraid of the dark sound childish?"
Talents:
~Singing
"It's my professional hobby and job. I have to be good at it if it's going to be what I make a living off of."
~Getting along with animals
"I seem to attract them to me without me even trying...."
~Sleeping
"Once I fall asleep, wait from 10-12 hours before waking me up again, because I won't if you wake me up earlier."
Flaws:
~Emotionless
"I really do feel, and I'm being honest here for once. I just can't express myself like most people can."
~Sleepy
"I'm tired. Tired. Tired. Tired. Just let me skip work for a day and sleep..."
Hobbies:
~Music/Singing
"How can I have a job that I have to practice for that isn't my hobby...?"
~Cooking
"Baking is the right way to put it since I work part time in a bakery..."
~Working
"I do it almost 24/7, without even knowing sometimes."
---
---
---
---
Bio:
Naota grew up living with both his parents and his younger adoptive sister who was a foreign American. He, even as a child, was always quiet and barely spoke to anyone other than his family. He still showed little emotion, even around them, but he was more open and trusting to them than anyone else, especially his younger sister. She was six years younger than him, there being a gigantic age gap between the two, but they always got along rather than fighting like cats and dogs. He also looked up to his father who was in the military. He never came home as often, but Naota didn't mind because he knew his dad was working hard and that he had to do what he had to do. Naota finally respected his mother, who was a very stubborn and strict woman, but cared for her family more than her work which was dealing with precise business.
Life was great living with them, and Naota enjoyed it a lot. He had only a few friends at school, but they were trustworthy and cared for him just like his family did. Everything was going completely fine until his sister began to get bullied.
It was expected actually, because some foreigners weren't really accepted by all the people at school, but his sister was only in kindergarden and was getting picked on by older kids in his grade (elementary at the time). It was the first time Naota got into a fist fight, and it was violent, probably more than a high school one because he broke an arm, and gave the others kids serious injuries as well. Obviously, he was scolded for doing something so wrong, but he was forgiven in the end. His sister was constantly bullied, but he decided to stay back from then on because he knew he'd only get in more trouble with other people. It was kind of selfish, but his sister still forgave him in the end, and the two were very friendly with each other still.
Sadly, that all ended when his whole family, his mother and father and sister, got into a car crash to pick him up from his high school. He went into a stage of depression since then, for around a whole year. No matter what his friends said, no matter who talked to him, he couldn't get over it for a very long time. Yet that whole time, he didn't shed a single tear. This led to why he is so emotionless currently.
But after a little while of being alone and accepting what happened, he got over this wall and continued with his own life. He graduated from high school, leaving his friends behind, although it was a bit tough for him, and chose to go to a college to major in music since his family always enjoyed his singing most. A man liked his voice there, and offered to make him a professional singer, which he took and led to his current job.
Along the way though, he also chose to get a normal job at a bakery. There were only adults working there, no one his age or even close, but he was accepted and could smile and even laugh around them because they reminded him of his first family. No one understood that he was a professional singer, so he wasn't treated like a celebrity, which he liked most about them.
Naota had his first family, his mother, father, and sister, and then his second family, the workers at the bakery, and his final family which was his friends that he hadn't seen for such a long time because of his leaving for a different college, and the age differences between them all. When he heard about meeting up with them again, he actually felt really excited, even though the look on his face said otherwise.
Other:
Naota has a cat of his own. He calls her Blanc because she's a white cat. He found Blanc one day when she was walking on his music during lunch hours which is when he decided to take her in. Naota also lives alone in a small apartment near his college.
Relationships:
He thinks of
mother and sister
just about the same way. It's not because they're girls, but because they're quite similar. Although his mother was a hot headed woman, she shared one thing in common with his sister; a strong will. Naota looks up to his
father
as a role model. He doesn't know him too much because he's always working, but each time he visited home, he'd always pat his son on the head with a childish grin. If they were still alive, Naota would probably have opened up to them as well, but since they're gone, the only thing he does now is visit their grave on their birthday.
Character Thoughts On Others:
"How strange... They're all so... recognizable, as if we all met before... yet at the same time... they're like ghosts... people that never existed in my mind in the first place."
Akira Tanaka
~
"She's a bit confusing in my opinion... but I can't say much. That'd be rude, and tiring, wouldn't it? She doesn't look like a bad girl though."
Mika Walker
~
"...Hero...? Never heard of one... She's someone who I kind of want to be actually, to be able to be honest and state my thoughts that is."
Hana Keiko Yukimura
~
"She's really violent... And I'm a bit afraid of her honestly, I don't want to get hurt, but whatever. I'll probably forget that she's violent over time."
Kisa Yamada
~
"This girl looks quite bubbly to me, probably more than most people, especially for her age. I guess there's nothing wrong with that..."
Suki Nakamura
~
"Stuttering... So much of it too.... She's really quiet and shy... She should open up some more to others..." (Says the loner)
Zane Aria Shinto
~
"...I don't know what to say really... All I hear is swearing through my music."
Hotaru Quo
~
"Quiet... he reminds himself of me actually... Huh... Though, I think I may have difficulties acting around him nevertheless... It's just my hunch..."
Hinata Izo Setsuna
~
"An odd guy, from my point of view... I've seen him before, the shortie... right?"
Yuki Kioku
~
"What... what am I supposed to say here...? He's cheerful one moment, then angry the other. I don't know what to think."
Mika Nitz
~
"Smiles... smiles everywhere. He's a strange guy... and a foreigner too... Should I say anything else other than he smiles maybe a little too much?"