Exodus Grayson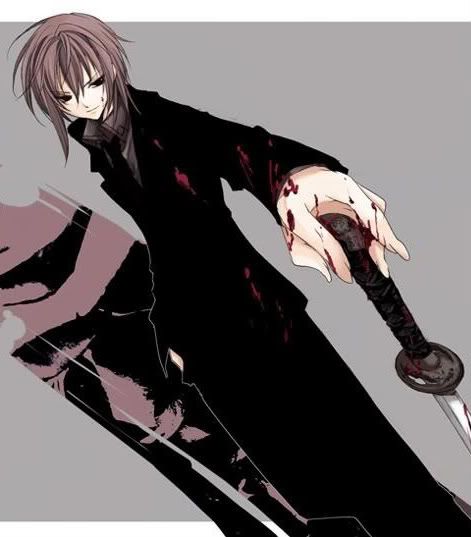 Position:
The Earl Grayson
Race:
Human
Age:
16
Appearance:
Of average height, Exodus is a slender male. With pale skin and dark eyes, Exodus' pale red-brown hair reaches his chin, the little bits in the front longer than those in the back. Shaggy and messy, Exodus does not allow anybody to touch his hair save for his butler. He has not cut it in well over a month and of course, it is often the topic of much gossip when Exodus travels outside. His clothes usually consist of the latest fashions, shipped to him directly from the manufacturers themselves. After all, Exodus is the heir to a massive empire of tailors. He carries with him everywhere a cane made from the finest ebony. The cane hides a blade, a slender thing, dipped in poison.
5'10", Exodus is not a particularly imposing figure. Usually found with a book and a cup of Earl Gray (he finds it almost...amusing, as though the tea were made for him) in the library, he speaks with confidence and with almost the intention to intimidate those around him. His eyes rarely show emotion. A smile from Exodus is to be considered the guffawing of another person. Very poised, Exodus also knows how to use a sword. Although he is slender, he is not frail.
Personality:
A bitter boy whose only fondness is for his butler...
Often proclaimed to be one of the cruelest earl's in the history of London, Exodus almost revels in this. He holds himself apart from other people, knowing that if he allowed himself to get close, they would only hurt him later on. Often keeping to himself, Exodus is never one to initiate conversation - unless, of course, there is a opportunity in which he can insult or knock someone down from their high horse. A sharp boy, Exodus' wits are always about him. An excellent debater, he loves nothing more than to tear down an opponent. Very independent, Exodus almost never accepts help from anybody but his butler.
But there is more to Exodus than what his public appearance is. In private, especially late at night, Exodus suffers from harrowing visions and insane nightmares. An insomniac, Exodus wiles away his time at night with childish games. Chutes and Ladders, Chess, Checkers. Poker. An excellent gambler and a liar, Exodus often slips away in the middle of the night, dressed as a commoner. But even that gets boring at times, so he devises methods to cheat people out of their money. He makes a game out of it.
If that man over there twirls his ring three times around his finger and glances nervously two times around, I will bluff my way through this hand. If not, I will cheat.
He never voices any of these thoughts, keeping instead to sharp comments and hurtful retorts. Of course, that's his way of showing what little affection he knows. He tolerates the less annoying, or those that might have some sort of connection to him before his parents were murdered. For example, the Duke of Timberline.
Likes:
- Reading, with a cup of tea next to him
- Candles, fireplaces, anywhere with warmth and light
- Games, gambling, cheating others
- Swords, poisons
Dislikes:
- Gullible idiots
- Drunks, alcoholics, drug addicts
- Getting sick and being taken care of
Fears:
- That one day, everything he knows will come crashing down around his shoulders, or that his nightmares will bleed into reality and he soon won't be able to tell nighttime from daytime.
- He has a fear of spiders. A. Very. Big. Fear. Of. Spiders.
Crush:
TBA
Preferred Weapon:
Blades, poisons
History:
The Earl Grayson. A wealthy old man, most knew him as the entrepreneur and the creator of Grayson Fashion. Dealing in clothes and in the trading of cloths, the Grayson family had been rich, wealthy, happy. They had a son, named Christopher. A pleasant boy, Christopher had nonetheless kept more to himself. A rare red headed beauty, Christopher had been dressed in nothing but the best, the latest, the newest. He had loved games, always enjoyed playing hide and seek with his uncles, playing chess against his father or his older cousins. Intelligent even back then, Christopher won more games than he lost, but only by a slight margin.
That all changed when he walked into his parents' room one night, after suffering from another nightmare. His parents were murdered in front of the thirteen year old boy, their blood staining his face and his silk pajamas. He never knew who had done it, yet, revenge would always be lurking in the back of his mind. The next day, Christopher was taken from his home, taken by a cult desperate to get rid of the earls and the other ruling families.
But something had happened to Christopher. He wasn't Christopher anymore. Brainwashed, all memories of happiness gone from his mind. He changed his name to Exodus, after the forced journey he embarked upon once escaping the cult. The exodus of the Earl Grayson, with nothing but a shadow by his side.
A butler, no less.
Mark:
Located on the side of his neck, usually hidden by his hair or the collar of his shirt.