Abigail Lee
I wish someone would teach me how to let things go. I bury memories so they become skeletons in a closet, only now it's more like a cemetery
x
nickname
xxx
Abby (always, by everyone, likes), Stray
(occasionally, by close friends, has warmed to)
birthdate
xxx.
03/10/1999
zodiac sign
x.
libra
sexuality
xxxx
panromantic, bisexual
occupation
xx
student, part-time waitress at local diner
codename
xx.
stray
x
dialogue code
xxx
#d3a3a3
thought code
xxxx
#000000.
face claim
xxxxxxx
lee soo-hyun
song inspiration
x
even if (I try to) hide it, or conceal it, it can't be erased
after high school,
/
majoring in philosophy and psychology
with ASL and gender studies electives at Standord University
x
x
x
xxxx
general style
Abigail's aesthetic tends to be decidedly unchanging, no matter the weather. She is fond of vintage clothes, and has long since become a master thrifter, her main hauls typically consisting of graphic tees, hoodies, faux-leather jackets and a lot of denim. Her feet are often clad in boots of some sort, and she has a fondness for silver jewellery. There is rarely not a choker around her neck, a couple earrings in her ears, and several rings adorning her fingers. Her makeup is also unchanging throughout the seasons, her eyelids practically always winged, and the rest of her makeup simplistic, the occasional pop of colour being a splash of something cool-toned, red or mauve, across her lips. Her nails, if painted, are always black.
Abigail is typically not one for formal events, but when she is attending one, she tends to prefer simplistic styles over ostentatious. Not opposed to heels, although she leans towards the wedge-style, and would never be caught dead in a stiletto, as she is seldom willing to sacrifice comfort to fit someone else's aesthetic. She quite enjoys formal jumpsuits, but is not opposed to dresses.
Abby has several scars about her body, the most notable ones being a thin mark on the back of her left hand (a burn from the kitchen stove when she was eight), and a slight crook to her right index finger, from when she broke it and didn't go to the hospital soon enough. Her left and right ears both have two lobe piercings, each, whilst her right ear has a third stud in her cartilage. Lastly, she has a simple, line-drawing tattoo of a dog on the inner side of her upper right arm.
xxxxxxxx
likes
xxxxxxxxxxxxxxxxxxxxxxxxxxxxxxxxxxxxxxxxx
dislikes
overcast and rainy weather. sleeping in. hot showers.
buddy cop movies. feminism. road trips. dmc's with
friends. starry nights. cinema trips, and movie nights.
make that movies in general. except maybe horror
films, unless she has someone told hold onto and/or
hide behind. ribena. long, interrupted walks. falling
asleep to music. tattoos. thrift shops. petrichor.
honesty. libraries. posters and vinyl stickers. vine
compilations. neon lights. pranks. witty people. love
stories. korean dramas. doing other people's makeup.
binging tv shows.
obnoxiousness, in all forms. edm music. conservative
views. eggs. her mother. the taste of most alcohol
(when she drinks, it's purely to get drunk).
intense-smelling incense. "nice guys". deadlines.
second-hand embarrassment. plastic bags. cigarettes
(although she still smokes them, from time to time).
feeling lonely. conservativeness. incels. talking about
her problems. being mocked or teased. ignorance. guns.
clubs (unless there's alcohol in her system, in which
case...).






personality

xxxxxxxxxxxxx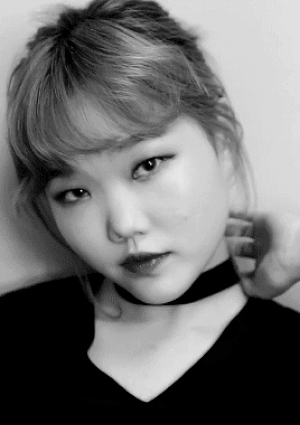 Abby is a girl caught up in her own independence.
determined to be strong to the point that she hides the cracks in her armour, and pretends that they don't exist for sake of seeming invulnerable. She hides each chink with a sarcastic comment, a wry joke, a dose of witty repartee- her smiles are more than evidence of felicity; they're defence mechanisms. Her fear of vulnerability comes from a strange mix of pride and concern for others- she longs to be a reliable figure, someone one can lean on when times are tough, but hates the thought that she herself would ever need to lean. She is almost arrogantly independent, so sure is she that she can survive on her own, and make it in the world even if the powers that be are apparently determined to drag her down.
it's not that she isn't soft, though.
rough around the edges but with a heart of gold, Abby is always the first line of defence when it comes to protecting those she cares about. She is fearless in the face of anything and everything when she feels that loved ones, be it their welfare, or simply their pride, is on the line. Her slight frame has little influence on the verocity she can exude in moments of protectiveness, nor does her independence keep her from immediately turning from wolf to puppy around her friends, particularly seeing as people that truly know her understand she is all bark and no bite (... usually).
in times of quiet contemplation, she has a knack for shocking others with her ruminations.
Despite all her bad-girl posturing, Abigail is far more thoughtful than others would believe upon first impressions. Her introverted nature blossoms in her quiet moments, and her ponderings are often littered with nuggets of gold- she sees things more clearly than others tend to, and honesty bleeds into her words. Her advice is precious, and would be even more so, if she herself would ever take the time or effort to follow it.
brilliant as she may be, her grades haven't assured her perfect relationships with her professors.
instead, she has a rebellious streak- one that often landed her in the principal's office in her younger years. Her hot temper, penchant for vindication and passion for doling out justice has left her in the firing line many a time. Not that she ever seems to regret it, for she always manages to worm her way out of tight spots, ultimately waltzing out of her previous predicaments, smiling and shooting one liners left and right as she goes.
xxxxxxxxxxxxx
history
Abby never knew her father- or if she did, she doesn't remember. He and her mother were together only briefly, and when he left, the only way he kept in contact was through child support payouts and the occasional birthday card. The latter dwindled and ceased by the time Abby was old enough to recognise that her father wasn't interested in spending time with her again. And shortly after that realisation, she halted her daily pleadings to spend time with him, and settled for a mother equally disinterested. Despite being academically excellent, often second only to Mason Bass, whom she followed from elementary to high school, Abby was constantly in trouble. She picked fights and talked back. She wasn't a bully, but she was certainly a rebel, and in many ways, was the polar opposite to Mason, the Golden Boy from day 1. And yet, for whatever reason, they clicked, and Abby finally found herself with someone who not only tolerated her existence, but actively appreciated it.
With a mother whose behaviour swung between neglectful and abusive, depending on her mood and the substances in her system, Abby eventually found she spent more time at her friends' houses than she did her own. The Bass home, in particular, was her sanctuary. One of the few people that knew the full extent of Abby's familial circumstances, the Basses welcomed her with open arms, and soon became accustomed to her appearing randomly and without warning, like a stray pup, on their doorstep. It was this behaviour that coined her nickname, coupled with her slightly gruff appearance and guard-dog-like tendencies. Upon hitting eighteen, she separated completely from her mother, leaving early in the morning whilst her mother was still glassy-eyed and hungover. Despite her grim financial situation, she had never been more excited for anything in her life. Finally, her world was shifting towards something hopeful; she and Mason were attending the same university, she was going to study what she was passionate about, and she could leave a town full of bad memories behind her.

But then Mason vanished, and her world ended instead.
X X X X X X X X X X X X X X X X X X
roleplayer
X X X X X X X
sheet creator
X X X X X X X X X x X X X X X X X X X X X X
rubytuesday
X X X x x x x x x x x X
the writer's voice.