Kadence Riddell
Nickname:
Kade
Age:
17
Gender:
Female
Pokemon: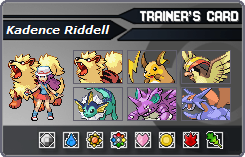 Resonance, Arcanine ♂, level 80, Charcoal
Adagio, Raichu ♂, level 79, Magnet
Duet, Pidgeot ♀, level 78, Sharp Beak
Harmony, Vaporeon ♀, level 77, Mystic Water
Crescendo, Nidoking ♂, level 76, EXP Share
Symphony, Salamence ♂, level 78, Dragon Fang
Appearance:
Kade stands at about 5'6". She is slender, because she doesn't eat particularly much, as picky as she is. Kade's pink hair has been dyed, and cut by her own hand, which means that one side is longer than the other. In fact, everything about Kade seems to be asymmetrical. From her hair to the one glove on her right hand, to the different designs on her red sweatshirt. Kade is in very good shape from all the traveling she has done in Kanto.
She has pale skin and carries around this pair of black headphones. Usually, she wears them around her neck. They're connected to an MP3 player, but Kade doesn't really listen to her MP3 player since she has her Pokemon for company. She also carries around a brown messenger bag that she decorated by hand.
Her eyes are dark green, and her features almost delicate. But a sort of hidden strength lies underneath her small smile and angelic face. Her Pokeballs are all attached to her bag, which she never lets out of her sight.